Community
We want to know: Are you attending concerts in person this year?
Bands and solo artists return to the stage after a year of virtual line-ups and canceled tour dates. Will you be cheering them on indoors, outside, or virtually?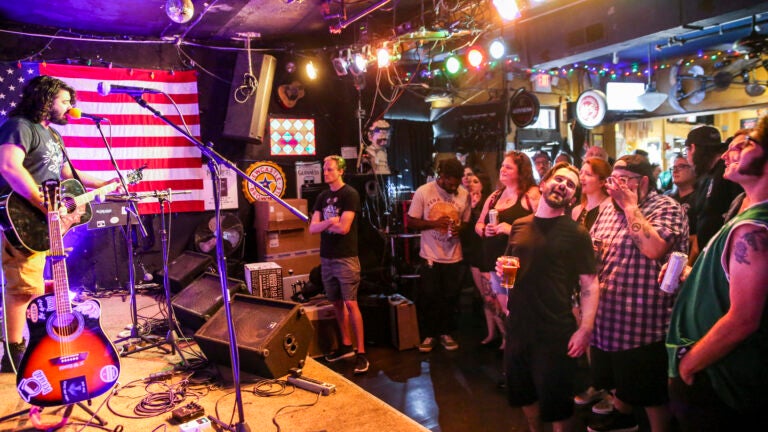 Musical artists and bands are making a long-awaited return to the stage after a year of virtual line-ups and canceled tour dates. But this concert season may face some obstacles with rising COVID-19 cases fueled by the highly infectious Delta variant.
After performances were postponed last year, the 2021 Fenway Concert Series kicked off this week with headline acts from Guns N' Roses, Billy Joel, Green Day, and New Kids on the Block. Fall Out Boy was set to play Thursday night but canceled after a member of the band's team tested positive for COVID-19, despite everyone in their crew being vaccinated. According to The Boston Globe, the concert series is letting fans in at full capacity.
Some venues moved their live shows outdoors this summer, like ONCE Somerville which hosts its performances at Boynton Yards. Others are welcoming concert goers indoors this month, including Brighton Music Hall and TD Garden.
Artists are adjusting to the return of live shows as well. Boston rapper and producer Latrell James performed at Cambridge Crossing's free outdoor concert series in July after a year of producing music on his own. Instead of trying to set up virtual concerts during the pandemic, he pivoted to synchronizing music for television, movies, and commercials.
"I don't think I can translate my live performance like that. I think that's the best part of me as an artist. All the things I've done is cool but my live show is by far the best thing I thing I have," James told Boston.com. "I totally went against doing any internet shows and I reserved that for the people who really want to come see me eventually."
Jake Sulzer manages 21 local Boston bands under his label Counter Intuitive Records. Last month, he sold out tickets to his label's first in-person show since COVID-19 at ONCE featuring Macseal, Born Without Bones, and Jophus.
"I feel like everybody's just been so anxious to get back out there that it was a total success. It sold out in advance and it was just amazing vibes to have everybody back out there performing again," Sulzer said.
We want to know if Boston.com readers plan on attending concerts in person again. Which concerts are you hoping to get tickets to see? Have you already attended live shows? How has the absence of live music impacted your life? Let us know below or e-mail us at [email protected].
Newsletter Signup
Stay up to date on all the latest news from Boston.com