Community
Here's what readers think about attending concerts in person this year
"If it means wearing masks so I can see some of my favorite artists indoors, I'm happy to do so."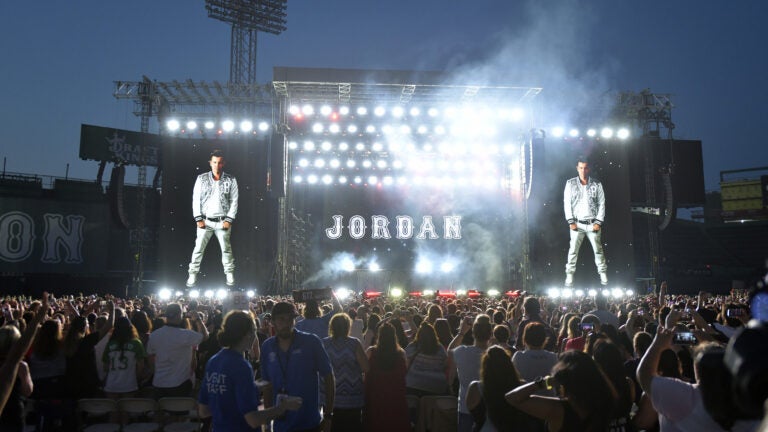 Music fans are eager to watch bands perform in person again as we've seen with the return of the Fenway Park concerts series last week. The shows are at full capacity with sold-out shows, but not without cancellations as a result of rising COVID-19 cases.
Health experts say transmission rates are lower outdoors, but ticket holders may be feeling less comfortable attending upcoming live shows.
The Centers for Disease Control and Prevention recently recommended that residents in high transmission areas should wear masks while indoors in public places, regardless of their vaccination status. No county in Massachusetts is at a low level of transmission.
Local music venues are continuing to find ways to bring music to fans in-person and virtually. Some moved their live shows outdoors this summer, like ONCE Somerville which hosts its performances at Boynton Yards. Others are welcoming concert goers indoors this month, including TD Garden which strongly recommends unvaccinated people to wear masks.
We asked Boston.com readers if they plan on attending a live concert in person this year. Of the 216 people who responded, the majority (42 percent) voted yes, while 29 percent simply voted "no way," with few providing additional comment. One reader wrote, "None. Zero. Zilch. Nada. Huh-Uh. Nope. No-way."
About 20 percent said they would attend a show outdoors only, and those who picked "other" said that it depends on the highly infectious Delta variant. Some even mentioned the concerts they wanted to attend this year have already been postponed until 2022.
Robert from Cohasset, who would attend outdoor concerts only, praised the efforts of local venues pivoting to virtual shows amid an era of uncertainty. "I would like to applaud all of the local venues and arts organizations who have done so much to support musicians and keep the music going online until it is safe for live performances again," he wrote.
Do you plan to attend a live concert in person this year?
Ahead, find a sampling of comments from readers who plan to attend live concerts in person.
Responses have been edited for length and clarity.
'So excited to attend'
"I've already been to four concerts this summer — all outdoors. I have tickets to three more outdoor concerts this summer/fall, then three indoor concerts this winter. If it means wearing masks so I can see some of my favorite artists indoors, I'm happy to do so." — Anonymous, voted "Yes, I'm there!"
"I'm seeing Wilco and Sleater-Kinney in Portland at the end of the month, Ben Folds in Lynn next month, and Idles at the House of Blues in October." — Dan Eisner, Cambridge, voted "Yes, I'm there!"
"The first live concert I attended this year at Tanglewood was an emotional experience! I usher at Rockport Music, and I'm already enjoying many live concerts there. I started wearing a mask again due to the variant, but at this point masks are not required at this indoor venue." — Jennifer, Beverly, voted "Yes, I'm there!"
"Going to Zach Brown Band at Fenway this Sunday! So excited to attend and start normal concerts again without this COVID drama." — Bridgette, Weymouth, voted "Yes, I'm there!"
Feeling a little uncertain
"Seeing Jimmy Buffett in Mansfield. All vaccinated and ready to go. Probably wouldn't go if it was at the Garden." — Bill, Dover, voted "Yes, but outdoors only."
"What is frustrating for me is we could have and probably should have been in a place with vaccinations for live indoor concerts to return to normal this fall. Unfortunately, largely due to the actions of people in other states, the Delta variant has taken hold in earnest and it is looking like we are in for another fall surge. In light of this I doubt I will be attending a live performance until 2022." — Anonymous, voted "Yes, but outdoors only."
"I attended two concerts indoors, socially distanced, everyone masked. Probably no more until things settle down again even though I am fully vaccinated." — Anonymous, voted "Other."
"I attended the Newport Folk Fest (all outdoors) and have tickets for two shows in Boston this fall, but I'm not sure how comfortable I'll feel attending by then." — Anonymous, voted "Other."
"Skipped a Fenway concert this week, may still go to one at the waterfront if COVID cases stop rising." — Anonymous, voted "Other."
Boston.com occasionally interacts with readers by conducting informal polls and surveys. These results should be read as an unscientific gauge of readers' opinion.
Newsletter Signup
Stay up to date on all the latest news from Boston.com