Commute
'I have no intention of doing the commute again': What nearly 2,000 readers said about a return to the office
Only 11 percent prefer to go back.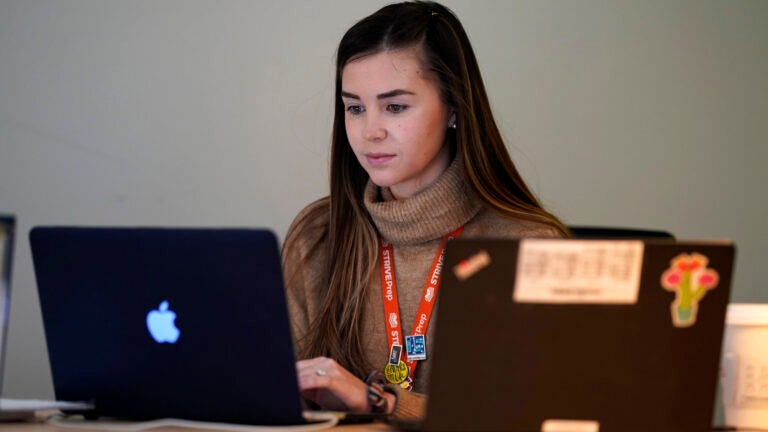 As more groups of people become vaccinated and some businesses begin to reopen, many in the workforce who've spent the past year working remotely ponder their own return to office spaces. Some employers have set dates, and some crafted detailed hybrid models to bring people back at a more gradual pace.
Recently, we asked Boston.com readers how they felt about returning to the office, and how they preferred to work — in person, remote, or hybrid. 1,946 people responded to the poll.
Interestingly enough, a majority — 60 percent of respondents — said that their employer had not yet discussed a plan of return. Some mentioned discussions about voluntary timelines of reentry and informal talks of returning in the late summer or fall.
When polled how they preferred to work, most respondents (46 percent) opted not to ditch remote work entirely, but instead preferred a hybrid model. While close behind, 43 percent of readers chose remote work as their go-to option. Only 222 readers (11 percent) preferred returning to the office.
A main reason mentioned by many that chose remote or hybrid: not wanting to commute in. For some, the pandemic made them realize their hours-long commutes into the city really weren't necessary. Others worry about hopping back onto public transit in crowds, where disease could easily spread. A few wrote in to say that they didn't want to return to work because their pets would miss them. One person, who voted hybrid wrote "putting on real pants" as their reason.
Here's what some readers had to say about returning to the office
Some responses have been edited lightly for clarity and grammar. 
"I am more productive at home and am enjoying not commuting 2-1/2 hours a day. I am currently looking for remote work at another company that will allow me to work from home at least three days a week." — Susan, technical writer
"Part of me wants to stay home and be remote but I also miss people, which is strange because I am a total introvert. I am also hesitant to ride the MBTA so that is another reason I would not want to go in to Boston every day. So, I am kind of on the fence. I guess it is up to what my employer will let me do." — Alyssa, billing
"Having started a new job during the pandemic, I'm eager to return to the office to be able to meet my team in person. While I am excited to return, my biggest concern is returning to a work week five days a week and being exhausted from the commuting. I'm hopeful that a gradual return is implemented by my company to ease employees back or allow a hybrid schedule going forward." —Alex, finance analyst
"As an attorney for the federal court system, I have been surprised how simple it has been to work from home for the last year. My workplace formerly was not at all into telework, and I assume minds have changed. I would prefer to get out of the apartment occasionally for work, but teleworking has its perks. I recognize that not everyone has the pleasant setup that I do (good internet, no kids, view of the harbor, cat) and may be eager to stop remote work. All of my coworkers will have the opportunity for vaccination as court employees soon, which somewhat eases my COVID fears as an immune-suppressed person. I also have a nice commute usually, but unclear how that will happen now with the ferry cancelled." — Cameron in Charlestown
"I hope employers (who can do so) consider a full remote option for their employees who want it, especially as a means to address the Boston area traffic crisis (multiple reports/studies had us as worst traffic in the nation), which subsided a bit during the pandemic, but will come back in full force if we do nothing. The pandemic drop in local traffic congestion provides clear evidence that telecommute is the silver bullet that's needed to address the crisis." — Tim, scientist
"I will only return if the building is well-ventilated and there is an air purification system in place. In addition, there should be a requirement that only vaccinated people can return to the office." — Anonymous
"I work in an office and am looking forward to being back after a year of working from home. But I am glad that I will be fully vaccinated by the time I return. I plan to wear a mask and keep the windows open and my office door closed as much as possible. I hope most meetings will still be remote as I do not have a lot of faith in my employer to keep us safe." — Jen
"Humans are meant to be together. B2B. WFH 100% of the time is not normal." — Anonymous
"Don't miss the 3 hours a day in my car to commute 40 miles round trip! Can perform my job remotely just fine. I think I do an even better job as I have no distractions (other than when one of my fur babies is demanding attention). It's been just over a year since my office went to working remotely and I have no intention of doing the commute again." — Laurie, executive assistant
"I started a new job in November. I've never seen my new company's office and have been having a tough time making new connections. It would be nice to be able to go in at least a couple days a week to make some work friends!" — Julia, software product manager
"The cat will miss me terribly!!!" — Anonymous
"Concerned about commuting on the MBTA and going into a public building where city residents and tourists come and go all day." — Anonymous
"Suggested that we may no longer have our own cubicles/work stations, we will have to sign up for a work station in advance of going into the office. I'm not keen on sharing keyboards, a mouse, and other office furniture." — Ann, product support
"I'm not looking forward to taking the commuter rail; both the time it takes out of my day and the higher chance of exposure to germs." — Rita, working at a law firm
"The biggest concern to returning to the workplace is that companies will not keep up with the sanitation and Covid prevention." — Michael, corporate banking
"I want to return to the office. I miss seeing people daily and visiting the restaurants and stores I used to while working in downtown Boston. I don't miss the red line. If I can return to the office 2 or 3 days a week and work from home the other 2 days that would be ideal." — Mike, marketing
Boston.com occasionally interacts with readers by conducting informal polls and surveys. These results should be read as an unscientific gauge of readers' opinion.
Get Boston.com's browser alerts:
Enable breaking news notifications straight to your internet browser.