Concert Reviews
Review & setlist: Ed Sheeran proclaims Gillette Stadium his 'favorite place to play' in US
John Mayer opened the show after singer Khalid pulled out due to a minor car accident.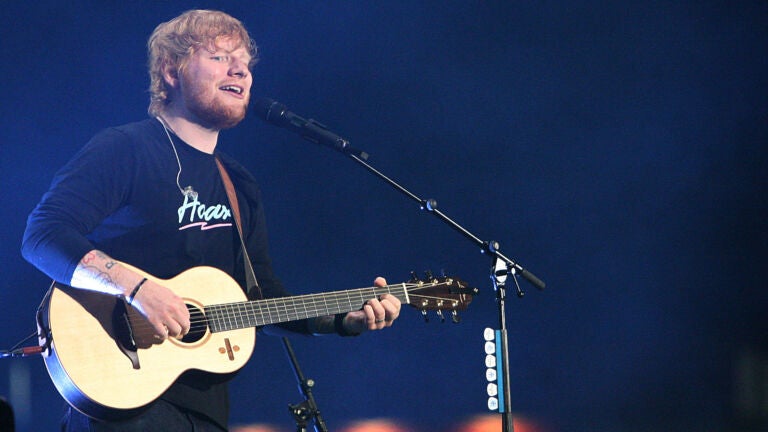 Ed Sheeran headlined his first of two 2023 shows at Gillette Stadium on Friday night, and John Mayer was the opening act. Let that sink in for a moment…
Arguably the most successful live musician of the last 20 years opened for the biggest male pop star of the last 10. It's like The Beatles opening for Fleetwood Mac. Drake opening for Eminem. Taylor Swift opening for Madonna. Are the artists of equal caliber? Absolutely. But would you ever expect them to share a bill? Not in a million years.
Sheeran opened for himself at the Maryland stop of his Mathematics Tour earlier this week when singer Khalid pulled out of the show after suffering minor injuries in a car accident. With Khalid recovering, Sheeran called in a few favors and was able to snag Mayer as his Friday night opener, and country group Little Big Town for Saturday. Singer-songwriter Rosa Linn kicked off the night before Mayer, and she'll do the same on Saturday.
"This was actually the first NFL stadium that I ever played solo, and I'm so happy to be here," Sheeran, donned in a "Foxborough" shirt, told the adoring crowd early in the set. "After tomorrow, it'll actually be the place in the United States of America that I've played the most." Friday marked Sheeran's fourth headlining show at the venue. Saturday will be his fifth.
But the Ed Sheeran who showed up Friday night in Foxborough wasn't the Ed Sheeran of the last decade who spent his afternoons playing radio station press stops and his nights filling venues with nothing but his voice and a guitar. The artist that transformed Gillette Stadium into a fireball of pyrotechnics and infectious beats is charting a different path for the second act of his career. A louder, bolder, path that allows his shining tenor to soar above the muscular sound of a full band, and breathes new life into a catalog of soft-spoken love songs that dull with time for everyone but diehard fans.
Standing on a circular stage and flanked by live musicians on the outskirts, Sheeran opened the show with a short full-band set that kicked off with 2021's "Tides." By the time Sheeran's guitar tech handed him an electric and the opening notes of "BLOW" bellowed through Gillette Stadium — perfectly timed with a flurry of fireworks erupting from the stage — the 32-year-old musician was signaling to the Foxborough faithful that this was going to be a very different Ed Sheeran show.
Meet the new Ed, definitely not the same as the old Ed.
Sheeran quickly transitioned into a solo set, highlighted by the one-two punch of "Castle on the Hill" and "Don't / No Diggity," a mashup of the 1996 Blackstreet tune with his own 2014 hip hop flavored single. And as he's done for much of his career, Sheeran welcomed first-timers in the crowd by walking them through the use of his loop pedal — a recording device that allows him to play every part of a song live, layering each on top of the last. It's an impressive musical feat, made all the more challenging by the acrobatic movements the pop star busted out to bound from one loop station to the next across the spinning stage.
Behind all the pyrotechnics and moving stage pieces, Sheeran's power lies in his masterful musicianship and his ability to make it look easy. An unassuming smile cleverly disguises pitch-perfect vocal delivery. His effortless rhythm guitar style, rivaling the likes of Bob Weir and Dave Matthews, can make the most complicated strum patterns seem deceivingly simple. With all that raw talent, the former busker is at his best in front of his loop pedal. And whether you like his music or not, there is something truly remarkable about watching one musician command the attention of an entire stadium of 71,000 fans all by themselves. That fact is not lost on Sheeran.
"I have so much history at this place. I really think that this is my favorite place to play in the United States," Sheeran said of the first NFL stadium he ever headlined. "I have a real connection here. I'm going to get emotional. I love being back."
With the sun down and the stage lights on full blast, the band came back out for another run of tunes. Sheeran dedicated "Beautiful People" to Khalid, his collaborator on the song. By the time violinist Alicia Enstrom joined Sheeran for a rollicking "Galway Girl," murmurs started to spread through the crowd as fans wondered if, and when, Mayer would return.
Seemingly on cue, Mayer appeared out of a staircase in the middle of the stage as Sheeran exclaimed how surreal it was to have one of his musical idols opening the show. For nearly eight blissful minutes, the two morphed Sheeran's "Thinking Out Loud" into an extended jam of sinewy guitar solos and athletic vocal runs, spinning around the edge of the stage and playing to every corner of the venue. Sheeran remarked that while the two have performed the song before at the Grammys and Mayer's shows, this was the first time they've done it at one of Ed's.
The Sheeran-Mayer billing was so unusual that Mayer himself, known for his sense of humor, had a very special edition of Sheeran's tour T-shirt created for the show. Below a FedEx-style "Ed" logo read the words "John Mayer opened for Ed Sheeran." A major moment in modern music history marked by a cheap screen-printed tee with a cheeky attitude. How quintessentially Mayer and Sheeran. For the pop heads of the world, Friday night was a very big deal (and that's not even getting into the subtext drama of Taylor Swift's ex opening for her best friend. Sorry, Swifties.)
Before the night was through, Sheeran had one more run of solo loop-pedal mastery up his sleeve, transporting the crowd to one of those infamous English pubs the artist cut his teeth in. A stripped down rendition of "Love Yourself," made famous by Justin Bieber but originally penned by Sheeran, kicked off the set with a playful tone. Sheeran's 2017 smash hit — and future wedding song classic — "Perfect" drew out an incredible display of iPhone flashlights from end zone to end zone. Note: there wasn't a single lighter in sight. The times, they are a-changing.
Sheeran ended the night with the high-energy duo of "Shape of You" and "Bad Habits." The two chart-topping dance songs, initially a shocking departure from his repertoire, have come to define the pop sound of Sheeran's second act. The acoustic troubadour that rolled onto the scene with a slew of simple love songs is steamrolling his way into a career built off the sultry sounds of "Shape" and "Habits," songs so far removed from the sonic palette of his earliest music that they'll likely be viewed as the major demarcation point in his career.
For two and a half hours on Friday night, one musician (with a little help from his friends) held the Gillette crowd in the palm of his hands, performing a career-spanning setlist that took fans on a sonic journey from the streets of London to the clubs of Miami. Ed Sheeran returns to Gillette Stadium on Saturday night for his historic fifth headlining show at the venue. The show starts at 6:00 p.m., parking lots open at 2:00 p.m., and gates open at 4:00. Rosa Linn is set to take the stage at 6:00 p.m., Little Big Town at 7:00 p.m., and Sheeran at 8:15 p.m.
Setlist for Ed Sheeran at Gillette Stadium — June 30, 2023
Full band
Tides
BLOW
Solo
I'm a Mess
Shivers
The A Team
Castle on the Hill
Don't / No Diggity (Blackstreet mashup)
Give me Love
Boat
Full band
River / PERU / Own It / South of the Border / I Don't Care
Beautiful People
End of Youth
Overpass Graffiti
Galway Girl
Thinking Out Loud (with John Mayer)
Solo
Love Yourself (Justin Bieber cover)
Sing
Photograph
Perfect
Bloodstream
Full band
Afterglow
Encore
You Need Me, I Don't Need You
Shape of You
Bad Habits
John Mayer's opening acoustic set — June 30, 2023
No Such Thing
In the Blood
Slow Dancing in a Burning Room
Love on the Weekend
Free Fallin' (Tom Petty cover)
Gravity
New Light
Neon
Newsletter Signup
Stay up to date on all the latest news from Boston.com