Concert Reviews
Review & setlist: Morgan Wallen hits the notes at Fenway, and that's about it
On the first night of his 3-show Fenway run, the country star failed to show himself to be a fireball of personality.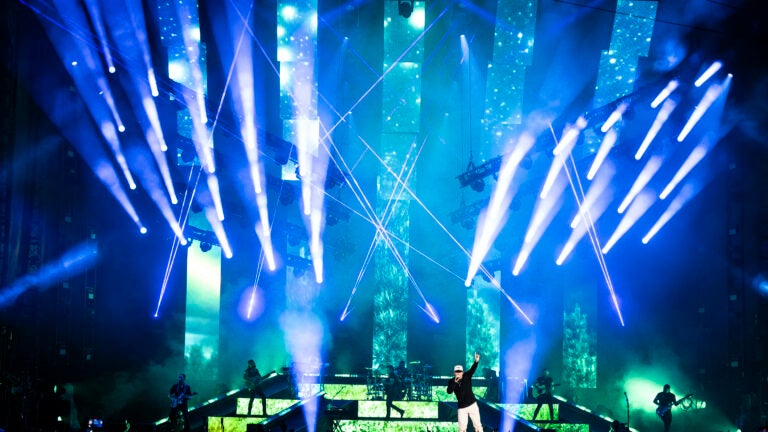 Morgan Wallen, with Bailey Zimmerman, Ernest and HARDY, at Fenway Park, Wednesday
Back in October of 2020, Morgan Wallen blew his chance at playing "Saturday Night Live" when a video surfaced of him flagrantly violating the show's COVID protocols a week beforehand, putting everyone on the show at risk during the heart of the pandemic. Four months later, the country singer was again caught on video, this time using a racial slur nuclear enough to end careers.
And yet, nearly three years after two public-relations nightmares, one merely embarrassingly stupid and one nearly fatal, Wallen's "Last Night" has been the number-one single in the country for 16 weeks and counting, and he's selling out a three-night headlining run at Fenway Park. When you're a charismatic performer with talent to burn, such career derailments can't get in the way of inevitable stardom.
Which doesn't explain Wallen. On Wednesday, the first night of his Fenway run, the singer demonstrated no particular vocal talent nor showed himself to be a fireball of personality or a whiz-bang showman. He's got a truck bed full of country smashes that someone has to sing in concert; since Wallen's the one who recorded them in the first place, his performance seemed to say, it might as well be him.
In a genre that largely lives or dies on the vocals, Wallen's voice was particularly baffling. It wasn't that he struggled, necessarily, though he was so pumped up for the first few songs that he occasionally stopped singing and just started shouting the words. But he was neither a powerhouse vocalist nor possessed of a distinctive instrument, particularly when his buzzy whine idled in second or third gear before he finally pushed songs like the yacht-rocking "One Thing At A Time" and '80s-style cut-time country of "Everything I Love" into their choruses.
The bigger problem was that Wallen never used that voice to express emotion, only to hit the notes. He sang about drinking to kill the heartache ("You Proof"), a parking-lot party anthem ("Up Down"), a wistful remembrance of a beloved baseball team ("'98 Braves"), a reassuring phone call to his mother ("Thought You Should Know") and his refusal to give up on a tumultuous relationship ("Last Night") all at the exact same pitch. When Jason Isbell played Boston three weeks ago, his "Cover Me Up" was a wrenching and intimate portrait of connection between broken people. Wallen sang the same song with zero inflection.
With a stage persona that seemed to boil down to little more than "happy to be here" (with an undercurrent of "likes to crouch"), Wallen dutifully worked to mix things up from time to time. He picked up a guitar here and there and hopped on piano for the I'm-not-worthy devotional love song "Sand In My Boots," and opener HARDY came out to join him on the grinding "He Went To Jared," which successfully pulled Wallen out of neutral only to present him as an aggressive jerk instead. He similarly steered in the wrong direction on "Heartless," attacking the stage like it was a pump-up anthem rather than a snapshot of heartbroken anger.
The band, on the other hand, took a few opportunities to add some intriguing textures to what was otherwise boilerplate modern radio country. They vamped on the harder end of soft rock on "Thinkin' Bout Me," while "This Bar" had the ringing peal and drum thump of U2, and "The Way I Talk" ran on the muted guitar chunk of Def Leppard. "Whiskey Friends" was particularly dynamic, its curly, ringing Roxy Music guitar arpeggios creating a cool bed that sounded nothing like the rest of the set.
It was on that song that Wallen finally gave a hint of feeling, as though he really liked those guys. ("Those guys" in this instance being Jim Beam and Jack Daniels.) It was a theme that seemed to stir something in Wallen, if only a touch, given the way he sparked a bit more than usual on the closing "Whiskey Glasses," which played well against the muted early-'80s synth-backed winecore chug. Then came the flamethrowers and fireworks, sending the audience into the night by throwing off the sparks that Wallen spent close to two hours refusing, or failing, to provide himself.
Following an early opening set by Bailey Zimmerman, Ernest was dewy-eyed and aw-shucks excited, awash in earnestness without the sincerity necessary to hold it up. With a belligerent Kid Kid Rock stage persona that was itching for someone, anyone to take offense — he flipped double birds at the audience after his first song, just in case — HARDY followed by offering little more than cocky posturing that undercut the rare affecting song like "Wait In The Truck" and more often turned songs like "God's Country" into angry rants about imaginary antagonists.
Setlist for Morgan Wallen at Fenway Park, Aug. 16, 2023
Up Down
I Wrote The Book
One Thing At A Time
Everything I Love
'98 Braves
You Proof
Ain't That Some
Sunrise
Dying Man
Still Goin' Down
Chasin' You
Cover Me Up (Jason Isbell cover)
Thought You Should Know
Sand In My Boots
He Went To Jared (HARDY cover)
Thinkin' Bout Me
Cowgirls
Whiskey Friends
This Bar
Wasted On You
More Than My Hometown
The Way I Talk
ENCORE
Heartless
Last Night
Whiskey Glasses
Marc Hirsh can be reached at [email protected] or on Twitter @spacecitymarc.
Newsletter Signup
Stay up to date on all the latest news from Boston.com