Concert Reviews
Bob Dylan's Rolling New England Revue: An analysis of Dylan's fascinating local six-show run
Including a historic, if cryptic, first in Boston.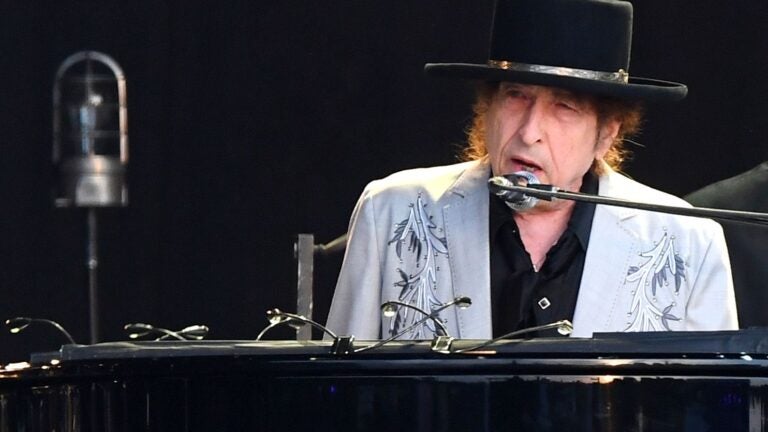 Bob Dylan lives by no man's code, but he may have come closest to telling us what rules he lives by — hidden inside tongue-in-cheek lines — in his poem "Advice for Geraldine on her Miscellaneous Birthday."
"be careful of enthusiasm…it is all temporary/ an' don't let it sway you. / Do Not create anything. it will be misinterpreted…when asked what you do for a living say you laugh for a living. when told t' look at yourself…never look. when asked t' give your real name…never give it."
At 82, the mercurial Robert Zimmerman has checked all those boxes. Ignored his hits. Doesn't give a @#$# what fans want. Might skip the Nobel ceremony. Thinks life is but a joke. Sheds personas like reptile skins.
The first rule of Bob Dylan Club is don't predict Bob Dylan.
In recent years, Dylan has added a second rule: Once he creates a tour setlist, that's your show, save for one or two variations.
He proved both rules on his six-show New England run, which kicked off in Boston Nov. 3 and ended Nov. 12 in Springfield.
Dylan's 18-song setlist for his 2023 "Rough & Rowdy Ways" tour was essentially established in 2021 (the album released in 2020).
He's so oddly meticulous about this, that if you saw him Nov. 27, 2021 at the Wang, and again Nov. 3 at the Orpheum, only a handful of songs changed:
He played "Early Roman Kings" in 2021, whereas he'd swapped that out for "Crossing the Rubicon" this time around. He swapped 2021's Sinatra tribute cover, "Melancholy Mood," for "That Old Black Magic."
From age 80 to age 82, Dylan has traveled the world with that same routine — and yet Dylan being Dylan (see Rule 1 above), I wasn't quite sure his North American '23 tour would stick with that pattern until Oct. 1, when he kicked things off in St. Louis and stuck to the script:
Heavy on "Rough & Rowdy" tracks — including my favorite "Crossing the Rubicon" and hit "Key West" — he tends to opens with the underrated gem "Watching the River Flow," and toss in some classic hits: "When I Paint My Masterpiece," "Most Likely You'll Go Your Way (and I'll Go Mine)," "I'll Be Your Baby Tonight." He also consistently played "That Old Black Magic," written by Harold Arlen And Johnny Mercer, which he recorded for "Fallen Angels." He closes most all shows with 1981's "Every Grain of Sand," off one of his "religious" albums, "Shot of Love."
Also, with Rule 1 in mind, a new playful theme emerged: In some cities, randomly, Dylan played a surprise cover with local ties. These covers were what made music site headlines and filled Dylan-o-phile's Twitter feeds.
For example, Montreal witnessed Dylan history Oct. 29 when Bob paid homage to the late, great Canadian Leonard Cohen with his first-ever cover of "Dance Me to the End of Love." On Oct. 20 (and 21) in Cincinnati, he debuted his first cover of Dwight Yoakam's "South of Cincinnati." In St. Louis, birthplace of Chuck Berry, on Oct. 4, he broke out "Johnny B. Goode" and "Nadine." In Chicago on Oct. 7, he debuted Howlin' Wolf's "Killing Floor."
In other cities — randomly, of course — he did what he did in Europe and Japan: a Grateful Dead cover. In and of itself that's an interesting new take for American Bob fans; he hadn't played some of these Dead tunes in over 15 years, and even then only rarely.
So since Oct. 1, when Dylan covered "Not Fade Away" — a Grateful Dead staple by way of Buddy Holly and the Crickets, and a song he hadn't played in the U.S. since a show in Holly's hometown of Lubbock, Texas show 15 years ago — I'd been wondering: What would he cover in New England?
If you asked me Nov. 2 what he'd play in Boston, I would've bet on The Standells' "Dirty Water" or a J. Geils hit to shout-out his book-exchange-buddy Peter Wolf (see my interview on that tidbit here) — but again: Rule 1.
On all three nights in Boston, he played his standard set. Night One's surprise cover was the Dead's "Brokedown Palace." Night two was the Dead's "Stella Blue," both of which he'd been trotting out often.
But anyone in attendance on night three saw Dylan history: his first live performance of "Footlights," by Merle Haggard.
Thus in Providence, R.I. on Nov. 10, I sat at the Providence Performing Arts Center eagerly awaiting my "surprise cover," mind reeling with possibilities for local ties — but I should've remembered Rule 1.
Dylan played no surprise cover in Rhode Island. None. (Tricked again!) He also skipped it in Connecticut on Nov. 11 and Springfield Nov 12.
Because Dylan doesn't allow phones in his shows — phones must be sealed in Yondr pouches — only random snippets of fuzzy, sly pocket-recordings have landed on the ol' net. A snapshot of PVD's show:
At promptly 8:01, his five-piece band took stage to start "Watching the River Flow." About a minute later, Dylan walked out, in his current-era Bob Dylan uniform: black suit with sparkly stripe down the side, black shirt and jacket. (He put on and took off a white cowboy hat throughout the night.)
As he's done every time I've seen him in the last 10 or 15 years, he played piano the whole time — and was on fire at points, quick and plinky as an old sudsy saloon piano player.
I admit I was nervous at first when I couldn't make out one word of "River" — I can usually at least pick up a phrase from his gruff first song — but he quickly warmed up. By his third song, he was clear-voiced on the close-to-the-bone "I Contain Multitudes" ("I'm a man of contradictions and a man of many moods") and by his fourth, "False Prophet," he was standing at the piano, cowboy hat firmly on.
His band — including guitarists Doug Lancio and Bob Britt, bassist Tony Garnier, and multi-instrumentalist Donnie Herron — was fantastic, and he has one helluva drummer in Jerry Pentecost, who tossed and twirled his sticks all night. He was hard not to watch. (And had Dylan reddit wondering who he is.)
Other highlights included the classic "When I Paint My Masterpiece," which started out slow as a prayer until it dropped into a rollicky foot-tapper, sliding immediately into "Black Rider."
"I'll Be Your Baby Tonight" started gentle as a lullaby before suddenly dropping into a rockabilly blues crooner, veering at times into a plucky, almost flamenco beat.
You could almost dance to "To Be Alone With You." And while new fan favorite "Key West" got the cheers I expected, I was more interested in "Gotta Serve Somebody" which saw classic Bob lyrics changes. They always make me smile. (I caught "Maybe you're in a nursing home" and "Maybe you're hallucinating" — but if you happened to hear more, let me know. Gotta love those classic Bob seemingly-on-the-fly lyric swaps.) A highlight: He brought out the harmonica — the one and only time of the night — for a goose-bump inducing solo on "Every Grain of Sand."
I've been to Dylan shows where he doesn't say one word to the crowd. Other times, he's said hello. Once, I heard him tell a dad joke, which he sometimes does. In Providence, he said "thank you" two or three times, but didn't talk save to introduce the band.
But I'm still puzzling over that cryptic Haggard debut in Boston.
Dylan is a jokester. Might wear a blond wig to Newport Folk, lie about being in the circus, let his songs play in an ad for Greek yogurt or women's underwear, bait his neighbors with a random string of Christmas lights (you can just see him giggling like a school kid when he sees articles like this).
Still though — why Boston? Why now? It could be a classic Zimmy whim, but it almost feels like an Irish goodbye.
At 82, he could retire now any day he wants. Could wake up tomorrow and decide that he wants to go home and weld more freight cars. The man's played Boston 45 times in some 60 years, according to his website. So "Footlights" feels deliberate. The lyrics:
"I live the kind of life that most men only dream of / I made my livin' writin' songs and singin' them / But I'm 41 years old and I ain't got no place to go / When it's over / So I hide my age and make the stage and try to kick the footlights out again … Tonight we will kick the footlights out and / Walk out without a curtain call."
Lauren Daley can be reached at [email protected]. Follow her on Twitter @laurendaley1.
Newsletter Signup
Stay up to date on all the latest news from Boston.com