Concerts
The Cure tried to keep prices low. But Ticketmaster fees cost more than the tickets.
Cure frontman Robert Smith said he was "sickened" by the fees.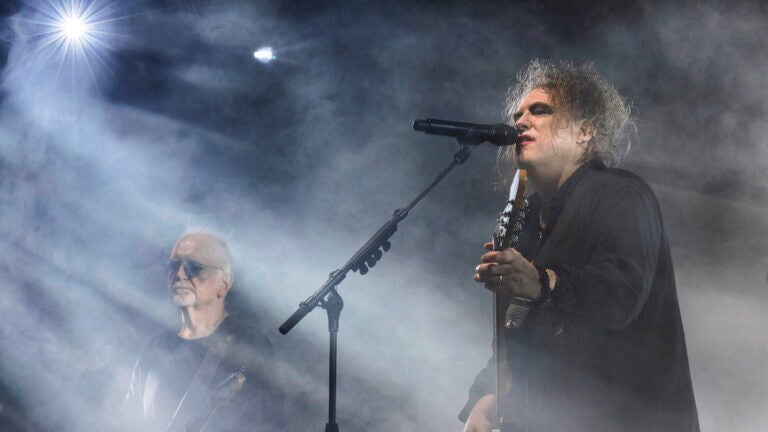 Show me, show me, show me how you … end up paying more in added fees than for the tickets themselves.
That's more or less the music that fans of The Cure had to face Wednesday, as devoted followers of the English post-punk band found themselves searching for answers in the latest Ticketmaster-fueled controversy.
While the live music promoter has faced heavy criticism for charging fans sky-high prices in the past year, fans weren't grumbling about ticket prices this time around — rather, it was those extra fees tacked on at the end of the transaction.
Fans who snagged tickets Wednesday through Ticketmaster's "verified fan sale" for the band's upcoming "Shows of a Lost World" tour — which pulls into the Xfinity Center in Mansfield on June 18 — ended up paying more in "service," "facility," and "order processing" fees than they did for the actual tickets.
One viral tweet showed a single ticket cost $20, but fees per tickets topped $21. What had been an $80 total for four tickets quickly ballooned to a total charge of $172.
The mark-up quickly spurred backlash online, especially since The Cure had specifically set ticket prices in an attempt to help fans amid the rather expensive live music ticket market as of late.
"We want the tour to be affordable for all fans, and we have a very wide (and we think very fair) range of pricing at every show," the band wrote in a March 10 post on Twitter. "Our ticketing partners have agreed to help us stop scalpers from getting in the way."
Frontman Robert Smith, in a tweet Tuesday, said the band did not agree to Ticketmaster's controversial "dynamic pricing" or "price surging" model, which has been responsible for driving ticket prices for artists like Taylor Swift and Bruce Springsteen into the thousands. Smith called the practice a "greedy scam."
He also wrote the group was convinced that Ticketmaster's "verified fan" system — where fans pre-register for a chance to be given a code to access ticket sales — would help fight against scalpers.
But Smith was none too pleased with how the initial sale unfolded Wednesday.
"I am as sickened as you all are by today's Ticketmaster 'fees' debacle," Smith wrote in a tweet. "To be very clear: the artist has no way to limit them. I have been asking how they are justified."
Smith vowed to update fans on any new information he learns.
Ticketmaster did not immediately return a request for comment on Thursday morning.
The live music giant has faced increasing scrutiny over how much it charges fans for shows and about its pricing models, particularly after Swift fans were left empty handed after waiting for hours for tickets in November for the superstar's upcoming "Eras Tour." (Swift is set to play Gillette Stadium for three nights in May.)
In the wake of the sales breakdown, Ticketmaster executives were questioned at a Senate hearing in January about the company's dominance and control over the live music industry.
Sen. Amy Klobuchar, the Minnesota Democrat, said ticket fees charged by Ticketmaster now average 27% of the ticket cost and can go as high as 75%.
Newsletter Signup
Stay up to date on all the latest news from Boston.com