Concerts
Watch: Reneé Rapp performs 'I Hate Boston' at Roadrunner, 2 months after launching controversial billboard
"I definitely don't hate Boston anymore," Rapp told the sold-out crowd Saturday night.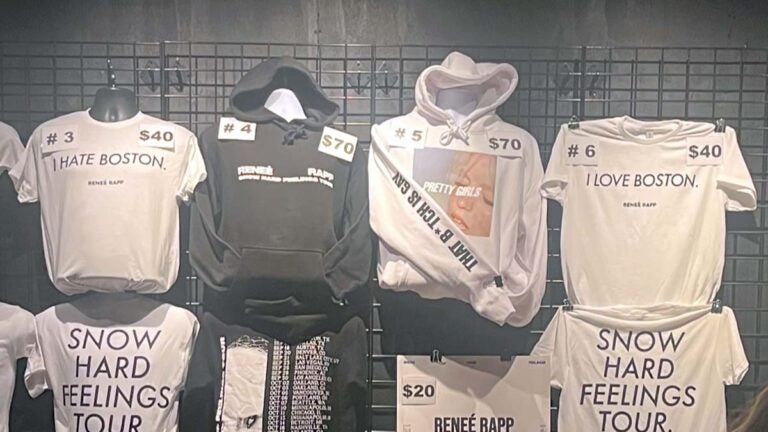 More than two months after launching a controversial "I Hate Boston" billboard in the North End, singer Reneé Rapp finally performed her song of the same name in the city that inspired it.
"Contrary to popular belief, I'm very happy to be in Boston," she told the sold-out crowd at Roadrunner in Brighton on Saturday night.
The show was one of Rapp's last stops as part of her "Snow Hard Feelings Tour," promoting the album "Snow Angel."
Rapp, known for her acting roles as Regina George in "Mean Girls" on Broadway and as Leighton Murray on HBO's "The Sex Lives of College Girls," clarified in an interview with WBZ-TV in August that the song is not actually meant as a hateful letter toward Boston, but rather at the man who inspired the emotional breakup track.
"Yes, I had my heart broken by one of your own," she told the news outlet. "But I know I cannot place that blame on you, dear Boston. I'm sorry for the slander. I love you forever. But I do hate that man."
Rapp performed "I Hate Boston" about a little more than halfway through her setlist Saturday night, noting, "I've been waiting all tour to play this next song."
Watch a video below:
Those at Roadrunner seemed to have nothing but love for Rapp. Her merchandise table had both "I Hate Boston" and "I Love Boston" shirts for sale, and fans could be seen donning them throughout the crowd.
After wrapping up her show with an encore of "Snow Angel," Rapp declared, "I definitely don't hate Boston anymore," as she thanked the crowd for coming out.
"I really appreciate you. You guys are amazing," she said.
Newsletter Signup
Stay up to date on all the latest news from Boston.com