Relationships
Here are 6 tips for couples in the age of coronavirus
"This uninterrupted closeness with our partners is a recipe for extra strain on relationships."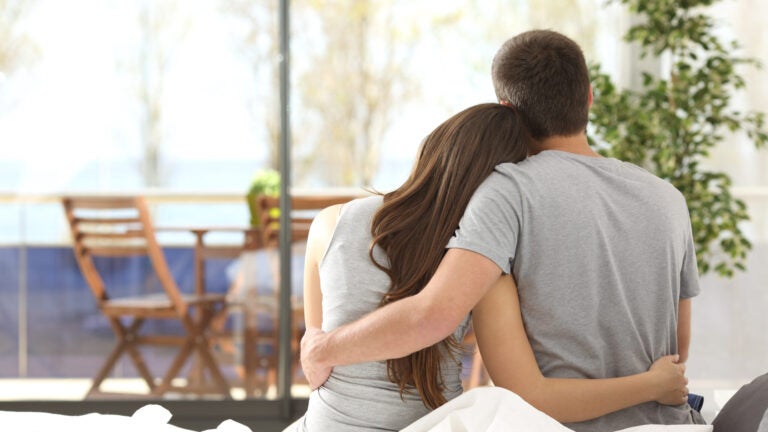 While "social distancing" translates to avoiding contact with the outside world for safety's safe, it also means being in unnaturally close quarters with your partner or spouse. Normal coping skills — such as heading to work or hanging with friends at your local watering hole — go out the window, and you're left stepping over each other both physically and emotionally. 
Covid 19, this uninterrupted closeness with our partners is a recipe for extra strain on relationships," warns Sarah Donohue LICSW, who sees individuals, couples, and families in her practice in Holliston. Here are her tips for maintaining a healthy relationship with your spouse during these "cozy" times.
Find humor
The old adage "laughter is the best medicine" comes into play more than ever these days. "Laugh about little things, such as the cute things your kids do or say," says Donohue. She also suggests making up little games, such as counting how many times the same frustrating thing happens in one day, like a toddler's meltdown or a work call that could have been an email. 
Resolve conflicts quickly
Often anxiety, stress, and overstimulation manifest as irritability and defensiveness. This is not the time to hold a grudge. "Everyone's stressed. There's no time for two days of silent treatment," she explains. "Give each other the benefit of the doubt, be quick to apologize for your part, and let things go as quickly as possible." Try to get under the surface anger or frustration and express what you're really feeling and why.
Do daily emotional check-ins
Ask your partner how he or she is feeling, and we don't just mean physically. "Ask, 'How am I making you feel loved? How can I support you better,'" she says. "The goal is to understand your partner's feelings (or step into their shoes with them), but not necessarily to do or fix anything."
Hold regular family 'business' meetings
Every morning, sit down for a collective brain dump of all the tasks and duties on each of your minds. From carving out time for exercise to doing household chores to swapping kid duty to provide the other with alone or work time, Donohue suggests prioritizing and splitting the list based on each of your preferences and strengths. "These strategy sessions allow you to feel like a team with shared commitments and help prevent 'scorekeeping' or resentment that could come when balancing both careers from home," she explains.
Create physical boundaries
Whether it's going for a solo walk or communicating with your spouse via text (even if you're in the same room), creating some space allows you or your partner to recharge or reset, a notion especially important for introverts to maintain balance. 
Go on dream dates
Restaurants might be closed, but your imagination isn't. "Spend an hour or two fantasizing about your dreams for when this passes," she suggests, noting now is the time to think about that trip you've always wanted to go on or a new hobby you want to take up. "This helps you keep in touch with your partner's wishes and priorities and reminds you that the 'social distancing' phase is only a temporary season," she says. "Your relationship will endure."
<hr>
<h2>Your 60-second guide to social distancing during the coronavirus outbreak</h2>
---
Get Boston.com's e-mail alerts:
Sign up and receive coronavirus news and breaking updates, from our newsroom to your inbox.