COVID
9 Boston.com readers share how to make wearing a face covering more comfortable
Including several ways to avoid foggy glasses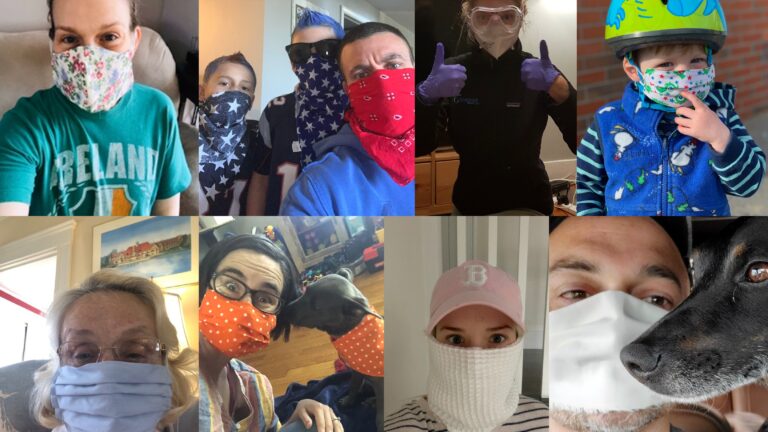 Yesterday, we asked for your practical tips on how to make wearing a face covering a little more pleasant. You delivered with recommendations about how to keep glasses from fogging, ears pain-free, and jogging while still enjoying fresh air. Ahead, nine Boston.com readers share practical tips to help you stay a little more comfortable while keeping yourself and others healthy. 
"The key to avoiding foggy glasses is a tight fit along the top of the mask. To do this, I sew in a wire that I can bend to conform to my nose. (I used the wire/plastic closure that comes on the top of coffee and doughnut packages.) The [N95] masks have a metal strip built in. When wearing these, also bend it to fit tightly along your nose. I have had no issues with foggy glasses while wearing my cloth mask after making this adjustment." — Alyssa
"If I make sure the mask is tight across the top bridge of my nose, my glasses don't fog up. The mask moves in and out with my breaths when it is not leaking air." — Jane 
"Before putting on a face mask, pop a mint or a stick of gum. You don't want to smell your gross breath all day." — Tom Sawyer
"Wear glasses/sunglasses slightly lower on your nose (away from the face) to help with fogging." — John Briggs
"I wear/bring a 'buff' [also commonly called a neck gaiter] with me when walking or running. For running, it works best to keep it up on my forehead like a headband. As I approach people, it's easier to pull down over my nose and mouth than pull up from my neck." — Bob Pomeroy
"When going for a run I keep a folded bandana tied around my neck and pull it up when I see a person 30 feet away from. I keep it on until I'm about 20 feet away and then pull it off my face. Thankfully my running routes go where there are fewer people so I can enjoy the fresh air. I also find running during the 5-7 p.m. dinner hour perfect because many of the newly minted exercisers are at home. But if anyone has tips for keeping sunglasses from fogging I'm all ears! Only thing that has helped me so far is running on the very windy days." — Jeff Kevorkian
"Our Etsy fabric masks have become a new part of daily life. We each have 2 hanging by our keys near the back door. Given that we wear them on walks mostly, we wash them once a week. When we wear a mask out to the grocery store, we toss in the wash when we get home." — S. Juniper
"I have attached my face mask to my baseball cap with safety pins. That way, it doesn't hurt my ears and since I always wear my baseball cap when I go out, its always available." — Steven Rakitin
"I've had serious problems with my glasses fogging. It's a work in progress, but I've found this two part breathing process helps: 1) Breathe deeply through the nose. This helps draw cooler air down the glasses and de-fogs them. 2) Breathe out through the mouth BUT be sure to direct the outflow downwards towards the ground. If you breathe out normally (straight ahead), you'll just re-fog the glasses." — Marla
Got more tips for wearing a face covering? Let us know in the form or send them to [email protected] and we may update your submission here.