COVID
Here's when Boston-area museums, movie theaters, and cultural institutions will reopen
A running list of when the Boston's beloved museums and cultural institutions will begin to welcome visitors.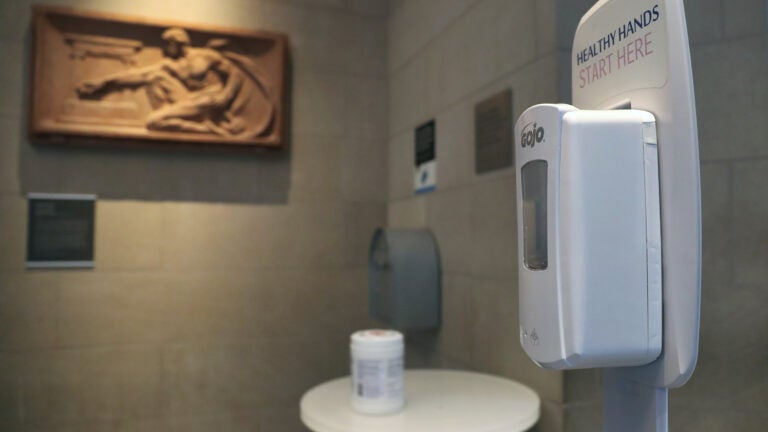 More than two months after the start of Phase 3 of the Massachusetts coronavirus reopening plan, one of Boston's most beloved museums has announced its reopening plans.
The Museum of Fine Arts will reopen to the public on Sept. 26, with members allowed back starting Sept. 23. Ticket sales for members begin Sept. 9, while the general public can purchase tickets on Sept. 10.
"Museums play a crucial role in providing spaces for reflection, solace and inspiration," MFA director Matthew Teitelbaum said in a news release. "We're grateful to welcome Bostonians back to their MFA and bring a shared experience of art into the lives of many once again. This was — and will continue to be — a challenging time for all of us, but we remain guided by our belief in the power of bringing art and people together."
Things will operate a bit differently at the museum, which will only be open Wednesday through Sunday, from 10 a.m. to 5 p.m. Only 75 guests will be admitted each hour, and tickets can only be purchased online, with group purchases capped at six people. Amenities like coat check and the MFA's dining areas will remain closed as well, though there will be food trucks outside the museum.
Many exhibit halls will also be closed for the time being, including Art of Europe, Art of Asia, Art of Africa, Musical Instruments, and Jewelry. Renovations that began prior to the pandemic on galleries dedicated to Egyptian, Greek, and Roman art will continue to keep those exhibit halls closed as well.
There will be some additional benefits added during the reopening, however. The MFA will offer reserved hours for high-risk visitors during the 10-11 a.m. entry slot each Thursday, member mornings from 10 a.m. to noon on the last Sunday of each month, and modified admission pricing (which allows visitors to pay as little as $5 to enter) during the 3-4 p.m. entry slot every Wednesday.
The MFA will prioritize reopening 31 galleries from its Art of the Americas wing as well as reopening two special exhibitions — "Women Take the Floor" (through May 3, 2021) and "Black Histories, Black Futures" (through June 20, 2021). Later this fall, the MFA will open "Writing the Future: Basquiat and the Hip-Hop Generation," a collection of Basquiat and 11 of his peers in the early hip-hop-inspired neo-expressionism movement (Oct. 18 to May 16, 2021); "Monet and Boston: Lasting Impression," in which the museum will exhibit all 35 of its Monet works for the first time in a generation as part of its 150th anniversary celebration (November 15, 2020–Feb. 28, 2021); and "Cézanne: In and Out of Time," which brings together 12 of the impressionist's paintings to properly contextualize his legacy alongside contemporaries like Degas, Pissarro, and Renioir (Nov. 11, 2020–Feb. 28, 2021).
Visitors on opening weekend will be treated to a new installation on the Huntington Avenue lawn. "No Weapon Formed Against Thee Shall Prosper" is a collaborative piece by artists Cey Adams, Sophia Dawson, and Victor "Marka27" Quiñonez dedicated to victims of police brutality and mass incarceration. The work is part of Street Theory Gallery's new public art initiative Murals for the Movement. It features portraits of George Floyd and his mother, Larcenia Floyd, Martin Luther King Jr., and a protestor.
For more information on the museum's galleries, cleaning procedures, or other reopening questions, visits the MFA's website.
Here is when Boston-area museums, movie theaters, and cultural institutions will reopen, with links to respective websites where you can find more information.
(This article will be updated regularly. See a cultural institution missing from our list? Email [email protected] and let us know.)
Museums
American Heritage Museum: Open
Boston Children's Museum: Open
Boston Tea Party Ships and Museums: Open
Cape Ann Museum: Sept. 24 for members, Oct. 1 for public
Concord Museum: Open
Danforth Museum: Open
Davis Museum at Wellesley College: TBA
Discovery Museum: Open
Edward M. Kennedy Institute: Oct. 7
Franklin Park Zoo: Open
Fuller Craft Museum: Open
Griffin Museum of Photography: Open
Hammond Castle Museum: Open
Harvard Art Museums: TBA
Institute of Contemporary Art: Open
Isabella Stewart Gardner Museum: Open
JFK Presidential Library and Museum: TBA
Larz Anderson Auto Museum: Open
Marblehead Museum: Open
MIT List Visual Arts Center: TBA
Museum of African-American History: Open
New England Aquarium: Open
Museum of Fine Arts, Boston: Sept. 23 for members, Sept. 26 for the public

Museum of Science, Boston: Open
Paul Revere House: Open
Peabody Essex Museum: Open
Plumbing Museum: TBA
Spellman Museum of Stamps & Postal History: TBA
Stone Zoo: Open
United States Naval Shipbuilding Museum: Open
USS Constitution Museum: Open
Waterworks Museum: Open
Wenham Museum: Open
Worcester Art Museum: Oct. 7
Movie Theaters
AMC Theaters: Open
ArcLight: TBA
Brattle Theatre: TBA
Coolidge Theatre: TBA
Regal Cinemas: Open
Showcase Cinemas: Open
West Newton Cinema: Open