Coronavirus
This is what 2020 was supposed to look like, according to readers
"More golf and less crying."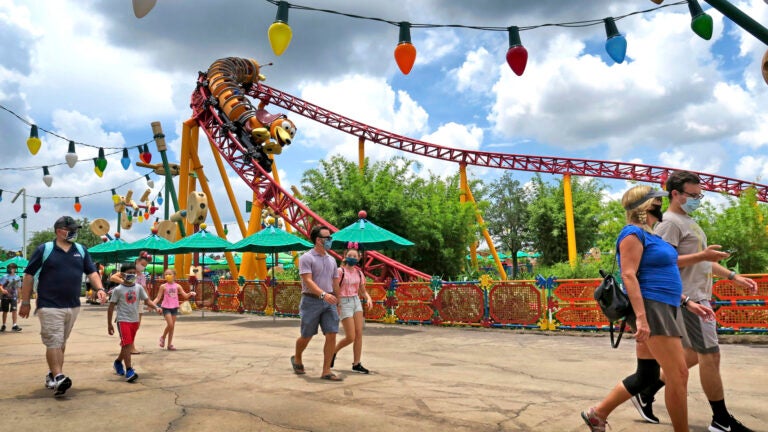 You had plans. And then there's 2020. 
It's been five months since Massachusetts issued an emergency order shutting down non-essential businesses to curb the spread of the coronavirus. Memes circulating social media feeds have depicted the wide range of emotions many have experienced during this time — whether it's "My plans vs. 2020" or the celebrity-driven 2020 mood challenge. The pandemic has impacted countless aspects of our lives: more than 8,600 deaths and nearly 115,000 people have tested positive for the virus in Massachusetts, families have managed work and remote learning, restaurants have shuttered, and much more. 
So we recently asked readers to share their own stories of canceled plans or postponed events and nearly 90 readers sent in survey responses and social media replies. Some readers included a list of big travel plans, weddings, and celebrations missed. Others shared the small social outings like visiting friends or playing volleyball. 
Ahead, we share some reader responses and what they had in store before the pandemic hit. 
'There was a lot of travel planned for 2020'
"I was supposed to go to Vegas for the first time 'for a conference' with my favorite co-worker. Usually it's somewhere only semi-interesting like Orlando, but this year was sure to be a good time." —Zachary
"There was a lot of travel planned for 2020. I was expected to attend a bachelor party in New Orleans, one wedding in Memphis and another in St Louis. My girlfriend and I were also planning a trip to Munich and Austria to coincide with the Euro Cup semi final." —Matt C.
"We had a family vacation scheduled to Boston (from Alabama) to see the Celtics and Red Sox play in the same weekend 💚 ❤️ 🏀 ⚾️." —Diana Russell
"I should be preparing for a road trip to Dollywood and Graceland." —Jane Brunet
"We had travel plans for at least 3 weddings: Queens, Denver, and New Haven. All have been postponed indefinitely or canceled in lieu of a private ceremony." —Amber Fisher
'I was supposed to get married' 
"We were supposed to get married in October followed by a three-week honeymoon to New Zealand and Australia." —Jessica G.
"My fiancé and I planned a May 2, 2020 wedding. When things were in the early stages of COVID it crossed our minds but as time went on we realized our 175 person wedding was [becoming] a distant dream. …We just made the decision about two weeks ago to move our marriage ceremony to September and postpone the reception to 2021 keeping in mind the current guidelines and safety of our family and friends. Besides, it's being married to each other that really counts!!" —Christine Walsh
"We would have been married and on our dream Hawaiian honeymoon that we saved for!" —Kelsey
"I was supposed to get married at the end of August. Our honeymoon wasn't completely planned when the pandemic hit but we wanted to go somewhere tropical. Now we are having a small intimate wedding with about 30 guests (vs. 150) and going for a long weekend to Lake George, NY after for our 'honeymoon' since that's where we got engaged. Next summer we will have our large celebration with all of our family and friends and hopefully get to travel somewhere a little farther away." —Jessica
"Would've been getting married to the wonderful Shannon Donovan this month." —Michael Edward
No big changes
"Outside of personal wants, COVID has actually been a net neutral for my business, some customers went away, others expanded. So, not a lot different honestly, but I would have spent 2 weeks up at the lake house in Maine this summer, and I couldn't go, and I'm not real happy about that. Lobster rolls in Los Angeles are just not the same." —Daniel Arsenault
"2019 (give or take)." —William McCall
"Same as every other year." —Marco Hernandez
'I'd be working'
"I'd be working overtime with my credit cards paid off! As it stands, I'm not surviving 😡." —Dawn Braley
"I would have had a job." —Eric Hutchinson
Going out and being 'more social' 
"I finally won tickets to 'Antiques Roadshow' after years of trying. It was supposed to be in May, in Boston. Now I will never know if that yard sale find or storied hand-me-down is actually a national treasure." —Jen
"I made a New Year's Resolution to try and be more social (go out more, make more friends, etc.) and was supposed to go on a European vacation in April." —Maria P. 
"More golf and less crying." —Jake Upham
"My 26 year marriage ended, formally and legally just a week ago. I'm in my late 60's and living alone in a condo while he has a girlfriend in his condo. That this pandemic happened after we sold and separated is fortunate. We were each settled when the blinds came down. While I can't be with friends as often as I'd like, I prefer being alone to catch up with myself and de-stress and be me. I wish I could go out and mingle with the world, but it is what it is. There is no wrong time to reboot your life, especially if you and your ex-other are both happy with the choice." —Exxed
"At age 66 returning to play volleyball after my knee injury from last fall finally healed — have to wait until age 67 now." —Bill
"Lots of hugs." —Susan Taylor
Your kids' milestones
"My twins were going to graduate from their respective high schools, with all the traditional celebrations. Prom, Senior Awards. The week after we were supposed to go to Disney World. Fast forward, time to think about college! Getting their roommates and getting ready to move them in. Not so fast one school decides to go completely virtual for the year. The second school decides 3 weeks before move-in, decides first semester is online, no on campus. Then today after we finally have both graduation ceremonies, my daughter's college Unity College in Maine decides to permanently end their on campus experience. No empty nest, just a full house." —Chelle Flannagan
"[High school] memories lost for a junior: prom, college visits, spring track; and fall sports up in the air for him as a senior and captain (XC). A lost season of lacrosse of multiple teams for an 8th grader in HS." —Kevin
'On the bright side'
"…My wife and I now both work from home and take care of our 3-year-old as we lost our babysitter. We also cancelled my daughter's dance lessons and she never got to dance in that recital. We also cancelled her preschool and what would have been her first day of school. …On the bright side, I see my daughter all day every day, and since we are home so much, it seemed like a good time to get a puppy." —Brian Gagnon
"…There are a lot of things I am missing out on this year, some of them expected, others not so much. But I have to remind myself that I am one of the lucky ones. My family is in good health, I wasn't laid off from my job, and I enjoyed spending some time at home with our dog, who we only got at the beginning of December. I am nervous about what the rest of 2020 will bring, but also cautiously optimistic. I guess only time will tell." —Meliena Decuypere
Responses have been edited for length and clarity. 
Were your 2020 plans canceled or postponed due to the pandemic? Let us know in the comment below. 
Get Boston.com's browser alerts:
Enable breaking news notifications straight to your internet browser.