Local
We asked, you answered: Readers share their COVID-19 vaccination stories
Some readers feel 'angry, frustrated' while others 'amazing relief' over their ability to get a vaccine.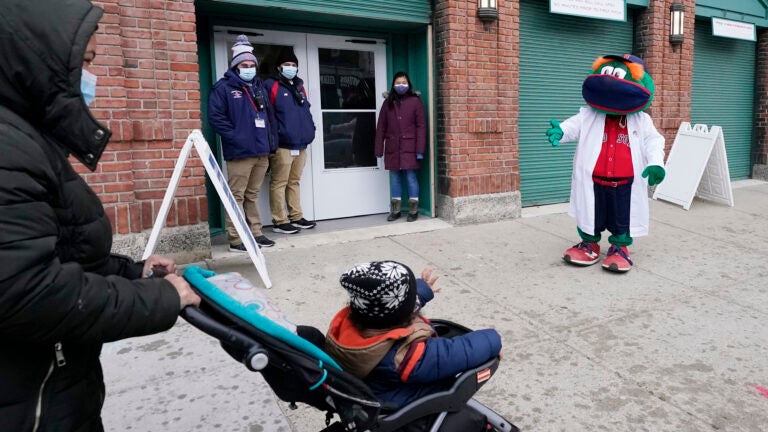 Boston.com is looking to share COVID-19 vaccination stories from readers throughout Massachusetts. If you'd like to share your own experience and what being vaccinated or having a loved one vaccinated means to you, you can fill out our survey or e-mail [email protected].
At vaccination sites–like stadiums and shopping malls, hospitals and doctor's offices, local pharmacies and senior centers —eligible folks across Massachusetts have eagerly lined up for their shots. Across the state, more than 400,000 people have been fully vaccinated, and over a million others have received received their first dose. On Thursday, 50,000 new vaccination appointments will go live, Governor Charlie Baker announced.
Last week we asked readers to share their own vaccination experiences. Some spent hours trying to book an appointment, while others said they did so in less than 10 minutes. Some drove long distances from their towns to mass vaccination sites just to wait in line. Others described "efficient" appointments at Gillette Stadium and Fenway Park, two of the largest mass vaccination sites in the state.
From angry to relieved, readers expressed strong emotions about their vaccination stories—or a lack thereof—that represent the weight and reality of protecting our most vulnerable.
Below is a roundup of some of our reader-submitted vaccine experiences.
Some responses have been edited lightly for length and clarity.
'No appointment yet!': Despite being eligible, some are still waiting.
"I'm 74, which is like being a kid who missed the kindergarten deadline by two weeks. Never mind. I can wait my turn. I wouldn't even complain if other groups, starting with teachers, were ahead of me in line. BUT. I am irritated beyond rationality by what I consider an etiquette issue: vaxxies [vaccine selfies]. Facebook posting boasting. 'Wa-hoo! I got mine!' … I understand the cycle of desperation, anxiety, relief, celebration — trust me, I understand — but an old-fashioned etiquette rule my mother taught me applies in this current situation: When those around you do not share your good fortune, it's best to celebrate that good fortune discreetly."
"I've been trying since 8 a.m. yesterday 2/18/21 to book a vaccine appointment on mass.gov. We all know about the crash yesterday. Frustrated and furious, but then I stop because I don't want to get sick over it. I'm thinking it's going to be weeks before we million, phase two people, get vaccinated. I suppose it's just the nature of the beast."
"No appointment yet! Apparently the administration thinks western Massachusetts ends in Springfield! It doesn't! What a mess! One thing that we do here is vote!"
"I'm over 75 and can't get an appointment despite many attempts. Completing a lot of info only to find no appointments is ridiculous. With the low vaccination rate for over 75, to suddenly announce over 65 are now eligible just added millions of people to the problem."
"Wish I could tell you. My entire family cannot; the website has ZERO available appointments available in the state of Massachusetts for the next two months. My wife, mother-in-law and I all work in Med services and education, and all of us tomorrow go back to serving the communities with the highest infection and positive rates, yet are all unable to receive a vaccine, let alone anyone who teaches." — Matt in Boston
"Unable to book an appointment: age 59.5 + four comorbidities. Website did not provide local alternatives. Truly inept. Gov. Baker got it right when he indicated he was REALLY pissed off. Astoundingly inept re: the website."
Vaccinated or not, booking an appointment online hasn't been easy.
"Impossible website, been at it since last week. Hours and hours of wasted time. I secure an appointment and as I finish entering all the information the appointment disappears. Hard to believe this is the best we can do. Why not a central registration for all residents and then the state informs us when our turn comes. This 'Lord of the Flies' approach is embarrassing to say the least. I supported the Baker administration through this but he's lost me here."
"People keep talking about crashes. But the real problem is once you find a slot, it isn't reserved for you to complete the numerous screens in a reasonable way. You have to rush through because at the same time I am trying to book a slot, many other people are trying to book the same slot. Ticketmaster saves your concert seats for 15 minutes, why can't this website do the same thing? As a result, I said no insurance because filling that out would take way too long. This is a huge fault in the system. And if someone beats you to the end, you start over at the first screen, entering your name, address, etc. Nothing is saved. It shouldn't be a race like that. Pre-registration would help but even people trying to get Stones tickets don't have to go through such frustration."
"I hope to find out before I die. No way to make an appointment. Site just keeps looping around. Phone says no appointments available no matter when you call."
"The website is an absolute nightmare to try and get an appointment. I spent hours and hours entering the same information over and over. The answer was always the same: no availability. Some sites would say they had open appointments and after reentering the same info find out that there really wasn't any openings. The state has to do a much better job seems like the health connector problem all over again. Huge waste of time and money for all concerned. Had to travel from Upton to Great Barrington to get the vaccine but that part was worth it. Feeling great."
Some relied on family to make an appointment.
"My brother and I scheduled a conference call for our parents for 8 a.m. the morning they became eligible. We enlisted the help of our spouses too so we had 6 people working to try to get 2 appointments. Websites kept crashing. We checked others. 'Has anyone checked Wegman's? How about Price Chopper?' Nothing worked for a couple of hours. We would find appointments here and there and fill in our of our info only to have the appointments disappear. We just couldn't type fast enough and we got frustrated and gave up after about an hour. My brother and I and my parents kept checking and refreshing and finally around 12:45 p.m. some spots opened at Gillette Stadium. We all logged in and frantically texted each other and managed to snag appointments for next week for our parents. It was such a relief. Later that day, one of my mom's friends who is 70 and doesn't have kids called me and asked if I could help her too. I managed to snag her an appointment in Marshfield for this morning and she got her shot today. She was so grateful. The system is not user friendly, especially for older people. I feel terrible for people who are struggling to find appointments." — Becky
"After a few failed attempts to get an appointment, I signed my mother up for a vaccine at Needham Council on Aging. They responded to the internet form request within 24 hours, calling my frail 86-year-old mom on day one of the companion rule. She said that her son would be driving her there and they immediately gave her a name and phone number for me to call for an intake. We had our first dose 5 days later! Feeling very lucky and grateful to Needham Council on Aging. They were organized, kind and gave my mom peace of mind. She worries about her late 50s 'baby' who goes out a lot for work and to help her. Looking forward to early March for our second dose."
"I woke up early on Thursday to register by 8:00 a.m. I tried to get through using 2 laptops and my desktop at work until 2:30. Finally, my son, a software engineer and recent MBA, texted to see if I needed help. He got appointments within 10 minutes for his aunt and me at Gillette. I was shocked and overjoyed that we had appointments and because all that tuition money finally yielded a return on investment."
"As a teacher waiting in line to be vaccinated it feels frustrating. The turn of events from April of 2020 to February of 2021 is eye opening. Teachers have gone from respected and appreciated to hated and under appreciated. The current rhetoric of 'get kids back to school and teachers are lazy' is beyond disheartening. I have been teaching in person since September. I have put my life on hold, I have not gone to a restaurant and have minimized contact with family. According to the CDC, teachers should be vaccinated before 65+. I finally felt relief when they announced 65+ because my parents were finally able to be vaccinated. I spent hours getting appointments for them and have seen how horrible the system is. I know I'm lucky, I got my parents appointments and helped make them for their friends. They're lucky to have the support. This is absolutely wrong."
"It couldn't have been easier to schedule my elderly mother's vaccine. Not sure what they are doing differently in the Berkshires but it was a breeze!"
'An amazing relief' for those who are vaccinated.
"My wife and I are both over 65. After trying non-stop for 7 hours on Thursday I managed to get her an appointment for late next week. I was unable to get an appointment for myself. Today, after only an hour I got an appointment, but had to be at Gillette in a half hour, which is about 20 minutes away from where I live in North Attleboro. I jumped in my car, drove there, walked in, sat down, and immediately got my first dose. What an amazing relief to have gotten through the process and actually been vaccinated and my wife will be getting her first shot shortly!"
"I've received one dose of the vaccine. I'm a mental health worker. I had to wake up early to make sure I got my first appointment. Fenway Park did an amazing job. I was in and out. Felt safe. They made sure you had an appointment set up for dose 2 before you left. Everyone was rejoicing and feeling hopeful. A wonderful experience." — Meghann
"I work for MGB and have luckily had both doses, but my wife has not had her first yet — and probably will not until the summer. Until then, it feels weird because COVID is a virus that we only conquer if we are all moving forward together."
"I'm one of the few who got incredibly lucky. My boyfriend works in the lab for Moderna, and per the company policy, I was also eligible to get vaccinated since we live together. Because I work in hospitality, I was not able to work from home, so I was excited to get the vaccine. I take the red line, and there are plenty of people on the T who do not wear a mask, so when I got my first shot last week, my anxiety about taking public transportation dropped significantly. I've seen my boyfriend get both his shots, so I knew the first one would give me a sore arm, but it was nowhere near as bad as my boyfriend described. The soreness started in the evening and lasted throughout the next day, but by Saturday I was back to normal … This is far from over, but now there is at least a (very faint) light at the end of the tunnel." — Meliena Decuypere
"Had my first shot on Wednesday. Although in the age group that qualifies, I refused to try booking an appointment online since the stories I heard of trying to do so were terrible. Saw a posting in Watertown that 100 were available, called the Senior Center, they called back the next day with an appointment and that was that. We have been dining out, walking and even going to the casino since last June; we just practiced safely with a mask in public and we had no problem whatsoever."
"Getting a vaccine means I feel safer at work."
"I had no trouble at all using the state website to make my vaccine appointment at Gillette Stadium and I had a very easy experience once at the stadium. I can imagine it is very difficult, too difficult, for those individuals over 75 to do what I did. I received my first dose yesterday and am happy to report only a mildly sore injection site." –Lisa Duddy
"Got both shots at Gillette Stadium (eligible because of being in healthcare; missed the immunization clinics where I work.) Kind of a pain getting first appointment, had to revisit the site several times, but I noticed plenty of spots the week after signed up for my first. A little patience helps. The Gillette experience is first class. Smooth, efficient, professional…really couldn't be better. I had nasty reaction to first dose but still within expectations (headache, fever, chills, arm hurt like heck) and lasted about 12 hrs. My family are still eagerly awaiting their turns; not panicking, confident the software bugs will be worked out. They are happy I am at lower risk of bringing them the uninvited visitor; so am I!"
"The VA texted me to ask when I would like to come in for a shot. I said 'anytime is good' so they set me up for next Wednesday. I guess spending a year in Vietnam has its perks."
---
Get Boston.com's browser alerts:
Enable breaking news notifications straight to your internet browser.