Dating, Sex + Relationships
6 date ideas to carry you into spring, in Boston and beyond
Some of the city's best local chefs make their picks.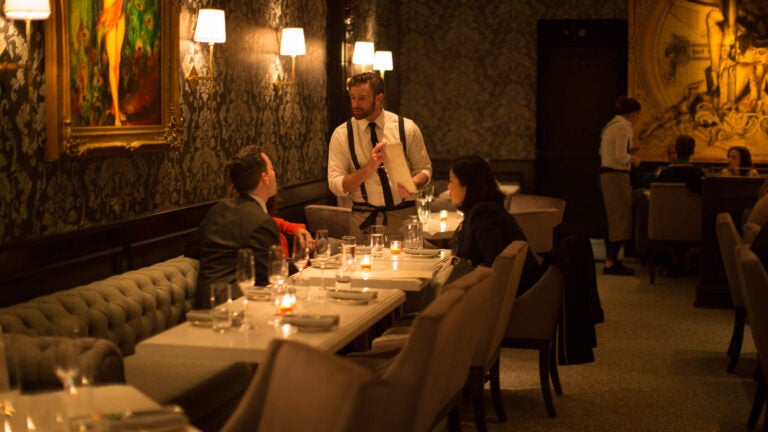 As the weather gets warmer, certain distinct things start to fill the air—the sounds of birds chirping, the smell of fresh flowers, and, of course, love. Whether you're embarking on a new romance or want to reinvigorate a relationship, we gathered some ideas for the best spring date spots from six renowned local chefs who know the scene. Check out their recommendations, from new dinner spots to try to quick getaways out of the city.
Bondir
"Bondir Cambridge is one of my favorite date spots period, and they're so tuned in to what's truly seasonal. My wife and I don't get over there often enough, but it's always a lovely experience." — John daSilva, executive chef at Spoke Wine Bar
This intimate farmhouse-style restaurant focuses on farm-to-table American plates, plus you can cuddle up in the small fireplace salon while you await your meal. At Bondir, they focus on freshness, with vegetables are picked the same day just-caught seafood. Since they're constantly switching up the menu depending on what's seasonal, you can revisit this Cambridge eatery for multiple dates without it getting old fast.
Uni
"I'm looking forward to hitting up Uni. The food is unreal. With spring coming, I know [Chef] Tony Messina is going to have some dope dishes. The wine list is perfect for date night. [It's] a super sexy restaurant." — Jamie Bissonnette, James Beard Award winning-chef at Torro and Coppa
Ken Oringer's award-winning Clio restaurant was reborn as Uni this past February, and Oringer along with Messina have crafted it into a destination for Japanese-inspired dishes. Along with a separate sushi bar, Uni offers an array of small plates, from chilled hamachi tartar to hot wagyu beef dumplings. Uni has an impressive wine list, along with a lot of sake, beer, and cocktails.
Yvonne's
"I don't really date much, but if I did, I would be trying to work my way into Yvonne's. They've really got everything right in an area of Boston that really needed it." — Chris Coombs, owner and executive chef at Boston Urban Hospitality, which owns Deuxave, Boston Chops, and dbar
Billing itself as a "modern supper club," Yvonne's offers a cozy atmosphere and an array of small plates to share in a cool Downtown Crossing hideaway. Co-owner Chris Jamison has said he wants Yvonne's to be more than just a place to sit down for dinner, "It's a social environment."
Sweet Basil
"Sweet Basil in Needham, get out of town and bring your own sparkling rose!" — Tom Berry, culinary director at Yvonne's
There is also great Italian outside of the North End, though, if you're hoping to escape the center of the city. Sweet Basil in Needham is quaint, but be warned: they don't take reservations, so the small space can fill up fast. It's also BYOB, so you can swing by a store and pick out just what you and your date want to drink.
North End
"I love walking around the North End and eating at a little Italian family hole in the wall, like Trattoria il Panino or La Summa." — Jason Santos, chef and owner of Abby Lane Boston and Back Bay Harry's
If you haven't strolled through the historic North End in a while, a date makes the perfect excuse to revisit this beautiful Boston neighborhood. You don't really need to plan much: walk around the cobblestone streets and duck into a corner store for classic Italian cookies or some limoncello. But if you want to plan a meal, Santos suggests stopping in one of the undeniably authentic Italian eateries, from the intimate 29-year-old Trattoria il Panino with ample outdoor space to the unassuming La Summa, a homey little restaurant that offers big, homestyle-Italian flavors.
Portsmouth, New Hampshire
"I've been going there for 20 years. It's right on the water, it has an adorable downtown—iIt's an amazing quick getaway. Great shops, great little restaurants, and a great walk along the water." — Jeremy Sewall, chef and owner of Island Creek Oyster Bar and Row 34
Portsmouth is just over an hour's drive from Boston, making it the perfect day-date destination. It's a charming seaside city, and it's home to another location of Sewall's oyster eatery, Row 34. He also recommended checking out Louie's—a rustic Italian restaurant right in the downtown area that offers housemade pasta, fresh seafood, and an extensive wine list—and Moxy—a modern American tapas restaurant.