Design New England
Garden Secrets for Sale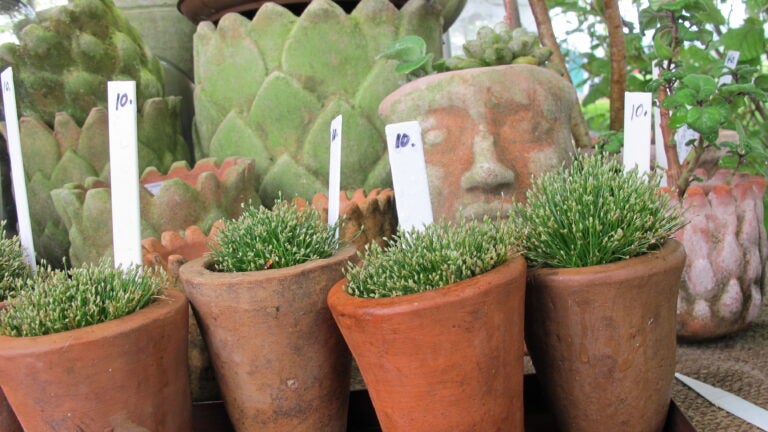 They call the phenomenon Trade Secrets. Originally conceived by famed interior designer and garden aficionado Bunny Williams in 2000, this well-heeled plant and garden antiques sale has become a magnet for gardeners throughout New England (and beyond) hungry for an early season shopping spree. The finest plant vendors from near and far bring their goods to Sharon, Connecticut, where they set up booths for a day at the gorgeous country estate LionRock Farm. This year's event is slated for Saturday May 14, (rain or shine). Proceeds benefit Women's Support Services, a non-profit organization dedicated to helping victims of domestic violence. Then on Sunday May 15, the Trade Secrets Garden Tour will open some impressive local gardens to the public.
The all-volunteer committee has labored to bring together growers that offer a soup-to-nuts inventory of plants. Need something for a woodland setting? Hillside Nursery is annually in attendance with rarities such as Glaucidium palmatum, shooting stars, species woodland peonies, trilliums, and anemonellas. Want annuals? Atlock Farms of New Jersey will offer all sorts of topiaries and everything from fuchsias to hyacinth beans. Broken Arrow Nursery pulls from its secret stash of trees and shrubs especially for this sale. Opus Nursery in Little Compton, Rhode Island grows all manner of weird wonders including offbeat hydrangea relatives. David Burdick's Daffodils & More brings immense delphiniums as well as his inventory of wow-worthy bromeliads.
Any sale connected with Bunny Williams is bound to have a strong design element and the garden antiques and ornament contingent of Trade Secrets is worth springing for an Early Buyer ticket to snag the best stuff. Hoffman and Woodward comes from Pennsylvania with cool things like outdoor vintage-looking sinks and all types of tools. The Sugarplum, a first-time vendor at this year's sale, promises its wonderful array of vintage statues, gates, and whatnot. Michael Trapp always has classic antiques-with-a-twist in his booth. Plus, Susan Oostdyk brings vintage linens to dress the summer entertaining table.
There are artists and authors (book signings are scheduled) as well and the food vendors are also phenomenal. (Breakfast is on the house with Early Buyer tickets.) Experts are omnipresent — just ask a botanical question out loud and some eavesdropper will have the answer. Better yet, ask the vendors, a knowledgeable group of merchants who know everything about their wares from hardiness to deer susceptibility.
This year's garden tour includes Bunny Williams' own garden featured in "Almost Heaven" in Design New England's March/April 2012 issue, with its woodland garden, luscious borders, and "to die for" conservatory as well as Old Farm Nursery, Michael Trapp's residence, and Carolyne Roehm's Weatherstone. Plan plenty of time to stroll these magnificent venues and bring a notepad to jot down plant combinations that strike a chord. The knowledgeable homeowners are always on hand to answer questions.
Trade Secrets, Saturday May 14; early buying admission, 8-10 a.m., $125; regular admission, 10 a.m.-3 p.m., $40. Trade Secrets Garden Tour, Sunday May 15, 10 a.m.-4 p.m., $60 in advance; $70 day of tour. Information and tickets to the sale and tour available at tradesecretsct.com; 860-354-1080.
Great design is always at your fingertips! Read Design New England's May/June 2016 issue online!