Schools
Harvard's contentious debate over all-male final clubs, explained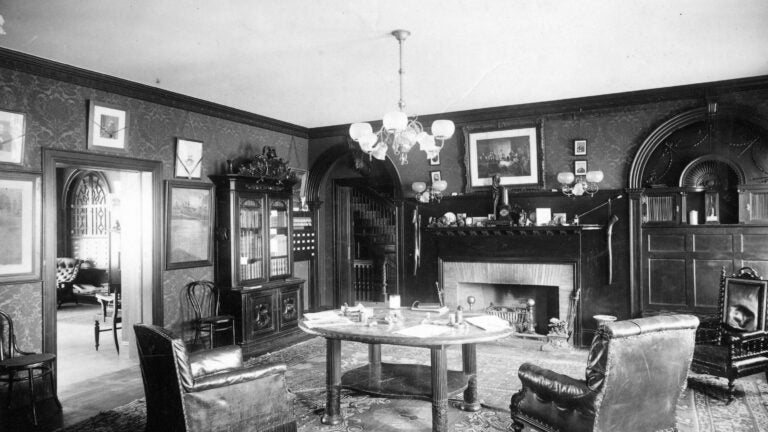 Harvard's exclusive single-sex social clubs, known as "final clubs," have reached a major decision point. Last month, Harvard Dean Rakesh Khurana said that the infamously elitist clubs had until April 15 to decide whether to go co-ed.
That deadline, and the potential for punishments for those that don't oblige, has rankled many members of the all-male clubs. On Wednesday, The Harvard Crimson published a letter from The Porcellian Club's graduate board president Charles M. Storey that slammed the university's co-ed push and suggested that going co-ed "could potentially increase, not decrease the potential for sexual misconduct."
The comment on sexual assault set off a firestorm of criticism, and Storey, who also serves as president of Harpoon Brewery, apologized on Wednesday night.
Still, the underlying tension between administrators and final clubs remain, and the standoff has proved to be a major sticking point in the fight over social life at Harvard, at prestigious private schools, and beyond. Here's a look at the final clubs past and present and how they got to this precarious position.
What is a final club?
A final club is a group for Harvard undergraduate students that functions as a focus of social and party life for some students on campus. The clubs provide a group of friends, serve meals, and host parties. The clubs are technically unaffiliated with Harvard, and less than 10 percent of students join one, according to The Wall Street Journal.
There are about a dozen final clubs on campus, including a mix of all-male and all-female groups. The all-male final clubs are older and boast alumni with famous names like Kennedy and Roosevelt, while the all-female clubs were created more recently. The all-male final clubs also sit on prime real estate near Harvard Square; the home of the Porcellian, for example, is on Mass Ave. right across from campus.
How long have they been around?
The Porcellian Club, the oldest of the bunch, was founded in 1791 by a group of students tired of the school's food offerings. Male clubs sprouted up in the years after and have been around more than a century.
Since their beginning, the final clubs were seen as "Little Bastions of Society," as a 1958 article in The Crimson wrote. "The stock image of the Clubbie casts him as a preppie snob, with well-cut clothes and well-combed hair, who retreats into his club sanctum in order to be among his own kind and cut himself off from his rather unattractive, socially awkward classmates."
In 1984, Harvard University administrators pressured the all-male groups to add women as members. The clubs refused and decided to move off campus and end their affiliations with the university.
The women-only final clubs were started more recently in the last 25 years.
So are they like fraternities and sororities?
They're certainly similar, though with an added element of Harvard-patented elitism. In a process similar to Greek "rush," final clubs recruit prospective members in a process called "punching," in which sophomores are invited to special parties and events. The clubs invite a fewer recruits back to the next event, and so on, narrowing the field of potential members down.
A lot of those membership decisions are made on social connections with club members, which, unsurprisingly, encourages homogeneous groups.
"It's not so much the person you are, but who you know," one student said in Dov Fox's 2004 book The Truth about Harvard.
"Athletes have a huge advantage. And a lot of it is based on wealth," one graduate told The Atlantic in 2014.
The final clubs are most similar to Princeton's "eating clubs" or Yale's secret societies. Those organizations decided to go co-ed and add female members decades ago.
What is the current fight between final clubs and Harvard about?
The university has largely kept a hands-off position with the all-male final clubs since 1984. But the administration has ramped up its critical rhetoric under Dean Khurana, who took over in 2014. That pressure took on new force in light of a scathing task force report on sexual assault released in March.
The report found that 47 percent of women who participated in final club activities experience "non-consensual sexual contact." The task force also explicitly condemned the "strong sense of sexual entitlement within male final clubs," and recommended they add women.
"In our view, the very structure of the clubs — men in positions of power engaging with women in unequal and often on very sexual terms — speaks tellingly to the work ahead of us if we are to create an environment where all students, of all genders, can thrive," the report said.
Final clubs—particularly the all-male ones—prove divisive on campus. In a 2013 survey by The Harvard Crimson's Flyby blog, 54 percent of respondents said the all-male final clubs have a negative or very negative social effect on campus.
Why don't the final clubs allow women to join?
Two final clubs, Fox and Spee, voted to recruit and accept female members this fall. But the other six all-male groups have not been as willing to change.
Storey, as graduate board president of Porcellian, defended the final club's "freedom of association," and said that the club "is being used as a scapegoat for the sexual assault problem at Harvard," he wrote.
Storey also questioned whether a co-ed organization would decrease incidents of sexual assaults.
"Given our policies, we are mystified as to why the current administration feels that forcing our club to accept female members would reduce the incidence of sexual assault on campus," Storey wrote. "Forcing single gender organizations to accept members of the opposite sex could potentially increase, not decrease the potential for sexual misconduct."
Storey has since apologized for that comment.
Richard Porteus, the graduate board president of Fly club, argued to The Washington Post that it would be "illiberal" to force students not to join some associations.
"The dean will develop policies that will discriminate against students that in their private life exercise their right of association," Porteus said. "It would be possible for students who enroll in Harvard to join the Nazi party or the Ku Klux Klan, [but not] Harvard final clubs."
Or, as an article in Harvard's satirical group Satire V explains: "Club of Wealthy, White Men Comes Out in Support of Status Quo."
What's next for the final clubs?
Dean Khurana set Friday, April 15 as the date that he'd like to hear from final clubs if they plan to go co-ed. Although the school has not outlined what would happen after that deadline, Khurana reportedly floated the possibility that final club members would be banned from holding leadership positions on campus or winning fellowships, the Crimson reports.