Schools
Harvard women protest school's crackdown on single-sex groups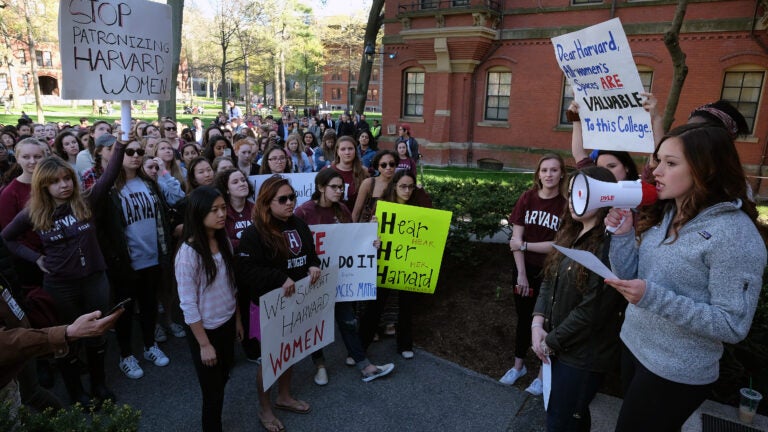 Harvard University's restrictions on single-sex groups last week was intended to take on the all-male final clubs and what the school's president called their "forms of privilege and exclusion."
But on Monday, female students led a march under a "Hear Her Harvard" message, saying that the school's new restrictions would hurt all-female groups like sororities and women's final clubs.
Chants for safe spaces after President Faust's sanctions on single-gender organizations #HearHerHarvard pic.twitter.com/9iGjKrqLNo

— Flavia Cuervo (@FlaviaCuervo) May 9, 2016
"What do we want? Safe spaces! When do we want them? Now!" protesters chanted.
Saw some great posters. Top-down social engineering often hurts the very people it claims to help. #HearHerHarvard pic.twitter.com/qjawUm692P

— Elena Monge Imedio (@ElenaMImedio) May 10, 2016
The protests came just days after the Harvard administration set new policies that would ban members of single-sex social groups from holding leadership positions and from being nominated for scholarship awards. The restrictions, which would apply to next year's freshmen, were announced after months of pressure on the exclusive all-male final clubs to accept female members.
Those new rules apply equally to men's and women's organizations, also restricting the five all-female final clubs and several sororities on campus.
"Dear Harvard, All-women's spaces are valuable to this college," one sign read.
Some signs also took on Harvard President Drew Gilpin Faust, who graduated from all-female Bryn Mawr College.
#HearHerHarvard pic.twitter.com/DXbCAltNhO

— tiana (@tianaconda) May 9, 2016
Several graduate board leaders from the all-female group Sablière Society wrote about their concerns with the new policies in The Harvard Crimson last week.
"The support systems, safe spaces, and alumnae networks the women's clubs have been striving to build will disappear. That strikes us as a tremendous waste, and an ironic one, given Harvard's stated goals," Ariel Stoddard, Morgan E. Arenson, and Eugenia B. Schraa wrote. "Harvard has given little indication that it has considered whether the new reality it demands will in practice benefit women on campus."
Harvard spokeswoman Rachael Dane told The Washington Post in a statement that the university supported student's rights to express their views.
"As we noted Friday, change is difficult and is often met initially by opposition," Dane said. "That was certainly true with past steps to remove gender barriers at Harvard, yet few today would reverse those then-controversial decisions. We continue to believe that gender discrimination has no place on Harvard's campus."