Schools
Matt Damon gave a highly charged MIT commencement speech
The Cambridge native had strong words—and advice—for the MIT graduating class.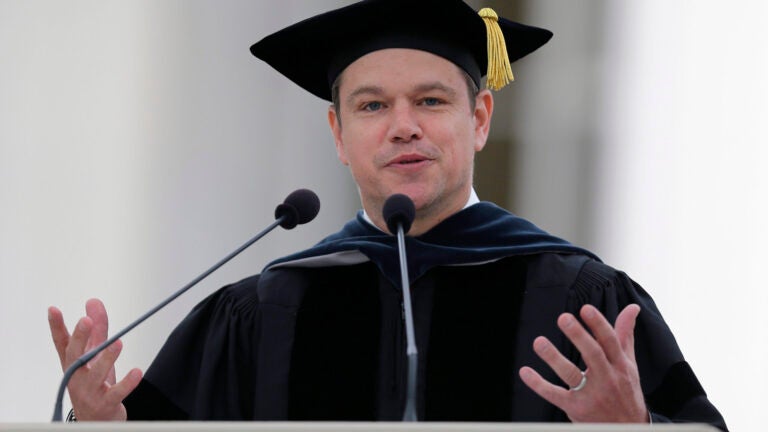 Matt Damon had an important message to share with MIT graduates: "There is more at stake today than in every story that has ever been told."
Damon was equal parts fiery and inspiring while addressing students at MIT's 2016 commencement ceremony Friday morning. He spent sections of his speech lambasting bankers and Donald Trump, touting Elizabeth Warren, and urging students to take the issues of income inequality and global warming seriously.
"Let me say this to the bankers — specifically the ones that brought you the biggest heist in history," Damon said to the assembled crowd of around 13,000 recent graduates, parents, and alumni that filled Killian Court. "It was theft, and you knew it. It was fraud, and you knew it. And you know what else? We know that you knew it."
"I don't know if justice is coming for you in this life or the next," he continued. "But if it does come in this life, her name will be Elizabeth Warren."
Damon's speech wasn't 100 percent serious, however. He joked about attending Harvard University and walking with his graduating class despite never actually graduating. Damon dropped out 12 credits shy of completing a degree in English to pursue acting full-time.
"You can imagine how excited I was when President Reif wanted me to speak at the MIT commencement, and how sorry I was to learn that the MIT commencement speaker does not get to go home with a degree," Damon said. "So, yes, for the second time in my life, I'm fake graduating from a college in my hometown."
He talked about growing up in Cambridge's Central Square in the shadow of MIT with his brother, Kyle, and longtime pal Ben Affleck.
"To us, MIT was kind of like 'The Man,' this big, impressive, impersonal force," Damon said.
"At least, that was our provincial, knee-jerk teenage reaction. And then Ben and I shot a movie here."
That movie, Good Will Hunting, launched Damon's career and won him countless accolades. Though, as Damon pointed out, the film critic for MIT's student newspaper wasn't especially fond of the movie at the time.
"In the end, the reviewer writes that the actual character development flies out the window," Damon said, before quoting directly from the 1997 review: "'Will and Sean talk, bond, solve each other's problems, and then cry and hug each other. After said crying and hugging, the movie ends. Such feel-good pretentiousness is not my mug of eggnog.'"
Damon encouraged the graduates to never stop seeking knowledge, telling the crowd that he recently retook a philosophy course online that he had once taken at Harvard.
"Your education should never be over, even outside of your work," Damon said, before listing off online education providers such as Ted.com and MIT OpenCourseWare. "I'm told there's even a Trump University. I have no earthly idea what they teach there."
Damon ended his speech by telling graduates that the future belongs to them, but they need to tackle the pressing issues facing society immediately.
"I hope you'll turn toward the problem of your choosing," Damon said. "And I hope you'll drop everything, and I hope you'll solve it."
"This is your life, class of 2016. This your moment. It is all down to you. Ready, player one; your game begins now."