Education
5 inspiring graduation speeches from locals to the class of 2020
"You've been handed more than your share," Conan O'Brien said at Harvard's virtual commencement.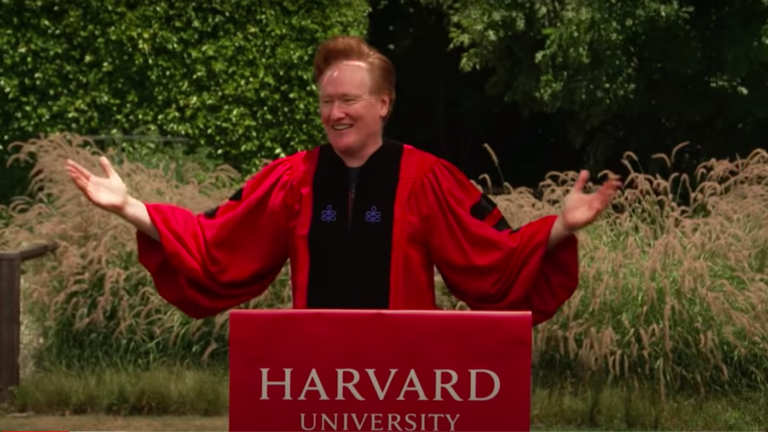 The class of 2020 has endured some unique circumstances. They finished their last semester online amid a pandemic and nationwide protests for racial justice; they closed the school year without prom, final games, award ceremonies, and milestones with friends; many are graduating in unlikely places — online, from their cars, and for one school, on top of a mountain.
Gov. Charlie Baker hosted a virtual graduation for Mass. high schoolers on Tuesday and Mayor Marty Walsh will host a similar ceremony for Boston Public Schools seniors on Saturday. But they are not the only ones finding ways to celebrate the class of 2020. Celebrities, comedians, athletes, and other notable figures with ties to the Bay State have shared their own messages of hope for this year's graduating class.
Ahead, Boston.com rounded up five inspirational speeches from locals to the class of 2020.
Conan O'Brien
"You've been handed more than your share"
Brookline native, Harvard graduate, and the former president of the Harvard Lampoon, the late-night host delivered a sardonic and darkly funny virtual commencement address for Harvard's class of 2020. If you want to skip the jokes and go straight to his message for the class of 2020, start at the 7:30 mark.
John Krasinski (and his "commencement conversation")
"Failure is an opportunity to move yourself in a different direction." — Oprah Winfrey
"Some Good News" is a feel-good comedy news series that Boston's own John Krasinski started hosting from his home at the beginning of the coronavirus pandemic. Before the show was sold to CBS/Viacom, Krasinski hosted a graduation episode with select seniors from across the country in a "commencement conversation." Skip ahead to 11:30 for the inspiring messages from speakers like Malala Yousafzai, Oprah Winfrey, Steven Spielberg, and Jon Stewart, as they answered graduates' questions.
Tom Brady
"You're not going to be able to rely on people to do things for you"
Even though he's moved to Tampa Bay, Tom Brady's 20 seasons with the New England Patriots are more than enough for Boston to claim him as a local. Brady's video addressing the 2020 graduates of the Forman School in Connecticut focused on believing in yourself even when things aren't working out the way you hoped (complete with plenty of football history).
Aaron Mahnke
"I didn't let the uncertainty stop me from testing the possibilities" 
Aaron Mahnke is the creator of the award-winning spooky history podcast Lore, as well as several other creative initiatives that he works on from his home on the North Shore. If you want to hear reflections about dealing with uncertainty and learning to try anyway, told in what might just be the world's most perfect podcasting voice, Mahnke's your guy.
UMass Amherst
"Your job is what pays the rent, but your work is what you do to contribute to the upliftment and the advancement of community" — Ayanna Pressley
The University of Massachusetts Amherst didn't just book one celebrity speaker — it booked all of them. In 10 seconds or less, everyone from Gov. Charlie Baker and congresswoman Ayanna Pressley to comedian Rachel Drach and Patriots owner Robert Kraft gave their advice to the class of 2020. If you want to skip right to the star speakers, skip to 10:40.