Entertainment
Exclusive: Ernie Hudson Reflects on 'Ghostbusters' as Film Celebrates 30th Anniversary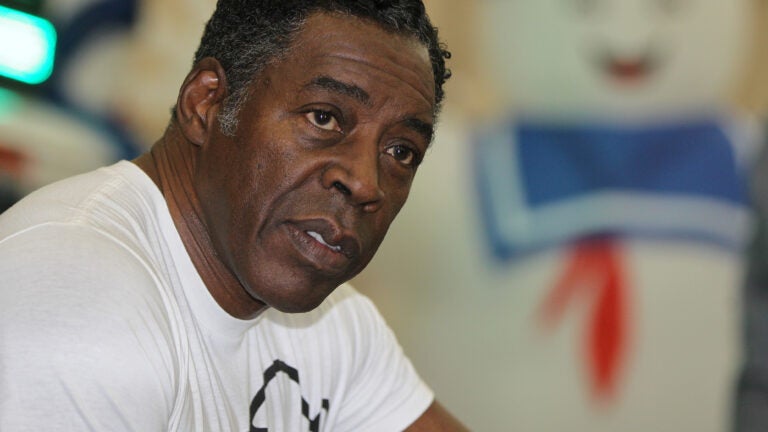 When "Ghostbusters'' first hit theaters in the summer of 1984, the world was a very different place. Ronald Reagan was snacking on jelly beans in the White House, Bruce Springsteen had us waving our American flags with "Born in the U.S.A.'' on our radios, and Doug Flutie made us believe in miracles by throwing Hail Mary touchdowns at Boston College.
Good times.
While it's been three decades since the release of this classic comedy, the film is still so popular that Aug. 28 was declared "Ghostbusters Day'' by Sony Pictures. The flick will also be heading back to the big screen for a limited time this weekend in honor of its 30th anniversary.
In order to make sense of the pop culture phenomenon, we needed to consult a real "Ghostbuster.'' Thankfully, Ernie Hudson, aka Winston Zeddemore, was available to give us a call.
For Hudson, the film has remained popular because of its ability to resonate with people of all ages.
"I think old people love 'Ghostbusters,' I think little kids love 'Ghostbusters,' and it's something that families can share together,'' Hudson told Boston.com from Chicago.
"I was at a convention and a guy came in with his 10-month-old baby, and he had this beautiful 'Ghostbusters' suit on, and I'm like, 'You can't buy that, you had to have made it,''' Hudson remembered. "His mother stepped up and said, 'No, I made it for him when he was a baby.' Now his baby's wearing it and it just shows it's something that they can all share together.''
It's these sort of heartwarming moments that have convinced Hudson to embrace the fans, a lesson he learned during a lunchtime stroll through the streets of New York with his "Ghostbuster'' co-star Bill Murray.
"I think he taught me a lot about, you know, to embrace the fans. People love Bill Murray,'' Hudson said. "Guys would slam on their brakes in their car in the middle of the street, pull over, and hug him. Bill was just so in the moment and didn't shy away from it.''
Not every memory Hudson has of "Ghostbusters'' is as happy as the days he spent with Murray, though. The actor recalled having a number issues with Columbia Pictures, particularly over how his character was promoted, or rather, was not promoted.
"The studio continually made stupid decisions that made it very hard for me, just in terms of how they promoted it, not being on the poster,'' Hudson said. "It just felt like they were continually trying to not include the character and, I'm glad after 30 years, the fans really embraced the Winston character.''
Originally, Eddie Murphy was set to play Winston, but passed on the role. When Hudson signed on, the studio made a slew of changes to the character's backstory and the film's original script before production started.
"The original script, which I loved and fell in love with and why I signed to do the movie under the terms that I did, it was a great role,'' Hudson said.
Hudson recalled that the original script featured Winston, who had a back story in the Air Force, was a major character from the beginning.
"All that stuff, as an actor, was just great stuff to be able to play,'' Hudson remarked. "Then, just before we started, all of that changed. Now, I look at it and go, 'it kind of works the way it was.'''
Despite Hudson's issues with the bussiness end of Hollywood, the actor is still open to being in another sequel — he just doesn't have that much faith in the studio to create a good enough product.
As rumors of an all-female cast or a straight up reboot have been swirling around the Internet, Hudson is leaving the prospects of a "Ghostbusters 3'' up to fate.
"When it comes to the studio and their decisions, I'm never surprised at the stupidity,'' Hudson said. "I'd love to do another one because the fans have been so supportive and I'd just love to see it happen and love to be a part of it. But, I don't take anything for granted and I've learned thanks to Sony, or Columbia at the time, not to get my hopes up, because, things turn out different from what you planned.''
Hudson admits that the recent death of fellow co-star Harold Ramis may be another reason why a new sequel may not come to fruition.
"You can't really do it without Harold, but I think we can do something that would be really a lot of fun and something for the fans,'' Hudson said. "That's one of the criticism that a lot of people had about the second movie is you can't recreate the magic, or you just have to come up with a different kind of magic.''
Regardless of whether another "Ghostbusters'' movie gets made, Hudson is happy to have just been a part of one of the most successful comedies in American cinema.
Looking ahead to the film's 50th anniversary in 2034, 68-year-old Hudson isn't sure how he'll celebrate the milestone, but hopes that fans will still be in love with the ghost-catching crew.
"I'm thinking, the 50th anniversary of 'Ghostbusters,' I'll probably be sitting somewhere in a chair with a 'Ghostbusters' outfit on and, I don't know, I have no idea,'' Hudson said. "I'd be blessed if fans still love it after 50 years. That alone, would be the celebration.''