Why Do We Watch Award Shows? We Explain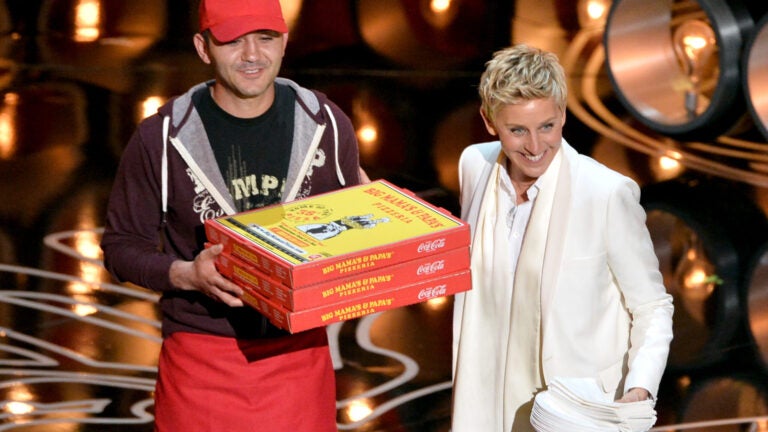 The award show season is about to culminate with the big kahuna: the Oscars. And I can't wait. The slight film geek within me is reeling with excitement. But for others, it's not just about the films: It's about the celebrities, the fashion, the wins, the blunders, and even the seemingly spontaneous selfies.
[fragment number=0]
But why do we anxiously await this year's glitz, glamour, and jolly song-and-dance numbers from host Neil Patrick Harris? Why do we endure the excruciatingly long four-hour special? What is it about the celebrities that is so enticing and alluring to watch? Why do we care about who wins and loses? Why do we watch even if we might not have seen the films nominated?
Boston.com talked to a few experts about the nature of celebrity worship and how who we share our award shows-watching experience with might help us understand why we are watching in the first place.
It all starts in our teenage years… maybe even earlier.
Growing up is tough.
[fragment number=1]
As adolescents grow into maturity, they look to celebrities as role models for how to live well and how to live successfully. Even from an early age, children are ingrained to look up to certain figures in the media, according to Dr. Clare Mehta, assistant professor of psychology at Emmanuel College.
"If they're not in love with Kim Kardashian at age 5 then that makes sense, but they're already in love with Barbie and Cinderella, which probably paves the way developmentally [for celebrity worship]'' she said.
Adolescents tend to try on others' identities while they are trying to figure out their own, Mehta said.
"What we use celebrities for … is more poignant for adolescents, because they are at a time in their lives where they are trying to sort out who they are in the world and what their paths are going to be,'' said Andrea McDonnell, assistant professor of communication and media studies at Emmanuel College.
We like to see the celebrities we think we know so well.
[fragment number=2]
Award shows, such as the Oscars and the Golden Globes, let us think we get a glimpse of the celebrities' true selves, according to McDonnell. We can separate them from the characters they play in films or television. We like to think they answer questions genuinely on the red carpet, and that they accept their statuettes with speeches (they seem) to have crafted themselves.
"We may feel that it gives us a window into that world,'' she said, "a way of vicariously experiencing that glamour like we can, but it can also bring us closer in a kind of personal way to those stars that we feel that we know because we keep up with them through magazines, through social media, through blogs.''
We long for those unguarded celebrity moments.
We aren't privy to the unfiltered celebrity at award shows, no matter how much we want to think we are, according to Andrea Press, professor of sociology and media studies and the University of Virginia.
"It's really such a big part of celebrity to always be in control of the presentation of themselves, and I think people are controlled when they are at the Oscars,'' she said. "I think the camera is always searching for that unguarded moment. I don't know if it ever really finds it.''
[fragment number=3]
Movie stars are expert representations of beauty, and though their thoughts and actions aren't scripted like they are screen, they are showing up in a quite calculated manner, Press said.
"I think very self-consciously, movie stars are playing the movie star game,'' she said. "They are presenting themselves as very specific spectacles of glamour, so embodying that is this sort of desire to transcend daily life and daily appearances.''
We get to bond with our friends. And throw parties.
The Oscars give us something to talk about at work. And, perhaps most importantly, it gives us a chance to bond with our friends and family while watching, McDonnell said.
"We can talk about our feelings, laugh, and critique and judge and that brings us closer to people we know and enjoy in our everyday lives," she said.
Mehta's research has proven that women enjoy talking to their female friends about celebrities when their husbands and male friends sometimes cannot offer such a discourse. The Oscars give us a platform to connect with other people. We are able to discuss, debate, and engage with others about what makes a great film and what we think constitutes beauty, according to Mehta.
We like to judge people, and while watching an award show, we can do so freely. And, we like to see people fail. We love failure.
[fragment number=4]
When watching award shows in our home with people we know, it gives us the liberty to ask ourselves: Do I agree with the academy's choice for best picture? Do I like Gwyneth Paltrow's dress?
"We feel under pressure in contemporary culture to conform to particular norms surrounding celebrity and appearance, and celebrity culture does give us a chance to talk back those norms and to challenge them in some ways, because our own opinion in the context of our living room matters just as much as the opinions of the commentators and judges,'' McDonnell said.
When a celebrity falls or says something wrong at an award show, we revel in seeing that failure, according to McDonnell.
"People enjoy critiquing (especially women) who are supposed to look the best they have ever looked, at this kind of height of their careers,'' she said.
[fragment number=5]
And this is because we want to see the vulnerability in the celebrities that always seem intractable—because then, they seem more like us, McDonnell said.
Newsflash females: You're consumers.
Women are the primary Oscar audience because they are more inclined to take interest in the glitter and glamour on screen, according to McDonnell.
"I think the emphasis is on the female stars because they tend to be more linked into that system of celebrity consumption, and the readers of those celebrity magazines are of predominantly young women,'' she said. "Of course the week after the award shows, all of the dresses and moments are all covered in the magazines, which sell to a female audience.''
[fragment number=6]
Such an emphasis on female dress and beauty is problematic, Mehta said.
"No one is focused on men or how they look, but they are so focused on women and how they look that it sends a message that it is important to who you are as a woman,'' she said. "If you look good, this is what matters. No one is talking about how smart these people are, and granted these awards series are supposed to be about people's achievements, but really everyone's talking about what dresses and jewelry everyone's got on.''
Amy Poehler's #AskHerMore initiative hopes to combat such notions of female representation in urging reporters to ask women on the red carpet more questions than just those focused on who she is wearing and what she is wearing.
Warm snow-free daylight is enticing to see on screen, especially in our current frozen tundra. #BOSnow
This one doesn't need much explanation.
In the end, we are humans and we long for camaraderie with our fellow humans. Award shows give us an opportunity to have a voice against the highest standards of beauty and fashion. In discussing what's on the screen with our companions, the echelon of the rich and famous doesn't seem so removed from our everyday lives. And we hope that maybe, just maybe, we'll have a moment like this:
[fragment number=7]
Loading...