Entertainment
Demetri Martin Explains Why He Passed on Harvard—Twice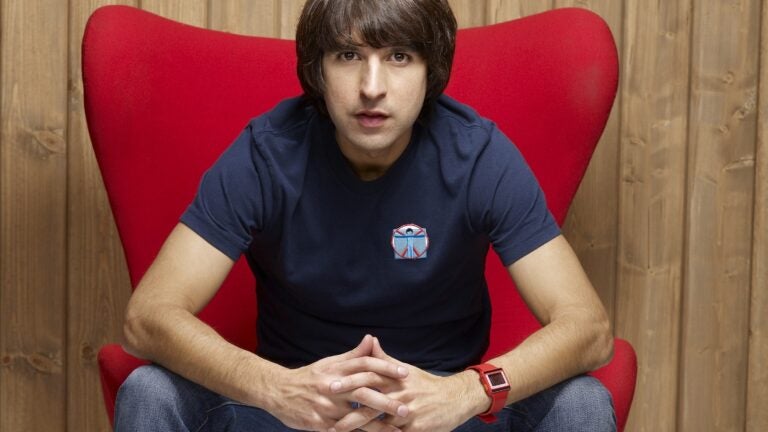 A master of palindromes and witty one-liners, Demetri Martin is one of the smartest comedians in the business today.
It shouldn't come as a surprise, then, that the comic nearly went to Harvard on two occasions. However, love, life, and finances led Martin to pass on the prospects of attending the university, a decision that's actually panned out quite well for him.
The former Daily Show correspondent, who's performing at the Wilbur on Tuesday, says he first turned down the idea of going to Harvard after a so-so trip to the university's campus during his undergraduate search.
"I had a bad visit, it was raining a lot… I was just like, this isn't for me,'' Martin told Boston.com. "When I visited Yale, it was just like a nice day, I don't know. It went smoothly, so I was like, 'Cool, I'll try for Yale,' and then I got it.''
He did get another chance to ship up to the Boston area when he was applying to law schools, and this time, the notion of becoming a Crimson didn't seem like such a bad idea.
Martin says he was excited to trade living in a "rough'' city like New Haven for Cambridge's "quintessential college town'' feel. But despite getting accepted by Harvard Law School, he turned down the university, but for much different reasons.
Like many things in life, Martin says the decision came down to love and money. The comedian ended up going to New York University's law school because of his then-girlfriend… and also because he got a full-ride.
"She didn't get into Harvard Medical School and, not only that, she didn't get into any Boston medical schools, but she did get into NYU medical school,'' Martin said. "It's kind of a convoluted story, but I got a full ride to NYU law school… So, I figure, I'll go for free to law school and I'll be with the girl.''
[fragment number=0]
The relationship didn't last long, and neither did his time at the university. But the experience wasn't all in vein.
Being in New York City meant Martin was in the heart of the comedy world. So he chose to dropout to pursue his dreams, and he hasn't looked back since.
While Martin never ended up calling the Hub his home, in a way, Boston was still able to play a role in his early years as a comedian.
"NYU Law School is right by the Comedy Cellar and what was called, ironically, the Boston Comedy Club at the time,'' he said. "I dropped out of school and tried it and sure enough I started right there in the village right across the street from the law school.''