Entertainment
Here Is Your Illuminati Bracket
Pretty much everyone is in it.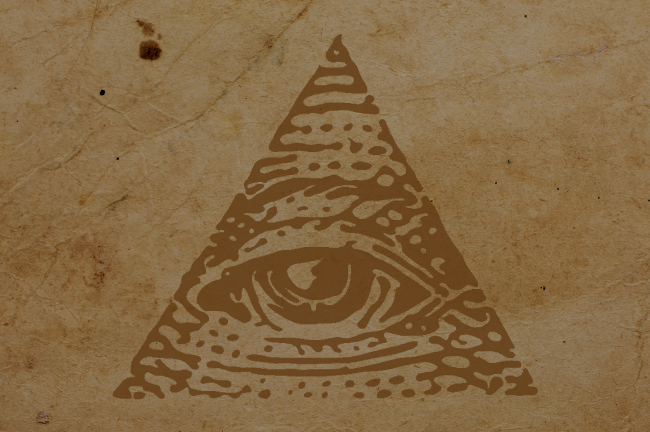 What is the Illuminati? Just a secret society that may or may not exist that may or may not be hundreds of years old and may or may not include major celebrities, politicians, and athletes.
Since you're already out of your office pool for the real March Madness, you may as well have some fun picking your candidate for Illuminati.
Of course, satirical articles like this one are just making fun of the whole idea of an Illuminati. Unless, of course, this article is a false flag planted by the Illuminati to throw you off the trail.
So you should either not take this bracket seriously—or you should take it really seriously.
From the Underground Bunker Region
#1 Vinny Del Negro
How does this hapless basketball coach keep getting work? Sure, he's not in the NBA right now, but you know he will be again. It boggles the mind, and we smell a conspiracy theory.
vs. #16 Tim & Eric
How do they land John C. Reilly, Will Forte, Zack Galifianakis, and a movie all on a budget that looks fit for a rural high school A/V club? Fishy.
[fragment number=0]
#8 Amy Poehler
She's had one of the best post-Saturday Night Live careers, gets to work with her close friend, and is actually funny in movies, which is more than we can say for most SNL alums. Hmmm.
vs. #9 Bob Odenkirk
He was doing nothing before Breaking Bad. Now, he's got his own show. He was on Space Ghost, for crying out loud. Andy Dick was on Space Ghost, folks.
[fragment number=1]
#5 Robert Frost
His poetry jumped the pond decades before The Beatles, and, to be honest, it's not that amazing. Sorry, it isn't.
vs. #12 Ta-Nehisi Coates
There's no way a guy who loves Mobb Deep as much as he does writes something as airtight as The Case For Reparations without help from a secret cabal. There, I said it.
[fragment number=2]
#4 Meghan Trainor
Sure, she's a pop singer, but that doesn't take away from the fact that she's from one of the most Illuminati-dense places in the world: Nantucket, Massachusetts.
vs. #13 Beenie Man
"Zagga Zow!'' is probably an Illuminati greeting.
[fragment number=3]
#6 The Kars4Kids Song
Click the link. Go ahead, do it. Whether or not you donate your car today-yay-yay, you can't get it out of your head.
vs. #11 Bowser
It's Bowser, guys.
[fragment number=4]
#3 Paul Wahlberg
Donnie was in NKOTB. Mark modeled undies while rapping, before making the jump to acting. Paul seemed to take the long view, biding his time until adulthood, using hamburgers and reality TV for fame. It's an ingenious plan…a little too ingenious.
vs. #14 M. Night Shyamalan.
See Vinny Del Negro, if he once took a team deep into the playoffs. The Sixth Sense would be that team.
[fragment number=5]
#7 FIFA
Soccer's controlling body is a cesspool. It's so bad it may be the Illuminati all on its own, if the Illuminati took lessons from COBRA.
vs. #10 JAY Z
He's got a beautiful wife and daughter, a half a billion dollars, and a ton of awards and accolades. Gotta be in.
[fragment number=6]
#2 Uber
Their drivers get the shaft. They raise fees for the hell of it. But you just can't quit them. They're the Nino Brown of the service industry.
vs. #15 Jimmy Buffett
He had one good song, and people love him. He parlayed that one good song into a stake in a pretty good restaurant. He's got one look, and he just won't go away.
[fragment number=7]
You should either not take this bracket seriously—or you should take it really seriously.Eric Silva / Boston.com
From the Roswell Region
#1 Mr. Rogers
He taught kids pretty much everything, was just as nice on TV as he was in real life, may have been a sniper (he wasn't, but that's an awesome rumor), and never mussed up his signature sweater. He's either Illuminati or God, folks.
vs. #16 The City of Revere
The state hates them… or does it? Sure, it might look like they can't catch a break. But we all know it would be a bad look to put a stadium or casino on top of the super-secret-but-definitely-there underground bunker.
[fragment number=8]
#8 Gucci Mane
If it weren't for Gucci Mane? We don't get Young Thug, Future, Migos, PeeWee Longway, Rich Homie Quan, or this beat. For a guy who can't stay out of jail, he's arguably the most important ear in the last decade of popular music.
vs. #9 Scott Brooks
See M. Night Shyamalan, if The Sixth Sense was, like, Bad Boys 2. Bad Boys 2 is Scott Brooks' best season as a coach of the Oklahoma City Thunder.
[fragment number=9]
#5 Finn the Human
All of the humans I know who talk to dogs and lumpy clouds aren't allowed anywhere near my loved ones. This guy gets to influence our children. Won't somebody please think of the children?
vs. #12 Buzzfeed
They know you have work to get done. But whenever your to-do list is at its longest, they roll out yet another quiz you can't resist. Of course I need to know which Golden Girl I am… unless I'm Blanche.
[fragment number=10]
#4 Jon Taffer
He goes to bars, yells at employees, critiques their ambiance and food. And then they listen to him.
vs. #13 Bill Russell
Eleven rings. He coached for some. He's got a statue, and he shut down LeBron with a single quote. We love you, Bill.
[fragment number=11]
#6 David Stern
Ask Patrick Ewing and Chris Paul why David Stern should get in.
vs. #7 Hulk Hogan
He kicked Konan out of the Wolfpack. Unforgiveable.
[fragment number=12]
#3 Sonny Vaccaro
The guy who helped Nike snag Jordan also founded one of the most important basketball camps for high school recruits, angering the NCAA in the process. He's hardly ever mentioned. He's the ultimate unseen hand.
vs. #14 Stanley Kubrick
Something something moon landing something something Eyes Wide Shut.
[fragment number=13]
#7 Tom Brady
There's a chance he's better than Joe Montana. He's definitely better than Peyton Manning. His wife is beautiful. He's just so… perfect.
vs. #10 Migos
They're better than The Beatles, and they did it with no label.
[fragment number=14]
#2 Keanu Reeves
Unless we get another Bill and Ted, we're going to push this rumor as far as we can.
vs. #15 John Cena
He. Just. Won't. Go. Away. If you watch wrestling, and you're over 15, you know that a superlative conspiracy is the only explanation for this kind of shelf life.
[fragment number=15]
You should either not take this bracket seriously—or you should take it really seriously.Eric Silva / Boston.com
From the Island Fortress Region
#1 Louis C.K.
It's easy to forget that the guy with his own show, who frequently pops up on late-night television and sells out surprise stand-up gigs in Somerville in minutes wrote and directed Pootie Tang. Illuminati.
vs. #16 Sammy Hagar
He didn't get much work after, but the idea of Sammy being an adequate replacement for Diamond Dave points to the Illuminati. Or the Stonecutters.
[fragment number=16]
#8 Jim Carrey
He gets this spot, because he was just too good as Andy Kaufman in Man on The Moon… so good it calls into question how he could be so terrible at other, far simpler roles.
vs. #9 Morgan Freeman
We're not saying he's the Highlander, but this is his kindergarten photo:
…taken in 1902.ABC News
[fragment number=17]
#5 Barbara Walters
She gave us The View. We'll never get rid of The View.
vs. #12 John Starks
He gave away the Knicks's last best shot at a title, spiraling them into two decades of turmoil. If a secret society isn't meant to keep New York from winning another NBA title, then what good is having a secret society at all?
[fragment number=18]
#4 Mindy Kaling
So, I'm to believe that a Dartmouth grad has a sense of humor? The Illuminati isn't even trying anymore.
vs. #13 Adam Schefter
There's no evidence to disprove our theory that ESPN NFL reporter Adam Schefter is a robot.
[fragment number=19]
#6 Homer Simpson
How does a man so inept keep his job at a nuclear plant, afford a two-floor house, two cars, frequent vacations, a hefty drinking habit, health insurance, and care for his aging father in (what we're pretty sure is) the Midwest? When you realize he spends quite a bit of time out of work, if he doesn't still own the Denver Broncos, it's got to be the Illuminati.
vs. #11 Adrian Wojnarowski
Remember that time a fake Woj Twitter account set the world on fire? No one man should have all that power.
[fragment number=20]
#3Joe Kennedy, Sr.
This magnate managed to be the first SEC chairman and managed to have a president for a son, along with two other sons who had decent shots at the Oval Office at one time or another. Not bad for a guy who once thought democracy could be finished in America.
vs. #14 Bill Simmons
He has his hands in nearly every form of media. He's definitely in it.
[fragment number=21]
#7 Paul Thomas Anderson
He hasn't missed yet. He's too damn good.
vs. #10 Nev Schulman
This guy managed to get played on the Internet by a housewife, and, instead of being endlessly teased for it, parlayed that oversight into a television show that is now in it's fourth season. It's like if you slipped on a banana peel in front of a bus full of supermodels, and then Vogue hired you to slip on banana peels whenever they had a model in the building. Too good to be true.
[fragment number=22]
#2 Jay from 'Serial'
We don't know about what exactly, but he's lying.
vs. #15 Gisele Bündchen
She just quit runway modeling, and she'll probably still be the highest-paid supermodel, like she's been for the past eight years.
[fragment number=23]
You should either not take this bracket seriously—or you should take it really seriously.Eric Silva / Boston.com
From the Internet Region
#1 Gayle King
She's the woman behind the woman. Oprah's got $1 billion, and Gayle has been there every step of the way. She's got to be pulling the strings.
vs. #16 LeBron James
Is his hairline gone, or is it back? He's indestructible, he's still arguably the best player in the league, and he'll be one of the two or three best for another three or four years. Also, this Vine is hypnotic:
[fragment number=24]
[fragment number=25]
#8 Harmony Korine
This guy managed to step out of the gate with a film as good as Kids, and then he gets Gucci Mane to act (read: play himself) in a movie, and emerges unscathed.
vs. #9 Iggy Azealia
The Australian-born, Southern-influenced rapper recently tried to pass off some ancient incantation as rap at a concert.
[fragment number=26]
#5 Elizabeth Warren
She's taking on banks. But is she taking all the money? How would anyone know?
vs. #12 Shonda Rhimes
She got the entire country to take a guy from Half-Bakedseriously. Let that soak in.
[fragment number=27]
#4 Prince
He's one of the most preternaturally talented musicians the world has ever seen. The Purple One will steal your girl while he wears a pair of assless chaps and then embarass you on the court. And, if you cross him, your money might become his money.
vs. #13 Jaden Smith
How can someone so young be such an enlightened soul? Probably because he owns so few shirts.
[fragment number=28]
#6 Every Black Celebrity
Just ask Twitter, Instagram, and your cousin.
vs. #11 Tim Duncan
He's not making this list because he's still playing well. He's making this list because he still dresses like your Afromusicology professor.
[fragment number=29]
#3 Rick Pitino
He's Lane Kiffin before Lane Kiffin, failing so terribly during his stint in Boston that he washed out… into an amazingly cushy spot at Louisville.
vs. #14 Adam Weishaupt
He was actually in the Illuminati. So, I mean, I guess?
[fragment number=30]
#7 Dave Chappelle
His Black Bush sketch is what the Republican Party wishes to portray our current President's stint in office as.
vs. #10 Lil B "The BasedGod''
This guy gives lectures at top-flight universities. He also tweets like this, and cursed Kevin Durant.
[fragment number=31]
[fragment number=32]
#2 Bill Clinton
This guy is riding a seemingly unending wave of support and love, and none of us saw it coming.
vs. #15 Kanye West
Definitely Illuminati.
[fragment number=33]
[fragment number=34][fragment number=35]