Entertainment
See Bill Nye, Swan Boats, and 5 Other Things to Do in Boston This Weekend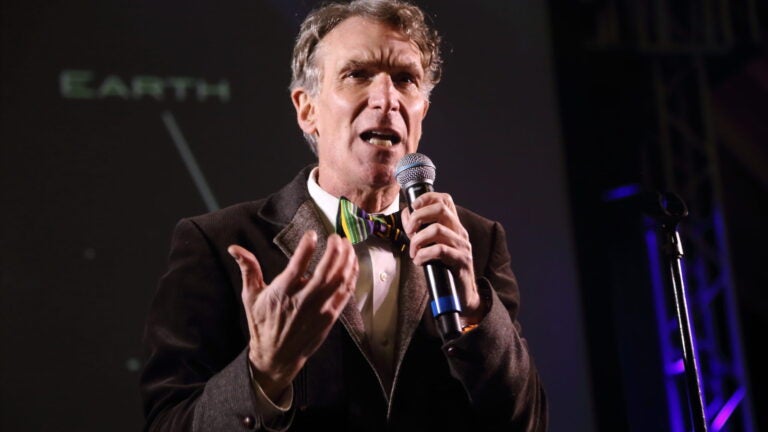 Bill Nye the Science Guy is hosting a special talk in Boston this weekend as part of the Eugene Mirman Comedy Festival. Saturday is supposed to be beautiful, which means it's the perfect time to check out the return of the Public Garden's Swan Boats. From nightlife fun to food and film festivals, there's a little something for everyone going on this weekend.
Movies: Boston International Film Festival
This year's festival kicked off on Thursday with a screening of Lines, the latest short film by former Power Ranger Amy Jo Johnson. The festivities will also feature an appearance by Agent Carter star Lyndsy Fonseca, who is premiering her dark comedy Moments of Clarity on Saturday.
Now through April 21. bifilmfestival.com
[fragment number=0]
Comedy: Dom Irrera at Laugh Boston
Stand-up smooth-talker Dom Irrera is coming to town for a three-day stint at Laugh Boston. While the former Seinfeld star recently dipped his toes into the world of music, don't expect any tunes from the comedy legend this weekend.
Now through April 18. 21+, laughboston.com
Nightlife: Cedric Gervais at Royale
Grammy winner Cedric Gervais is bringing the bass to town as he takes over Royale this weekend. The French DJ and producer will be laying down the beats as a part of the venues's Sofa King Fridays event.
April 17. 21+, royaleboston.com
Outdoor Fun: Swan Boats Open For Season
Good thing it's supposed to be gorgeous outside because those iconic Swan Boats are kicking off another season starting Saturday. Grab the kids and set sail on the Public Garden's scenic pond.
Opens for the season on April 18. All ages, swanboats.com
Get Your Grub On: Greenway Spring Food Festival
Head to the Rose F. Kennedy Greenway on Saturday afternoon for this year's festival. Over a dozen popular food vendors will be on-site, including area favorites like Bon Me and Frozen Hoagies.
April 18. All ages, rosekennedygreenway.org
[fragment number=1]
Art: Chinese Folk Art at Boston Children's Museum
Eleven of China's top folk artists will be holding traditional demonstrations at the Boston Children's Museum on Saturday. Activities will include exploring opera mask painting, wood block printing, and more.
April 18. All ages, bostonchildrensmuseum.org
Weekend Pick: Star Talk Live! with Bill Nye the Science Guy
A slew of celebrities will join Bill Nye the Science Guy at the Shubert Theatre on Sunday night. The event, which caps off this weekend's Eugene Mirman Comedy Festival, will feature appearances by Rachel Dratch, Scott Adsit, and George Church.
April 19. citicenter.org
[fragment number=2]