Entertainment
110 fun things to do now that you've survived Boston's worst winter ever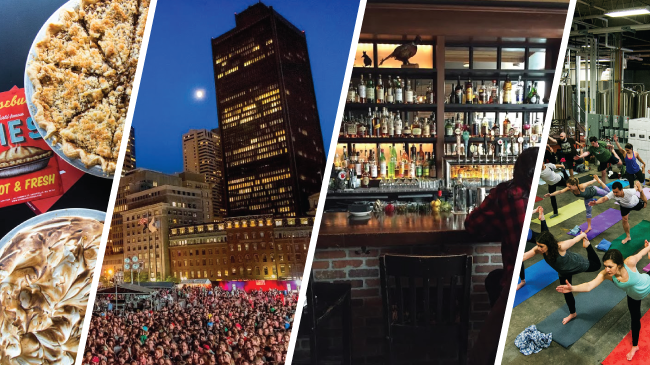 We've hibernated, holed up, and hunkered down for the better part of five months. At long last, it's time to go out and have some fun. Here's our guide to 110 things to do — one for every inch of snow we endured during that long, long winter.
[fragment number=0]
1. Get a scoop (or two) of artistic gelato. European chain Amorino Gelato just opened up a Newbury Street outpost, where they assemble flower-shaped masterpieces in flavors like bourbon vanilla, stracciatella, and femminello lemon. To be fair, the gourmet gelato is the real star of the show, but the full coffee bar, chocolates, and pastries make this a place worth lingering around all afternoon.
249 Newbury St., Boston, amorino.com/us
2. Eat a lobster sandwich. Tucked away on a quiet side street, Alive and Kicking is our go-to for a pile of shucked crustacean between two slices of buttered toast. For purists, it's a bit unorthodox — the nearest body of water is the Charles, after all — but one bite is all it takes to flip even the staunchest New Englander. Just beware: In these parts, it's not called a lobster roll, and the owners will correct you.
269 Putnam Ave., Cambridge, aliveandkickinglobsters.com
3. Unleash your rebel yell. The best part about Tuesday nights at Redd's in Rozzie isn't the special burger-centric menu featuring smothered patties. It's what happens after 7 p.m., when they start shouting out Bingo numbers, and the place transforms into a madhouse. Prizes vary from week to week, but typically include home-baked goodies courtesy of Chef Delicious.
4257 Washington St., Roslindale, reddsinrozzie.com
4. Find out what's better than tacos. Two words: unlimited tacos. Lolita Cocina and Tequila Bar hosts all-you-can-eat hard shells for $9, accompanied by their house hot sauce and salsas, every Monday from 5 to 11 p.m.
271 Dartmouth St., Boston, lolitatequilabars.com
5. Try the pie. There are many reasons to head over to Rosebud American Kitchen & Bar. Not least among them is the dessert case brimming with homemade pies. If you don't take out a few slices, go all in on the turtle pie, which is made from pecans, caramel, chocolate, and whipped cream. It pairs ever-so-nicely with bottomless coffee.
381 Summer St., Somerville, rosebudkitchen.com
6. Slurp your daily fruit requirement. Housemade paletas at Pressed, the new juice bar on Charles Street, come in unique flavors ranging from chili-lime cucumber to strawberry-white balsamic to blood orange with coconut milk and thyme. Whichever you select, it'll be a refreshing add-on to a stroll along the cobblestones.
120 Charles St., Boston, pressedboston.com
7. Break for breakfast. If you like waffles — which is to say, if you're a living, breathing human — but don't have time to venture over to the original Cambridge bakery, Zinneken's food truck serves authentic Belgian waffles. This is the first spring the truck hits the streets, so line up and slather on the maple syrup, Nutella, peanut butter, and/or whipped cream.
8. Get a quarter-pounder with cheese in Paris. Or a Royale with Cheese here. Fork & Tune will host a Pulp Fiction soundtrack-inspired communal dining pop-up at Treats on Washington. Chef Jessica Brown and host Dana Briley will take guests on four-course feast, washed down with a Shot of Adrenaline, aka a boozy Vanilla Coke snowcone.
May 1 and 9, 379 Washington St., Boston, treatsboston.com, eventbrite.com
9. Eat ice cream at a dairy farm. At this picturesque pasture, the scoops are supersized compared with the run-of-the-mill ice cream parlors. Ask for sprinkles layered at the bottom and top of your ice cream at no extra charge. Whipped cream, too, but at that point, you might as well make it a sundae.
407 Bay Road, Sharon, crescentridge.com
10. Picnic like a boss. If you're looking for a way to spend a lazy Saturday — but you're feeling just plain, well, lazy — call up the pros, and rent a fully loaded picnic basket en route to your favorite greenspace. Central Bottle stocks theirs with Iggy's baguette, New England cheeses, house-made fig jam, and more, along with your choice of red, white, rose, or beer.
196 Massachusetts Ave., Cambridge, centralbottle.com
11. Work your way through Chinatown. The battle of the soup dumplings is one long attested by xiaolongbao aficionados. Boston has three main players: Dumpling Cafe, Gourmet Dumpling House, and Taiwan Cafe, each with their own charm and secret dough-to-filling recipe. Search for the mini juicy buns on the menu, and eat them fast and plenty.
Dumpling Cafe, 695 Washington St., Boston, dumplingcafe.com
Gourmet Dumpling House, 52 Beach St.
Boston Taiwan Cafe, 34 Oxford St., Boston, taiwancafeboston.com
12. Release your beast of burden. Jamaica Plain's Tres Gatos — one part tapas restaurant, two parts book and record shop — hosts a Rolling Stones-themed JP Sings open mic night on May 19. Locals are encouraged to bring their own interpretation of the Stones' catalog of classics for an 8-10 review. Their own instruments, too.
470 Centre St., Boston, tresgatosjp.com
13. Find some Southern comfort. The Kentucky Derby is this weekend, and just because we're far north of the Mason-Dixon doesn't mean we can't play along. A New Englander's mint julep fix can be satisfied at Estelle's in the South End, where they'll be mixing up a maple-twanged interpretation.
782 Tremont St., Boston, estellesboston.com
[fragment number=1]
14. View new public art on the Greenway. Renowned artist Janet Echelman, who lives in Brookline, created an aerial net sculpture that boasts some impressive stats: It's made from over 100 miles of twine and half a million knots. It weighs approximately 1 ton. And it will soar hundreds of feet above the Fort Point Channel Park through October.
Opens May 11, rosekennedygreenway.org
15. Laugh your ass off. Between starring in a new film and running her hit Comedy Central show, Amy Schumer is poised for a breakout year in 2015. The rising stand-up starlet will bring her brash brand of comedy to The Wilbur in May.
May 28. 246 Tremont St., Boston, thewilbur.com
16. Test drive your festival wardrobe. The 32nd annual MayFair in Harvard Square and Cinco de Mayo street celebration welcomes The Sheila Divine, Air Traffic Controller, Hallelujah The Hills, and others to a two-stage setup alongside grub from local restaurants and hundreds of vintage and craft vendors.
May 3; rain date is May 17, harvardsquare.com
17. Listen to someone else's mother. Alma Wahlberg and Diane Gronkowski, arguably Boston's favorite moms, will dish on their famous families at a Foxwoods Celebrity Mothers Panel for Mother's Day weekend. Every mom in attendance will receive a rose and a chance to win prizes like diamond earrings and spa packages. Don't expect to win a date with Gronk or a Wahlberg, though…
May 8. 350 Trolley Line Blvd., Mashantucket, Connecticut, foxwoods.com
18. Have the time of your life. The stage production of Dirty Dancing waltzes its way into the Emerson Colonial Theatre this spring. Learn Baby and Johnny's moves at a special dance class taught by members of the cast on May 5, as a part of this year's ArtWeekBoston.
April 28-May 10, 106 Boylston St., Boston, citicenter.org
19. Drive with your windows down. Shuffle your playlist, prep your vocal chords, and put your pedal to the metal. Check out the Massachusetts Office of Travel and Tourism site for curated guides of some of the state's most scenic drives, or download the Field Trip or Roadtrippers app for play-by-play suggestions along your route.
20. Immerse yourself in art. The Copley Society of Art's 27th annual Fresh Paint Gala is May 9. You can sip cocktails, munch on hors d'oeuvres, and enjoy a silent auction of more than 80 freshly painted works of art, which include pieces featuring landmarks in Boston and surrounding areas.
Copley Society of Art, 158 Newbury St., Boston, copleysociety.org
21. Cue the laugh track. Canton-born comic Bill Burr makes his triumphant homecoming this spring with nine (nine!) straight days of shows at The Wilbur. The Massachusetts local also is set to star in Netflix's upcoming animated comedy, F Is for Family, opposite Laura Dern and Justin Long, later this year.
May 9-18, 246 Tremont St., Boston, thewilbur.com
22. Raise the stakes with heavy hitters. After taking gold at the 2008 Olympics, pugilist James DeGale hopes to add another award to his collection when he faces Andre Dirrell at Agganis Arena this May. Should DeGale emerge victorious, he'll make history by becoming the first British Olympic champion to also win a world title.
May 23, 925 Commonwealth Ave., Boston, premierboxingchampions.com
23. Rev your engines. What better way to spend Father's Day weekend than seeing 12-foot trucks jump 30 feet in the air? Check out all the mayhem when Monster Jam's Path of Destruction 2015 rolls into Gillette Stadium.
June 20, 1 Patriot Place, Foxborough, monsterjam.com
24. Catch up with Batman. Pop culture and comic book icons of the past will take over the Shriners Auditorium for this summer's Northeast Comic Con. Hercules star Kevin Sorbo and the legendary TV Batman Adam West are just some of the famous faces set to make guest appearances.
June 20-21, 99 Fordham Road, Wilmington, necomiccon.net
25. Putter up. Soak up the sun and engage in a little friendly competition during a round of mini golf. Solid local options include the famous Route 1 Miniature Golf & Batting Cages (look for its unmistakable orange dinosaur) in Saugus and Castle Creek Adventure Land in Salem. Loser buys drinks at Salem Beer Works.
Route 1 Miniature Golf & Batting Cages, 1575 Broadway, Saugus, theorangedinosaur.com
Castle Creek Adventure Land, 100-114 Swampscott Road, Salem, castlecreekadventureland.com
26. Throwback to your childhood. Legoland has it figured out every third Wednesday of the month, when the playspace opens its gates to grown-ups for 18+ adult nights — without kiddos and with a cash bar. On May 20, they're hosting an 1980s-themed adult prom, including a dance-off, king and queen, and more.
598 Assembly Row, Somerville, legolanddiscoverycenter.com
27. Support the Revolution. Rekindle memories of the World Cup by heading to a Major League Soccer game at Gillette Stadium. The Revs feature U.S. player Jermaine Jones, a star from the 2014 World Cup, but even still, you never have to worry about a sellout and can easily score gameday tickets.
1 Patriot Place, Foxborough, revolutionsoccer.net
28. Up your art smarts. Four new James and Audrey Foster Prize recipients are now on display in the Fotene Demoulas Gallery at the Institute of Contemporary Art through August 9: Ricardo De Lima, Vela Phelan, and Sandrine Schaefer, along with experimental art space collective, kijidome. Swing by any Thursday from 5-9 p.m. for comped admission.
100 Northern Ave., Boston, icaboston.org
29. Skip the Loews. Ditch the giant cineplexes, and catch a flick at an independent movie theater. Located in the heart of Brookline, the Coolidge Corner Theatre is one of the few venues where you can grab a beer along with your popcorn. Other great options include The Brattle, The Capitol, and the Somerville Theatre.
290 Harvard St., Brookline, coolidge.org
30. Practically steal your way into Fenway Park. The key to scoring Red Sox tickets on StubHub is to pick your game, wait until as close to the first pitch as you can stomach, swoop in to make your buy, then stroll into the park like it's nobody's business.
31. Make Sunday night a movie night. The Kirkland Tap and Trotter has the answer to the back-to-work-on-Monday-morning blues: Sunday night movie screenings at the bar, with homemade BBQ popcorn, and, of course, a wide selection of drafts, bottles, and cocktails.
425 Washington St., Somerville, kirklandtapandtrotter.com
32. Find something to read at a Little Free Library. You can find these miniature, freestanding library boxes scattered worldwide and nearby around Boston, Cambridge, Somerville, and the 'burbs. The concept is simple, and couldn't be more perfect for this time of year: Take a book, and pass one on.
33. Catch a single flick or a double-feature from your car. Summer blockbuster season is a pleasant reminder of how much New England loves to indulge in nostalgia. Drive-ins are alive and across the region, so pile family and friends into the car, and head to a drive-in. Our picks include the Mendon Drive-in, the Leicester Triple Drive-in, and the Wellfleet Drive-in Theatre.
34. Break out your sequins. City Hall Plaza and Mayor Walsh are bringing back the Donna Summer Memorial Roller Disco to honor the late, great Dorchester diva. Attendees are encouraged to bring their own skates (or rent on-site), and boogie the night away to DJ Kon's groovy tracks.
6-10 p.m., June 19
[fragment number=2]
35. Order a round of summer standbys. For us, that usually means the Skin and Bones at the Gallows, a summer drink so perfect they couldn't rotate it off the seasonal lineup if they tried. It's made with Thai basil tequila, watermelon puree, lime and agave, and slides across the bar with salted watermelon and a sprig of basil.
1395 Washington St., Boston, thegallowsboston.com
36. Sip to the sunshine. On a sunny day, there's no bar seat more coveted than one on the roof. The city's cocktails with a view come compliments of Back Bay standby Rattlesnake (sweet and spicy cranberry jalapeno margaritas!), waterfront seafood mecca Legal Harborside (strawberry sangria by the pitcher!), or the Sinclair's Harvard Square hideaway (mimosa flights for brunch!).
Poe's Kitchen at The Rattlesnake, 384 Boylston St., Boston, rattlesnakebarandgrill.com
Legal Harborside, 270 Northern Ave, Boston, legalseafoods.com
The Sinclair, 52 Church St., Cambridge, sinclaircambridge.com
37. Drink pour-over on Render's hidden patio. It'll take some exploring, but if you head a block off Mass. Ave., up eight steps, beyond the coffee counter, and past a handful of cafe tables, you'll find one hidden gem of a patio, complete with sunny and shady spots during most hours of the day. Just don't forget to order your cup of joe along the way.
563 Columbus Ave., Boston, rendercoffeebar.com
38. Keep at least one growler in your fridge. Get growler fills at Trillium in Fort Point, a hole-in-the-wall taproom where the lines consistently extend out the front door and spill onto Congress Street. (Beer lovers will recognize that as secret code for some really good suds.)
369 Congress St., Fort Point, trilliumbrewing.com
39. Order a bucket of bubbles on the water. If you're in the mood for a boozy brunch, Pier 6 has a breathtaking outside patio right on the water. The restaurant's house-made purees are an optional, but welcome, upgrade for stir-your-own Bellinis.
1 Eighth St., Charlestown, pier6boston.com
40. Order coffee from a guy on a trike. Alessandro Bellino has amassed a loyal following to his full-service roving coffee bar since he started pedaling around the city in 2012. You can find him parked in Dewey Square, where he serves coffee and slings espresso beverages with beans from Gracenote, the roasters based in Berlin, Mass.
Tuesday, Thursday, Friday at Dewey Square, TheCoffeeTrike.com, @theCoffeeTrike
41. Say cheers. Raise your glass to a new season and Sam Adams Summer Ale at the Boston Beer Company's Summer Sizzler. The $30 entry gets you a Summer Ale, additional tastings, cook-out grub, and an excuse to welcome the summer with beer.
May 9, 30 Germaina St., Jamaica Plain, eventbrite.com
42. Wine and recline. Coolidge Corner Theatre is partnering with Wine Enthusiast for a four-part series of films and tastings kicking off May 21 with Jason Wise's Master Sommelier Exam insider documentary, Somm.
290 Harvard St., Brookline, coolidge.org
43. Slurp it down, and shake it off. Boozy milkshakes are better than regular milkshakes for all the obvious reasons. One worth trying out is the Banana's Foster Parent at Grass Fed, blended with vanilla ice cream, banana and dark rum, then topped with whipped cream.
Grass Fed, 605 Centre St., Jamaica Plain, grassfedjp.com
44. Rely on one touristy standby. All bets are off if you pick the duck boats, but our lips are sealed if you steer the out-of-towners to the Top of the Hub, where, for the price of admission at the Skywalk Observatory two floors below, you can order a round of martinis while taking in the same views.
800 Boylston St., topofthehub.net
45. Swirl, swish, but please, don't spit. The Blue Room, Central Bottle and Belly Wine Bar join forces to host a popular Sunday School series of fun workshops (think: "Port, WTF?'') on all things beverage and entertaining. On May 17, the topic is "Beer for Winos,'' and true to connoisseur form, pairings and snacks are on offer, too.
May 17, 196 Massachusetts Ave., Cambridge, eventbrite.com
46. Fill up on Del's Lemonade. Sure, there are other ways to get Del's closer to home, but we'll take ours the way it's meant to be had: Over the border and into Rhode Island, slurped without a spoon.
Multiple locations, dels.com
47. Sample from hundreds of craft brews. Billed as the biggest celebration of craft beer on the East Coast, the annual American Craft Beer Fest is one event you don't want to miss. Fifteen-thousand people are expected to attend to the festival, which will have over 600 craft brews on hand. Now that's a lot of beer.
May 29-30, 200 Seaport Blvd., Boston. beeradvocate.com
48. Wisen up at an Irish pub. Phoenix Landing hosts a weekly "Geeks Who Drink'' trivia night on Wednesdays. While it's fun to go with friends, it's even better to go with a few colleagues, who you may know a little bit, but will certainly know a lot better by the end of the night.
Wednesdays, 7:30-9:30 p.m., 512 Mass. Ave., Cambridge, phoenixlandingbar.com
[fragment number=3]
49. Take a yoga class in a brewery. Beer lovers, yoga lovers, and beer and yoga lovers take note: Night Shift Brewing hosts yoga inside of their taproom. (We'll let that sink in for a minute.) The real game changer? Taproom yoga hits the mats on the same day their brunch menu launches on May 17.
87 Santilli Highway, Everett, nightshiftbrewing.com
50. Give up sad desk lunch once and for all. Every weekday around lunchtime, you have a choice: Eat a tin-foil wrapped sandwich at your desk, and continue to plug away at those TPS reports, or get up, get out, and play a game of pickup soccer. Sure, you might have to stay at the office past 5 p.m., but that seems like a small tradeoff.
51. Hike the Fells. They're not the White Mountains, but they're a whole lot closer. The Middlesex Fells Reservation in Medford offers one of the easiest opportunities for a little natural relief from urban living. And if you make it up to Wright's Tower, you'll find one of the better views of the city looking south toward the city.
Malden, Medford, Stoneham, Melrose, Winchester, mass.gov
52. Run at a music festival. With a party before, during, and after the race, Night Nation Run is a much better alternative to breathing in clouds of multicolored corn starch. There are live DJs, dancers, lightshows, and selfie-stations along the course, so this isn't a race for people who care about their finishing time.
June 6, starting at the Brockton Fair, 600 Belmont St., Brockton, nightnationrun.com
53. Just show up. The November Project has taken the city and now the country by storm. Here's how it works: Join in free workouts three mornings a week around the city — Harvard Stadium is a favorite of the local tribe — but the drills stay interesting and challenging. Think of it as your chance to latch on to that 6:30 a.m. fitness schedule you've always wanted.
54. Learn to climb. Boston Rock Gym is the place to go if your endgame is to climb like Mother Nature intended. It's the oldest rock gym on the East Coast and the second oldest in the country. A day pass and gear will set you back less than $25.
78G Olympia Ave. Woburn, bostonrockgym.com
55. Zip through spring. This is your childhood playground on steroids. Technically a day trip, you'll slide, balance, jump, climb, and swing through the trees at this obstacle course. The Treetop Obstacle Course consists of over 80 elements, so it is definitely designed for thrill-seekers.
4323 Vermont Route 108 South, Smugglers' Notch, Vermont, smuggs.com
56. Hit the Charles. Running the Charles is so last year. Try kayaking at one of Charles River Canoe and Kayak's four locations in Cambridge, Newton, Waltham, or Boston. They also offer paddleboarding, but with a higher chance of falling, maybe wait a few more months for warmer water.
Reopens May 2, Charles River Canoe & Kayak, paddleboston.com
57. Drink the Kool-Aid. CrossFit Southie holds free classes every Saturday at noon and Thursday at 7 p.m. A kettlebell workout with Coach Christina will leave you gasping for air on the floor in the best way possible.
385 Dorchester Ave., Boston, crossfitsouthie.com
58. Take a class for our favorite price: free. And they're outside, which is a plus for your fitness Instagram-ability. The Norman B. Leventhal Park provides free fitness classes — everything from Zumba to yoga to pilates — in the heart of the Financial District in Post Office Square starting June 1.
Starting June 1, lawn at 130 Congress St., Boston, normalbleventhalpark.org
59. Walk for a cause. The Eversource Walk for Boston Children's Hospital is an annual Boston tradition that draws thousands of walkers to Baxter Park at Assembly Row and along the Mystic River. After, head to the Assembly Row shops to get a Pimm's Cup (Pimm's, chai iced tea, ginger, fresh lemon and cucumber) at Earl's.
June 14, 100 Foley St., Somerville, childrenshospital.org
60. Pick up your after-hours game. For the post-work basketball player, Peters Park in the South End has outdoor lighting that makes it a great place to squeeze in some hoops. The two courts are used for youth leagues and skills clinics, but they are also open for classic games of pick up and casual P-I-G players.
1277 Washington St., Boston; peterspark.org
[fragment number=4]
61. Partake in a three-day dance party. It may take the Brahmins up the street some getting used to, but for six days a year, City Hall Plaza transforms into a booming concert venue. The Memorial Day edition of Boston Calling features headliners Beck, My Morning Jacket, and the Pixies along with a lineup that keeps getting better and better each season.
May 22-24, City Hall Plaza, Boston, bostoncalling.com
62. Go for a stroll, stay for the strumming. The Somerville Arts Council's annual Porchfest returns May 16, and stoops, decks, and sidewalks are fair game in this all-day jam session. Local acts of all genres will be staggered in three quadrants of the city: Central (noon-2 p.m.), Central to Willow (2-4 p.m.,) and west of Willow (4-6 p.m.).
63. Find your summer anthem. Ellis Ludwig-Leone's Brooklyn-based baroque pop group San Fermin will play The Sinclair May 8. The band recently released its sophomore album, "Jackrabbit,'' on April 21, but an early listen of the single "Parasites'' earned the band reviews as "electrified, amplified and, above all, emboldened,'' from NPR.
52 Church St., Cambridge, sinclaircambridge.com
64. BYOC (Bring Your Own Chair). Lowell's summer music series officially kicks off with the Kenny Wayne Shepard Band and Jonny Lang on June 19. The outdoor amphitheater will also welcome Boston-bred band Lake Street Dive on August 28 and former Black Crowes' frontman Chris Robinson's Brotherhood on July 17.
Boarding House Park, 40 French St., Lowell, lowellsummermusic.org
65. Bow down. "Fifty Shades of Bey'' is coming to the Oberon for a two-night run May 14 and 15. The interactive performance by Lipstick Criminals and director Vanessa White ("The Slutcracker'') is an all Beyoncé-choreographed dance night.
2 Arrow St., Cambridge, americanrepertorytheater.org
66. Jump at the chance to see Bette Midler live. The Divine Miss M will be performing her greatest hits for her first tour in a decade. It's aptly titled "Divine Intervention,'' indeed.
June 12, TD Garden, 100 Legends Way, Boston, ticketmaster.com
67. Get your fan girl/guy on. This one has all the ingredients for a screamfest: Hometown boy band New Kids on the Block stops by the Garden as part of the The Main Event tour, joined by Nelly and TLC's Tionne "T-Boz'' Watkins and Rozonda "Chilli'' Thomas.
June 24 and 25, TD Garden, 100 Legends Way, Boston, ticketmaster.com
68. See cover bands for no cover. The Lighthouse Bar in Lincoln hosts live cover bands like Bon Jersey and Run for Covers on Friday and Saturday nights. Admission is free. Two-drink minimum is optimal.
Twin River Casino, 100 Twin River Road, Lincoln, Rhode Island, twinriver.com
69. Rev up your windpipes. Florence Welch's Florence + the Machine will bring her unmistakable vocals to the Blue Hills Bank Pavilion on June 10. The Grammy-nominated Brit power soul band has been slowly leaking new tracks to their June 2 release, "How Big How Blue How Beautiful,'' and will be making select U.S. rounds prior to hitting the summer festival circuit.
290 Northern Ave., Boston, bluehillsbankpavilion.net
70. Own the night. Country crooners Lady Antebellum swing by the Xfinity Center in Mansfield. Break out your cut-off denim and cowboy boots for a night of soulful tunes under the stars.
May 30, 885 S. Main St., Mansfield, thexfinitycenter.com
71. Listen to live music on the Mystic River. Assembly Row launches two music series this summer, infusing different sounds across the neighborhood. Acoustic Mondays will run June 1 through Sept. 28 and take place at The Point. LIVE Music Thursdays will run June 4 through Sept. 24 and will take place in the amphitheater in Baxter Park.
100 Foley St., Somerville, assemblyrow.com
[fragment number=5]
72. Watch gorillas eat lunch. The Franklin Park Zoo's seven western lowland gorillas eat lunch every day at 2 p.m., noshing on fruits, flowers, shoots, bulbs, bark, leaves and invertebrates, such as ants and termites. Your kids will love this. Trust us.
1 Franklin Park Road, Boston, zoonewengland.org
73. Get steamy. Grab your top hat, and enter the world of steampunk, the arts and lifestyle movement inspired by Victorian-era fashion and works of science fiction. The Watch City Steampunk Festival takes over Waltham the second Saturday in May. In addition to the art shows and music performances, the free outdoor event will also have a number of popular vendors on hand, including Bon Me and Roxy's Gourmet Grilled Cheese.
May 9, 610 Main St., Waltham, watchcityfestival.com
74. Swing by the city's trendiest lawn. If it's possible for a couple of acres of grass to be undeniably cool, then the Lawn on D has it made. The Lawn, which kicks off its new season on May 15, has everything from outdoor games to live music events, so there's a little something for everyone.
420 D St., South Boston, lawnond.com
75. Party at sea. Set sail from Rowe's Wharf with the Boatonian, one of the city's most popular party cruises. The Boatonian takes to the seas every Thursday through Sunday starting in late May, with each night dedicated to a different music theme.
70 Rowes Wharf, Boston, boatonian.com
76. See the stars. When the weather is right, the Coit Observatory at Boston University offers some of the best sights of the city. Public Open Night starts at 8:30 p.m. every Wednesday night, and guests are welcomed to reap the beauty of the galaxies via BU's fleet of telescopes for free. Check @BUObservatory for updated weather info.
725 Commonwealth Ave., Boston, bu.edu
77. Captain your own ship. Take an F-13 mini speed boat for a spin out to the Harbor Islands. En route, view sweeping skyline views and touristy spots like the USS Constitution in a whole new way on this 90-minute tour.
Opens May 23, Boston Harbor Mini Speed Boats, India Wharf Marina, Boston, bostonminispeedboats.com
78. Fly a kite. Hands down, our favorite kite spot is the Robbins Farm Park in Arlington Heights, where the city's skyline serves as the perfect backdrop.
51 Eastern Ave., Arlington, robbinsfarmpark.org
79. Hit the slopes. T-shirts, sunscreen, and BBQs are all the rage at a host of New England ski areas this spring. Killington in Vermont says "with any luck'' it will be open into June. The resort is offering a $199 Nor'Beaster Spring Pass for unlimited skiing until its close date.
4763 Killington Road, Killington, Vermont, killington.com
80. Pick your own berries. There's nothing quite like freshly picked berries in the summer. Prime strawberry picking time is mid-June until early July, just in time for blueberry season to roll in, so plan now and go often.
Ward's Berry Farm, 614 S. Main St., Sharon, wardsberryfarm.com
81. Set sail. Feel the wind in your hair and the Charles below your feet. This needs to be the year you finally take out a sailboat for a spin, or try your hand at windsurfing, paddleboarding, and kayaking.
Community Boating, Inc., 21 David G. Mugar Way, Boston, community-boating.org
82. Ride a new roller coaster. Thrill-seekers will climb 109 feet and plunge at 55 mph on Six Flags New England's new Wicked Cyclone, which debuts this season. It's billed as the East Coast's first hybrid roller coaster, comprised of the park's classic wooden Cyclone coaster and a state-of-the-art steel track.
Six Flags New England, Route 159, 1623 Main St., Agawam, sixflags.com
83. Watch dragons take the Charles. Relax by the river and watch giant, Hong Kong-style boats race around the Charles for this year's Boston Dragon Boat Festival. Usually drawing over 20,000 spectators, the annual affair is the largest Asian-American cultural event in New England. Go for tons of great food, performances, and arts on hand.
June 13-14, Charles River in Boston and Cambridge, bostondragonboat.org
84. Tackle the Berkshires one tree at a time. Sure, you've been to the Berkshires. But we bet you haven't seen it like this. At Ramblewild, you can tour the land via an aerial park full of high wires, zip lines, rope ladders, and suspended bridges.
Ramblewild, 110 Brodie Mountain Road, Lanesborough, ramblewild.com
85. Make like a kid, and ride the carousel. We know you've thought about it. Now's the time to finally jump on. The Greenway Carousel is made of carefully crafted, local characters — including a lobster — inspired by the drawings of Boston school children, which makes it truly one of a kind.
Across from Christopher Columbus Park and Faneuil Hall Marketplace, rosekennedygreenway.org
86. Walk Good Harbor Beach during low tide. With beautiful white sand and hardly any rocks, what makes Good Harbor stand out among the rest is that at low tide, beach bums can walk out to Salt Island to explore the terrain and search for hermit crabs. Just make it back before the tide comes in.
Thatcher Road, Gloucester, gloucesterma.com
87. Row a boat around Jamaica Pond. The Boston Parks and Recreation Department teams up with Courageous Sailing every spring and summer to bring inexpensive row boat rentals to the town's former reservoir. The boathouse is open for business from Patriots' Day to Halloween.
507 Jamaicaway, Jamaica Plain, courageoussailing.org/jamaicapond
88. Bike the Minuteman Trail. This free, fun ride starts in Arlington/Cambridge and spans 11 miles through suburbia. There are also two other New England Rail-to-Trails Conservancy Hall of Fame Routes to explore if you are looking to get away for a day: Island Line Rail Trail in Vermont and East Bay Bike Path in Rhode Island.
Intersection of Alewife Brook Parkway and Cambridge Park Drive, Cambridge, minutemanbikeway.org
89. Read a book at a picture-perfect spot. The only thing better than a good book is reading through one while perched at a picture-perfect spot. Head to the North End Parks to find one. We're talking colorful gardens, fountains, and plenty of benches. Don't forget to look up between chapters to take in the view.
North End Parks, rosekennedygreenway.org
90. Play lawn games on the Common. Want some athletic competition but don't want to get sweaty? On a sunny day, take your bocce set, frisbee/KanJam combo, or cornhole and bags to the Boston Common with some friends. It's fun and free. We love free.
Bound by Tremont, Beacon, Charles, Park and Boylston Streets, cityofboston.gov
91. Go birding (no, really). Join fellow birders this spring at Mount Auburn Cemetery in Cambridge, where birding has been a tradition since 1870. The cemetery was designated an Important Bird Area in Massachusetts in 2002. And if you don't see any birds, you'll find quiet and peace of mind.
580 Mount Auburn St., Cambridge, mountauburn.org
[fragment number=6]
92. Buy a piece of art. The annual MassArt Spring Sale is your chance to browse (and buy!) one-of-a-kind artwork created by the school's students and alumni, whose talents include sculpture, painting, pottery, jewelry, and more. The sale overlaps with Mother's Day weekend, so you know what to do.
May 3-9, 621 Huntington Ave., massart.edu
93. Hunt for treasure at the Winsmith Mill Market. Take a short drive out of the city to Norwood, where you can explore this old converted mill with over a dozen antique stores and crafters. These shops will lend character and style to your place without the guilt that comes with designer price tags.
61 Endicott St., Norwood, facebook.com/winsmithmilmarket
94. Stock up on penny candy. Step back in time at Marlborough's Wayside Country Store — it dates back to 1790! — or the Old Country Store and Emporium in West Mansfield Village where you can find locally made edibles and home goods, but sadly, not at the 18th century price.
The Old Country Store and Emporium, 26 Otis St., Mansfield, oldcountrystoreonline.com
The Wayside Country Store, 1015 Boston Post Road, Marlborough, waysidecountrystore.com
95. Hone your green thumb. April showers bring May flowers, but little-known fact: You need to plant them first. The Boston Gardner in the South End stocks a wealth of supplies for urban gardeners. It's just a quick stroll away from Niche Urban Garden Supply, where you can pick up city-friendly seedlings to start your bounty.
Niche Urban Garden Supply, 619 Tremont St., Boston, nicheboston.com
The Boston Gardner, 2131 Washington St., Boston, boston-gardener.com
96. Make your favorite bookworm smile. Take an avid reader to the outdoor sale courtyard at the Brattle Book Shop. Established in 1825, the antiquarian shop is steps from Downtown Crossing and boasts thousands of titles between one and five bucks a pop.
9 West St., Boston, brattlebookshop.com
97. Head up to Newburyport. Stroll past centuries-old shops decorated with colorful hanging baskets, where goods ranging from fine art to clothing to antiques await. If consignment is your thing, Pandora's Box is a gem. The women's consignment shop now has two locations in town, the newest just steps away from the original.
14 Pleasant St., Newburyport, pandorasboxconsignment.com
98. Treat yo self. The SoWa Open Market re-opens May 3, and the South End's staple bevy of vendors offers homemade pastas, artisan soaps, and bouquets of fresh flowers worthy of your weekend indulgence. The food trucks and farmers market will also return, so if you leave empty-handed, a sweet or savory treat is still just steps away.
460 Harrison Ave., Boston, newenglandopenmarkets.com
99. Give yourself an eco-friendly escape. Follain, the natural beauty boutique that's been saving face in the South End and on Nantucket for months, just opened up a squeaky clean, new shop on Charles Street. Go in to browse, and breathe a sigh of relief: Owner Tara Foley meticulously selects a repertoire of products that are free from toxins and other harmful chemicals.
65 Charles St., Boston, and other locations, shopfollain.com
[fragment number=7]
100. Explore the Cape — Cape Ann, that is. Just 45 minutes north of the city, Cape Ann may not be as trendy as Cape Cod, but it's less pricey, less crowded, and oozes New England charm all the same. Go for the area's five historic lighthouses, stretches of sandy beaches, and plenty of art galleries. Don't forget to stop by Rocky Neck Art Colony, a 150-year-old colony of artists-in-residence that is one of the oldest in the country.
101. Drive it like you stole it. Take the wheel of a Ferrari, Lamborghini, or another exotic car with an instructor in the passenger seat at Thompson Speedway Motorsports Park. A couple of laps around the road course or oval, and you'll never think about Boston drivers the same way again.
205 East Thompson Road, Thompson, Connecticut, thompsonspeedway.com
102. Find one lobster shack worth traveling to. We'd be hard-pressed to find a better way to spend a day than at the Parker River National Wildlife refuge on Plum Island. On the way back to the city, swing by Bob Lobster, grab a picnic table outside, and enjoy sweeping flatland views as the sun sets over Newburyport.
49 Plum Island Turnpike, Newbury, boblobster.com
103. Visit the patio bar at the Ocean House. You'll have to peek around the corner of the hotel to spot the beach bar, but once you find it, you'll be glad you did. Order up a few small plates, kick back, and enjoy the view. You'll have to valet your car on busy days, so remember to take some cash.
425 Old Wharf Road, Dennisport, oceanhouserestaurant.com
104. Hop on the CapeFlyer. If the words "Cape traffic'' are enough to send a shudder down your spine, his train service should be your go-to. Hop on at South Station and do absolutely nothing until you reach Hyannis or points in between. Kids age 12 and under ride free.
Memorial Day to Labor Day, capeflyer.com
105. Roam a medieval castle. Hammond Castle in Gloucester was built from 1926-29 as a wedding gift from inventor John Hays Hammond Jr. to his bride. Wander through the great hall, indoor courtyard, Renaissance-style dining room, secret passageways, and more. For the million-dollar view, step outside to take in the gardens and ocean.
Reopens May 2, Hammond Castle, 80 Hesperus Ave., Gloucester, hammondcastle.org
106. Stroll Ogunquit's Marginal Way. Escape the city and sigh over the views while walking the spectacular Marginal Way in Ogunquit, Maine. The mile-long path wraps along the scenic coastline. As a bonus, get half-off your stay in Ogunquit through May 22 as part of Maine's Hospitality for Habitat program.
107. Go au naturel. Step away from your computer, hide your iPhone, and unplug for an entire weekend at the sprawling East Hill Farm in New Hampshire, which features lodging at a picturesque inn and cottages. You'll find the going is slow, the meals are home-cooked, and the best night's sleep comes under a hand-stitched quilt.
The Inn at East Hill Farm, 460 Monadnock St., Troy, New Hampshire, east-hill-farm.com
108. Hike a national park. New England has no shortage of gorgeous landscapes. Our favorites? Acadia National Park in Maine, where you can hike to view the beautiful stone bridges gifted to the park by John D. Rockefeller Jr., during three dates in late May. Closer to home, go for a self-guided tour of the Cape Cod National Seashore, with its miles of beaches, lighthouses, marshes, ponds, and wild cranberry bogs.
More info at NPS.gov
109. Taste Cape grapes (and rum). What's better than sipping free rum in the sun? Truro Vineyards on the Cape has a new distillery called South Hollow Spirits, where Twenty Boat spiced rum is produced. So after your $10 wine tasting and free tour, hit up The Hollow, the vineyard's rum shack, for a free tasting. Savor it from a cozy chair on the common.
11 Shore Road, Route 6A, North Truro, trurovineyardsofcapecod.com
110. Catch a glimpse of the good life. At the turn of the 20th century, the Vanderbilt family summered in a Newport "cottage'' called The Breakers. Grab a headset and immerse yourself in the stories of how the Vanderbilts lived and played in this five-story mansion by the sea, which includes a great hall, library, and music room.
44 Ochre Point Ave., Newport, Rhode Island, newportmansions.org