Entertainment
It's not gone yet, but local bands already miss T.T.'s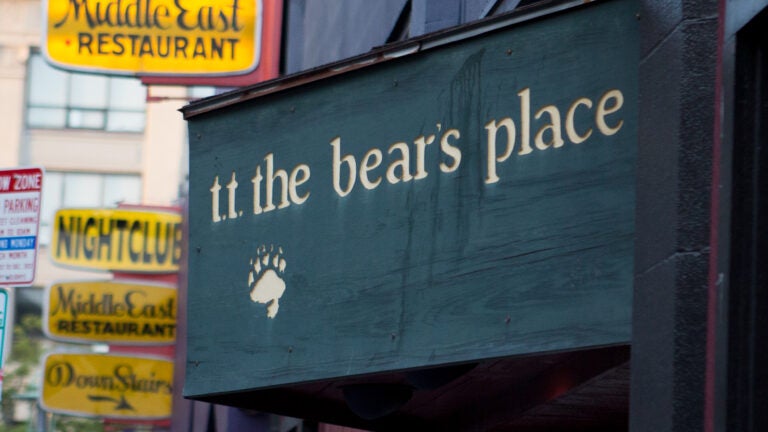 Meg Berry would sneak into most of Boston's clubs in the early '90s, but the first was T.T. the Bear's Place. She used her older brother's Massachusetts ID because he had long hair and looked like her twin. She made it in, and, as the band Talking To Animals started to play, she had an "a-ha'' moment.
"People talk about that moment when you figure out what you want to do,'' she said. "It's like someone touching you at the center of your soul, and it happened for me that night at T.T.'s.''
But after July 25, T.T.'s won't be the birthplace of "a-ha'' moments and music careers. The Cambridge rock club is closing after more than 40 years, because current owner Bonnie Bouley and the building's owners Joseph and Nabil Sater failed to reach an agreement on the lease, according to Bouley's Facebook statement Monday.
T.T.'s has been a staple in the New England music scene since it opened in the early '80s. National acts such as The Black Keys, The Strokes, Arcade Fire, Passion Pit, and Franz Ferdinand have graced the stage, only to be followed days later by local unknowns trying to make names for themselves.
Seth Wonkka, lead singer of a Cold Lonesome Nowhere, said when he was first starting out, his dream was to play T.T.'s. These days, he said, young musicians feel pressured to get thousands of YouTube views and likes on their band's Facebook page instead of striving to perform at specific venues.
"For me, there's no amount of social media 'success' that can replicate the thrill of playing your music at a legendary venue like T.T.'s where the walls, stage, the air is laced with memories of bands and shows that happened years or decades before you,'' he said. "It's a shame that the next wave of young musicians will not have a chance to experience that kind of excitement.''
That kind of excitement, of standing under the same lights and singing into the same microphone as the Pixies, could bring out a sense of nerves from even veteran performers.
"We had played at least 100 shows at that point, but standing on the stage at T.T.'s made it feel like we were back at our first show,'' said Michelle Montavon, who plays bass for the Suicide Dolls. "Playing there was sort of like a graduation from being a little band from Connecticut to a group people looked at more seriously.''
Bands lucky enough to get booked at T.T.'s for the first time often found themselves playing on Sunday, Monday, or Tuesday nights. Sophia Cacciola has played the venue with many different bands, but the first time was a Sunday night 10 years ago.
"We were so psyched to get any spot at T.T.'s,'' she said. "We brought 30 friends, and we were so excited and nervous. Now, I go in there and say hi to everyone, and it feels like home.''
While cities like New York have many smaller venues to support local musicians, Montavon said T.T.'s was a spot New Englanders could brag about.
"I would go to shows at T.T.'s and meet people from Rhode Island and New Hampshire, because it brought all of New England together,'' she said. "It will definitely be missed by more than just Boston.''