Entertainment
The best Boston cameos in the 'Entourage' movie, ranked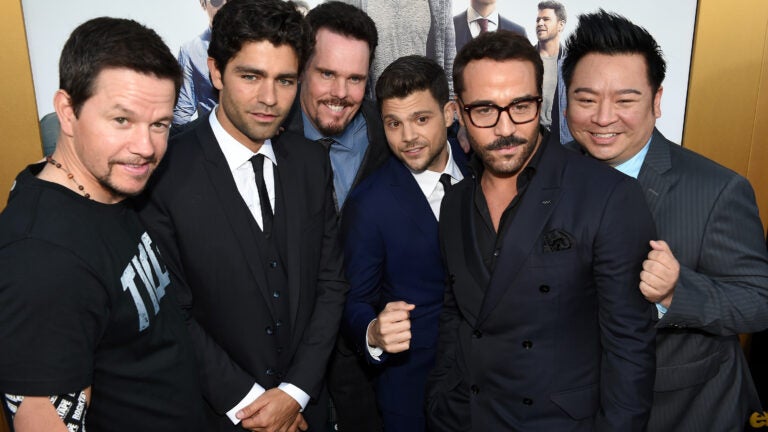 Vincent Chase and the boys are back, and they're bringing a ton of celebrity friends with them as Entourage makes the leap to the big screen this week.
While there are dozens of high-profile cameos in the film, Boston area stars not named Mark Wahlberg get a surprising amount of face time. See how they stack up in our ranking of the Entourage movie's best Boston cameos.
6. Julian Edelman
The Patriots wide receiver has a blink-and-you'll-miss-it appearance in Entourage. Edelman can be spotted helping his teammate Rob Gronkowski funnel a beer during a massive outdoor party scene. You can catch a glipse of his cameo at around the 20-second mark in the film's trailer.
[fragment number=0]
5. Maria Menounos
The Medford native and part-time WWE diva shows up with Today host Matt Lauer conducting interviews during a scene on the Golden Globes red carpet. Menounos has a few brief lines during the sequence, which was filmed during the actual ceremony last year.
4. Tom Brady
The Patriots quarterback makes a short but sweet appearance during a montage of celebrities reacting to Drama's viral video gone wrong. Brady previously made a cameo on Entourage during the show's sixth season, which he reportedly signed up for after Giants quarterback Eli Manning bailed on the project.
3. Sabina Gadecki
The Chicopee-born actress/model plays one of E.'s (many) love interests in the film. Gadecki gives him a good scare after she finds out that Vincent's right-hand man hooked up with both her and her roommate in less than 24 hours. As you can guess, it's a hilarious situation for E., as well as a nice showcase for the local star.
2. Mark Wahlberg
You can't have an Entourage movie without a cameo by Mark Wahlberg (the show is based on his life, after all). He pops up a couple of times, but his best moment comes mid-way through the flick when he pretty much breaks into a commercial for his A&E show, Wahlburgers. We just wished Alma, Donnie, and the rest of the Wahlburgers gang showed up, too.
1. Rob Gronkowski
The Patriots tight end danced his way to being Entourage's best Boston cameo, which isn't a surprise since we already knew Gronk can cut a rug. Aside from showing off his dance moves and chugging beer, Gronk also gets a few lines in the film during a party at Turtle's house for Vicent's directorial debut. Gronk isn't happy when the screening gets delayed, and he riles up the crowd.
2015 summer blockbusters
[bdc-gallery id="330219″]