Entertainment
The five most memorable moments from the Oddball Comedy and Curiosity Festival
Things got a little crazy when Amy Schumer and friends came to Mansfield last night.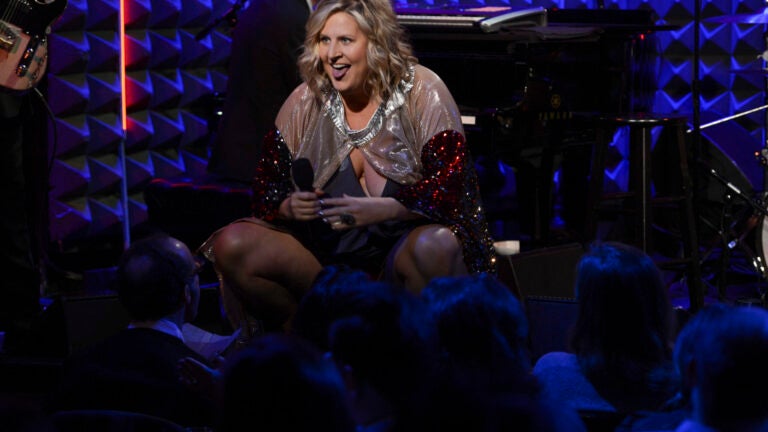 The Oddball Comedy and Curiosity Festival once again brought a stacked lineup of comedians to the Xfinity Center in Mansfield, Massachusetts, on Friday night.
In case you missed it, here are the five most memorable moments from the show:
1. Bridget Everett stole the show.
The most insane performance of the night had to be Bridget Everett's song-and-dance numbers during the first half of the show.
In a performance that would make Miley Cyrus blush, Everett got up-close and personal with a few members of the crowd, offering up impromptu lap dances to some lucky audience members. The comedian wasn't afraid to show some skin and constantly flashed the crowd throughout her set.
While it was definitely a raunchy time, the fans seemed to love it.
[fragment number=0]
[fragment number=1]
2. Jeff Ross and Dave Atell roasted New Englanders.
The comedians brought a number of audience members on stage for a rapid-fire roasting session, and it was pretty ridiculous.
[fragment number=2]
A Patriots fan was booted from the stage after harassing some of his fellow roastees and for constantly taking selfies.
There was also a local special-ed teacher who clamoured her way into the speed roast and could not stop interrupting with expletive-filled rants. To her credit, the crowd enjoyed her shtick, and Ross didn't seem to mind.
The other audience members who were on stage were definitely better behaved and looked like they had a good time.
[fragment number=3]
3. Aziz Ansari and Amy Schumer were in top form.
As two of the most popular comedians in the country right now, Friday's headliners brought their A-games to Mansfield.
Schumer came to the festival straight from her appearance on The Late Show with Stephen Colbert, and seemed to handle the double-booking with ease. However, having a bottle of wine on stage probably helped to calm any nerves she might've had.
[fragment number=4]
Of course the fans couldn't get enough of Ansari, who's become a megastar in recent years.
From the Black Lives Matter movement to dating in 2015, the comedian sent the crowd home in a roar of laughter.
[fragment number=5]
4. The League's Nick Kroll bashed Belichick's look.
As one of the stars on a show about fantasy football, it wasn't a surprise that Nick Kroll would take a few swipes at the Patriots by calling Bill Belichick's fashion choice into question.
"Bill Belichick is not a cheater, but he is a homeless man, right?'' Kroll said. "Like, 'Oh, he's got a good recycling business going for himself.'''
[fragment number=6]
5. The best jokes about Boston and New England.
Nearly every comic in attendance had a joke or two about our beloved city and region, but some were better than others.
As a Boston University alum, Ross made fun of his short time in town.
"I went to Boston University,'' Ross said. "Longest f–king week of my life.''
Atell had a pretty funny quip about how people can figure out if they are in Massachusetts or New Hampshire.
"You keep driving north until you stop seeing teeth,'' Atell said.
Famous Boston-area comedians:
[bdc-gallery id="146592″]