Entertainment
The Greenway mural is getting a colorful revamp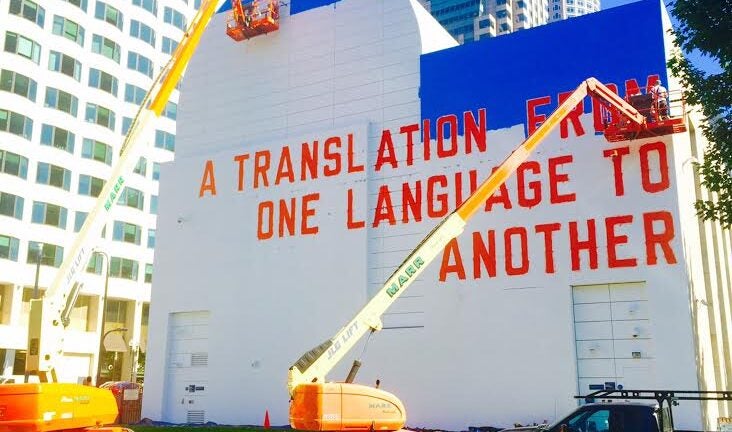 The latest installment in the Rose Kennedy Greenway's public art collection is underway.
The mural space at Dewey Square is being repainted with its newest piece, called "A Translation from One Language to Another.''
"We want to show artists outside of a museum wall space, in a free public environment,'' said Lucas Cowan, the Greenway's public art curator.
The newest piece is by New York artist Lawrence Weiner, who is known internationally for working in typographic texts.
Cowan told Boston.com the Greenway partnered with the MIT List Visual Arts Center to select Weiner as this year's mural artist. In the past, the Greenway has worked with both the Institute of Contemporary Art and Museum of Fine Art to choose artists to annually take over the large space.
"It's a populated area,'' said Cowan. "There are the lunch trucks which gather there, block parties we throw, and it's a focal point as you come out of South Station — it's the first thing you encounter as you enter the city.''
An unveiling party is scheduled for September 24, with food truck grub, jazz from Berkelee College of Music students, slam poetry, and Weiner making an appearance.
"There will be a small opening, but it's already going to be on display,'' said Cowan. "You can see it being painted! We encourage people to come down and watch.''
Check out this gallery of some of Boston's public art:
[bdc-gallery id="141952″]