Entertainment
Why we think The Simpsons live in Springfield, Massachusetts
A semi-comprehensive history of the Bay State on .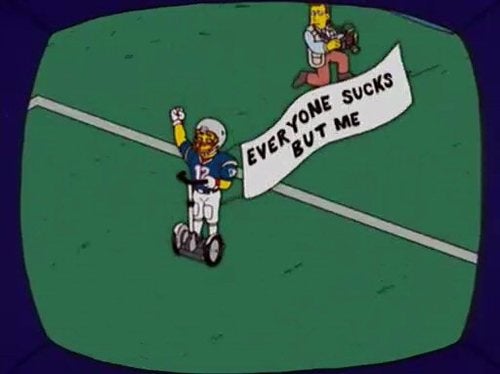 The Simpsons kicks off its 27th season on Sunday at 8 p.m. on Fox. Springfield's most famous family, which has been dysfunctional since first appearing in 1987, has become an international staple over the last three decades, but it's still unclear as to which Springield they actually live in.
Until now.
We scoured years of Simpsons footage to find as many local ties as possible, so that once and for all, we can prove the the Simpsons actually lived in… Springfield, Massachusetts.
Of course, this is just a theory, but we've found enough evidence to make our case. Ahead, our semi-comprehensive history of Massachusetts on The Simpsons.
For starters, Mayor Quimby is fashioned (in accent, at least) after Ted Kennedy. Here he is with another Bostonian, the late Leonard Nimoy.
[fragment number=0]
Both Springfields also have a power plant.
The "Springfield Memorial Bridge'' separates Springfield from West Springfield, both in the cartoon and in Springfield, Massachusetts.
And of all of The Simpsons writers and producers, more of them attended college in Massachusetts than any other state.
Because of this, many Springfield locations were modeled after real locations in Chelmsford, Massachusetts, as detailed in this FOX25 piece:
[fragment number=1]
But let's look at some specific moments from the series for more evidence…
(Season 2: "Three Men and a Comic Book'')
Milhouse wants to buy "the Carl Yastrzemski baseball card from 1973, when he had big sideburns'' from the Comic Book Guy. The Comic Book Guy also has a Red Sox pennant hanging in his store.
(Season 2: "Bart Gets Hit by a Car'')
Lionel Hutz claims to have degrees from Harvard, Yale, MIT, Oxford, The Sorbonne and the Louvre.
(Season 3: "Homer at the Bat'')
Boston Red Sox players Roger Clemens and Wade Boggs guest star. Boggs gets punched out by Barney.
[fragment number=2]
(Season 3: "Flaming Moe's'')
Aerosmith performs "Walk This Way.'' Mrs. Krabopple tries to hook up with drummer Joey Kramer.
[fragment number=3]
(Season 3: "When Flanders Failed'')
Albert DeSalvo, "The Boston Strangler,'' is mentioned in "Ned's List of Laudable Lefties'' in Flanders' Leftorium.
(Season 4: "Mr. Plow'')
Barney hoped to get into Harvard until Homer hooked him on beer.
(Season 4: "The Front'')
Itchy and Scratchy chairman Roger Meyers Jr. tells a lowly writer, "Hey Egghead, sing 'Fair Harvard'!''
[fragment number=4]
(Season 4: "Itchy Scratchy: The Movie'')
A rabid mouse in Boston who attacked and killed a small cat is on the local news.
(Season 4: "Treehouse of Horror III'')
A tribal leader chants "Mosi Tatupu, Mosi Tatupu,'' which translates to "The blue-haired woman will make a good sacrifice.'' Mosi Tatupu was the running back for the Patriots for more than a decade, and the blue-haired woman, of course, is Marge.
(Season 5: "Burns' Heir'')
Marge imagines Bart walking across the stage at Harvard to receive his diploma.
(Season 7: "Bart Sells His Soul'')
Various Massachusetts license plates appear on the wall of Uncle Moe's Family Feedbag.
(Season 7: "Team Homer'')
Otto: "I bet I'll get respect once I get that Harvard diploma.''
(Season 8: "Homer vs. the 18th Amendment'')
A townie wearing Red Sox garb drunkenly says "wicked pahty, huh?'' and asks for his friend Sully. He proceeds to get in a fist fight.
(Season 11: "Brother's Little Helper'')
Bart gives Homer a book, saying "Here's a book called "Chicken Soup for the Loser'' that gave Bill Buckner the courage to open up a chain of laundromats.''
(Season 10: "Thirty Minutes Over Tokyo'')
The Simpsons visit a restaurant in Tokyo called Americatown and sit at the Massachusetts table, "I can't believe they stuck us at Taxachusetts!,'' Homer says.
(Season 12: "Worst Episode Ever'')
A map of the family's location is shown that highly resembles that of Springfield, Massachusetts, most notably by the large river running through the town intending to represent the Connecticut River.
(Season 12: "New Kids on the Bleachh'')
Bart and friends join a boy band, similar to NKOTB. In the same episode, Bart wins the Springfield Marathon by paralleling Rosie Ruiz's cheating in the 1980 Boston Marathon.
(Season 12: "Revenge and Vengence'')
Old Springfield residents dumped Duff beer in the river, much like the Boston Tea Party.
(Season 13: "The Lastest Gun in the West'')
Buck McCoy asks if he should wear a Texas or a Massachusetts bolo tie.
(Season 15: "'Tis the Fifteenth Season'')
Homer buys a talking astrolabe at Springfield Heights Mall. One of the astrolabe's screens displays what appears to be its current location. These coordinates (42° N, 71° W) point to Bridgewater, Massachusetts.
(Season 15: "Diatribe of a Mad Housewife'')
Nantucket is the setting of Marge's romance novel.
(Season 16: "Mobile Homer'')
"The real Brenda later went to Harvard Medical School…''
[fragment number=5]
(Season 16: "Homer and Ned's Hail Mary Pass'')
Tom Brady. Riding on a segway. Holding this sign:
(Season 18: "Moe'N'a Lisa'')
A Massachusetts police car pulls up beside Homer.
Homer: "Wow, troopers from every state in New England.''
Trooper: "Including Rhode Island. We're a small state but we give big tickets!''
(Season 19: "E. Pluribus Wiggum'')
A sign reads "Welcome to New Hampshire: Providing Cheap Liquor To Massachusetts Teens For 200 Years''
(Season 19: "The Debarted'')
This episode riffs on the famous Boston movie The Departed prominently features "I'm Shipping Up to Boston.''
[fragment number=6]
(Season 20: "Lost Verizon'')
Denis Leary wears a Boston hat and Krusty tells him to have a Boston Tea Party.
(Season 20: "The Burns and the Bees'')
Burns buys the Springfield Celtics, which were later called the Springfield Excitement, and formerly the Austin Celtics. The Springfield Sports Palace, their home court, is very similar in appearance to the Boston Garden.
(Season 21: "Bart Gets a 'Z''')
A new teacher named Zachary Vaughn says, "My name is ZV, I just got my master's in education at Tufts University.''
[fragment number=7]
(Season 21: "American History X-cellent'')
Burns own the painting that was stolen from the Isabella Stewart Gardner Museum.
[fragment number=8]
(Season 22: "Flaming Moe'')
Conductor Dewey Largo says to his soulmate, also named Dewey: "Tic Toc, Dewey. Tanglewood beckons!''
(Season 23: "The Ten-Per-Cent Solution'')
In "Itchy Scratchy in The Social Petwork,'' Scratchy is wearing a Harvard shirt.
(Season 23: "The Ten-Per-cent Solution'')
Premium cable executives tell Krusty that the critics will be in his pockets if he switches networks. Krusty asks, "Even the The Boston Phoenix?''
[fragment number=9]
(Season 24: "Black Eyed, Please'')
A scene that depicts "Massachusetts Marriage'' as a man marrying a lobster in a Celtics T-shirt.
(Season 24: "Gone Abie Gone'')
Lisa considers both Harvard and Mount Holyoke for colleges to attend.
(Season 26: "Sky Police'')
Apu revealed he attended Mumbai Institute of Tantric Sex, where he was recruited by a card-counting ring. "I used the winnings to buy S.A.T. answers to get into the real M.I.T., where I failed every class, got thrown out, and had to move to Springfield.''
And best of all, theres this real-life ad for Springfield's semi-qualified lawyer Lionel Hutz, which graces the placemats of Doyle's Cafe in Jamaica Plain:
[fragment number=10]