Entertainment
Poignant advice from David Bowie's 1999 Berklee commencement speech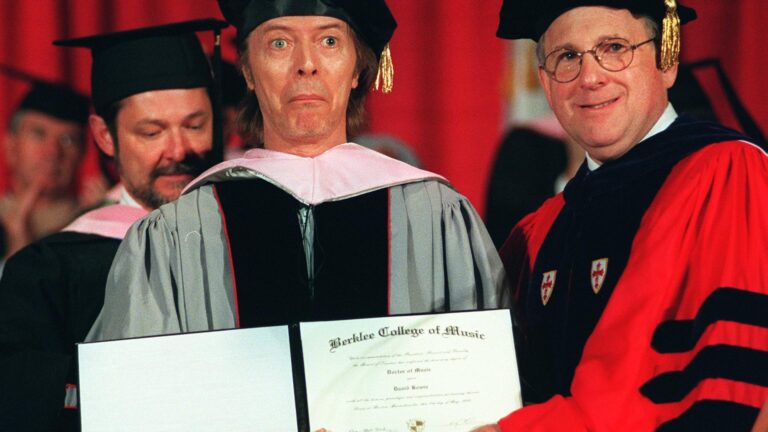 When David Bowie addressed the graduating class of Berklee College of Music in 1999 as their commencement speaker, he mostly told funny anecdotes about his beginnings as a musician and his friendship with John Lennon. But he also knew how to warm up a Boston crowd, making reference to a local pizza joint and Dunkin' Donuts.
"I should remind you that anybody left over from the proceedings today can join my wife and I at Little Stevie's for a slice,'' Bowie told the assembled graduates. "Dunkin' Donuts, then, alright?''
Bowie, a music icon whose career spanned decades and songs touched millions, passed away Monday morning at the age of 69 after an 18-month battle with cancer.
Culinary choices aside, Bowie encouraged the 580 assembled Berklee graduates to pursue their musical passion as if it were a sickness. "If it itches, go see a doctor,'' he told the crowd.
Bowie concluded the speech with a poignant reflection of his life as a musician.
"Music has given me over 40 years of extraordinary experiences,'' Bowie said. "I can't say that life's pains or more tragic episodes have been diminished because of it. But it's allowed me so many moments of companionship when I've been lonely and a sublime means of communication when I wanted to touch people. It's both my doorway of perception and the house that I live in.''
"I hope it embraces you with the same lusty life force it has impressed upon me.''
You can read the full transcript of Bowie's speech at Berklee's website, and watch a video of his speech below.
[fragment number=0]