Entertainment
Harvard alum Neil deGrasse Tyson subject of diss track by rapper who thinks world is flat
Yes, really.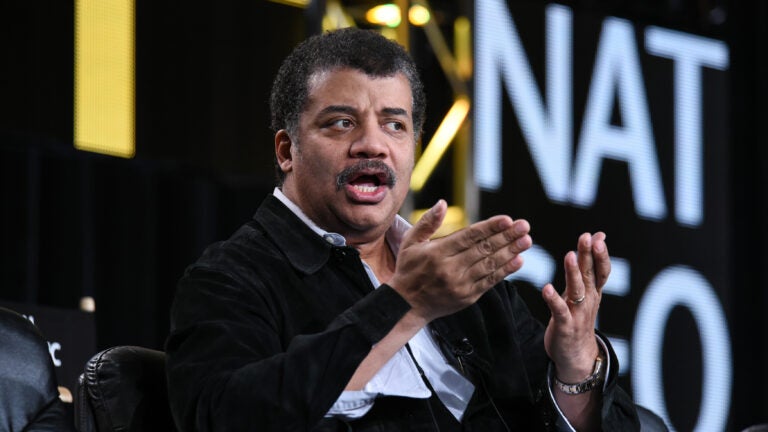 It is 2016, and American rapper B.o.B thinks the world is flat.
Since Sunday, he has been continually posting tweets that express his skepticism about the round earth "theory.''
[fragment number=0][fragment number=1]
The six-time Grammy nominee really, truly does not believe that the earth is a sphere. 100% doesn't buy it.
[fragment number=2][fragment number=3]
Astrophysicist and Harvard alum Neil deGrasse Tyson is known in part for proving (and disproving) myths in popular science. Recently, Tyson took a break from ruining the fun of science fiction movies to respond to some of B.o.B's proclamations.
[fragment number=4][fragment number=5]
The scientist was straightforward and gentle, but B.o.B couldn't be convinced.
Tyson got a degree in physics from Harvard in 1980, then later earned a Masters in Astronomy at University of Texas at Austin and both a Masters of Philosophy and a Ph.D. in Astrophysics at Columbia. But what does he know? The rapper, unswayed, kept posting screenshots of intricate conspiracy theories and centuries-old maps.
[fragment number=6]
Just wait. It gets better. A rap battle ensued.
Monday night, B.o.B dropped a track on SoundCloud called "Flatline.'' And yes, it's about the earth being flat. And it samples an interview segment of Tyson speaking at 92nd Street Y wherein he–you guessed it–talks about the shape of the earth.
[fragment number=7]
And then, Tyson's hip-hop artist nephew, Steve, recorded a callout track in retaliation, calling it "Flat Facts.'' He, too, used clips of Tyson's speeches about the shape of the earth, laying them over the instrumentals for Drake's famous diss track "Back to Back.''
[fragment number=8]
Will art and science ever coexist peacefully?