Entertainment
Live your Jedi dreams at an enormous light sword battle in the Boston area this spring
The Light Battle Tour is coming to town in May.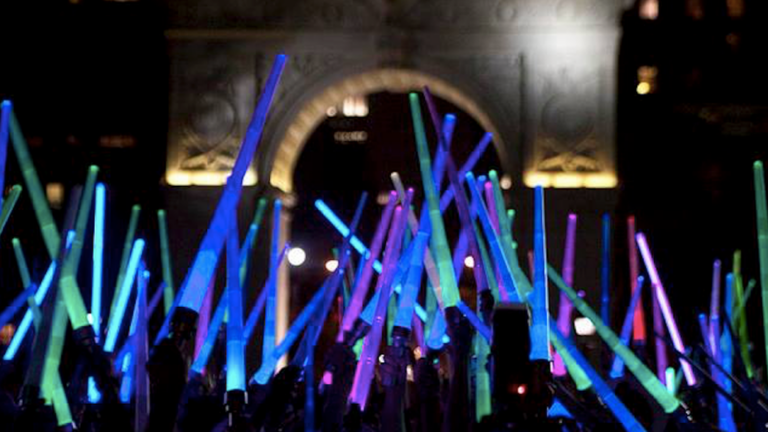 True Star Wars fans have been practicing their light saber moves since the first time they experienced the legendary film. This May, Boston's aspiring Jedis will have the opportunity to put those moves to use.
On May 28, the Light Battle Tour is coming to Boston and will give fans a chance to participate in what could be the largest local "light sword'' battle to date. The tour has no affiliation with Lucasfilm or Disney, so instead they've crafted a different storyline (and weapon name) of their own. Participants will be split into two teams: the Space Warlocks, using red swords, and the Space Wizards, using every other color sword.
The event is being produced by Newmindspace, a company that has created large-scale activities around all over North America for more than 10 years. These events include subway parties, cardboard tube battles, and National Pillow Fight Day, a movement that now has 150 participating cities worldwide. The company's December Light Battle tour broke the world record for Largest Light Sword Battle, with 9,951 participants across five cities.
[fragment number=0]
In an online vote to decide where the tour should stop this spring, Boston performed well in the polls, securing a date on May 28. While a specific location has not yet been chosen, Newmindspace co-founder Kevin Bracken said that Newmindspace's first choice is in Cambridge and second choice is in Boston, pending permit approval.
"As of yesterday, we have submitted permit applications for five cities for the May tour: Grand Rapids, Sacramento, San Jose, San Diego, and Boston,'' Bracken said. "Sacramento and Grand Rapids have been granted, the latter three are pending.'' In 10 years of producing these events, he said, the company has never had to cancel due to lack of location.
The event is free for anyone who wants to bring their own equipment. For those in need of a light sword, they are currently on sale on the company's website for an early bird price of $5, of which $1 will go to Make-A-Wish Foundation. Participants who reserve swords can keep them once the battle is done.
For more information about the event, and for upcoming location specifics, visit the Light Battle Tour website.