Entertainment
How to create the perfect party playlist, according to one of Boston's own DJs
Whether you're planning a birthday celebration, boozy brunch, or your parents' anniversary dinner.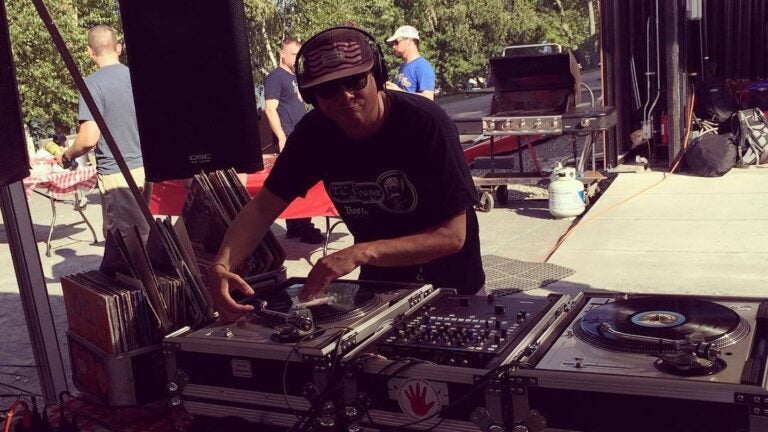 A party without music would be like Boston without the Red Sox: soulless and not a place you really want to be. But you can't just put on any premade Spotify playlist and call it a day. No, the soundtrack to your shindig is just as important as the people you invite and food you serve.
It can be hard, however, to know which songs will fit the vibe of your specific party. Which is why we reached out to a professional. Boston-based DJ Ryan Brown, who hosts parties at local restaurants like State Park, Alden & Harlow, Island Creek Oyster Bar, and Row 34, shared his tips for building a party playlist, whether you're throwing a raucous bash or a subdued get-together. (He even made a dinner party playlist just for you, readers.)
Here, his four keys to building the perfect playlist:
1. Think about your specific audience
It's important to keep in mind the overall makeup of your guests. If you have a group people of different ages, the key is to play things that everyone's going to identify with. Mix up your top 40s hits with songs from the 60s, 70s, and 80s, Brown suggested. Remixes can also be super helpful during a mixed-age gathering, he said.
"There's just so much out there in terms of reworks and remixes, particularly within the Motown era,'' he said. "There are really great remixes that keep the spirit of the original track but add some more contemporary elements to it. You'll have a 25-year-old old and 55-year-year old both coming up to you, being like, 'What is this, I need this.' It's a massive win.''
Brown also said it's important to not just play music that only you want to hear. If you are, say, Christina Aguilera's biggest fan, that's great. But you can't just put on Stripped and call it a day.
"You have to think about it from a broader perspective,'' Brown said. "Think about specific songs that might affect guests emotionally on an individual basis. Say you're coming to my party, and I know that you really like The Talking Heads, and I know your favorite song is 'This Must Be The Place,' so that's going on the playlist, and that's my wink and nod to you.''
2. Ask for help
Speaking of your guests, Brown said it's important to remember that you don't have to build the playlist all by yourself. Reaching out to those who are coming the party beforehand is a great way to make people feel included and to ensure that everyone has songs on the playlist that they're really into. It'll also help you shake up your normal listening patterns.
3. Be a tastemaker
You don't have to play songs that everyone will know and love. Brown said that making your own party playlist can be a chance to broaden your guests' musical horizons. You might end up introducing someone to their new favorite song, and it also builds connections.
"That person will associate that memory with being at your house party or dinner party and hearing that song,'' he said. "They'll be like, 'I heard that with you first, remember?'''
This works particularly well for a romantic dinner: If you're trying to woo someone, playing them a song they haven't heard will make them think of you whenever they hear it next. He said artists like The XX, Ray Lamontagne, Ryan Adams, and Common are particularly good additions to a date night soundtrack. But Brown's ultimate artist to play for a one-on-one is Miles Davis: "You could just put on Kind of Blue, the whole album, and call it a day.''
4. Don't be afraid to mix it up
A lot of people hear "party'' and think they have to choose songs that are upbeat to keep the energy up, but Brown said that isn't the case.
"[The playlist] can ebb and flow, and it doesn't have to go from slow to fast,'' he said. "You can kind of think of it as rolling hills with more upbeat parts that dip and come back.''
However, Brown said that one party situation where this doesn't hold as true, however, is brunch. Brown said he prefers a real party vibe for a weekend day gathering to keep everyone from getting sleepy. He suggested a mix of old and new hip—alternate playing The Weeknd, Drake, and Fetty Wap with The Notorious B.I.G., Tupac, Dr. Dre, and A Tribe Called Quest, for example. He also said loud rock is also great in this situation: Led Zeppelin is a personal favorite.
Ready to start playlist building? Brown has already done some heavy lifting for you—he's created his ultimate dinner party playlist on Spotify. Listen here.