Entertainment
Ben Affleck says his 4-year-old son inspired him to play Batman
"He knows that I am Batman. He also thinks that … the FedEx guy is the Joker.''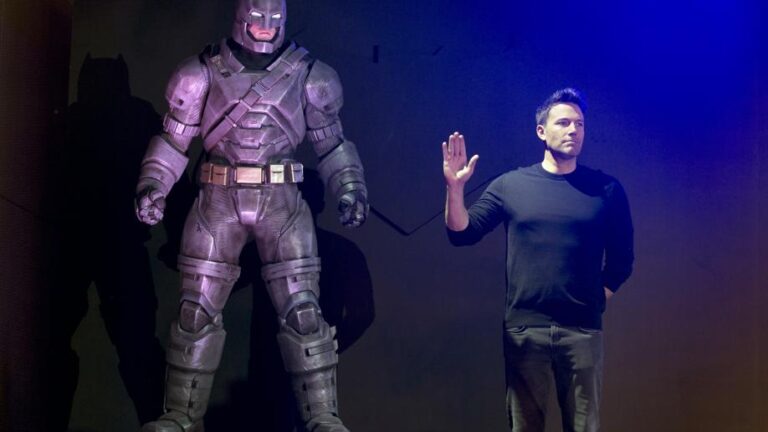 Ben Affleck probably doesn't often make career choices based on the opinion of a preschooler. But in the case of the new Batman film, that's exactly what happened.
In an interview with The New York Times published Monday, Affleck revealed that one of the reasons he took on the role of Bruce Wayne in Batman v Superman: Dawn of Justice was because his 4-year-old son Samuel is a big fan of Batman.
"He knows that I am Batman,'' Affleck told the Times. "It's a mixed blessing. He also thinks that for some reason — I don't know if it's the color combination or whatever — that the FedEx guy is the Joker.''
Affleck continued, "Whenever there's a FedEx delivery, he's like, 'Dad, the Joker's outside. … The burden's on me to go out there and give the guy an extra 20 bucks to pantomime a whole Adam West kung fu battle.''
Affleck also discussed his recent divorce from Jennifer Garner after 10 years of marriage, saying that the two were on "great terms,'' and that she would be visiting Europe with their three children while Affleck films Justice League so they can take a vacation as a family. Garner recently opened up about their divorce (and Affleck's large back tattoo) to Vanity Fair, calling Affleck the "love of [her] life,'' while also calling him a "complicated guy.''
Chris Terrio, the screenwriter for both Batman v Superman and Argo, told the Times that there were similarities between Affleck and Bruce Wayne, noting the character's need to put on a pleasing public persona while dealing with inner turmoil.
"There is performativity in Ben's life, as there is with any person who is a public figure,'' Terrio said in the article. "You have to go on talk shows and be a charming person and seem at ease in the world. But if you're a serious artist who thinks carefully about things, as I think Ben is, then there has to be the cave side to you, where you go home, and the world is not so effortless and charming and black and white.''
Read the full Timesstory here.
Ben Affleck movies ranked from worst to best:
[bdc-gallery id="114851″]