Entertainment
Patriots Day filming of Tsarnaev's capture felt eerily similar to April 2013
The movie shot the scene in Framingham Thursday night with Mark Wahlberg and Kevin Bacon.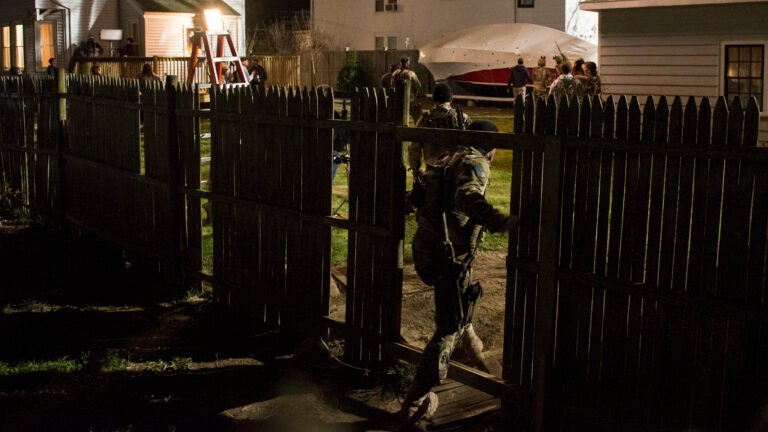 No one in the Boston area will ever forget the events of April 19, 2013 in Watertown.
Now those events are being reenacted three years later. The Mark Wahlberg feature film Patriots Day, which will follow the events surrounding the Boston Marathon bombings, shot scenes in Framingham this week. Filmmakers used the Boston area neighborhood to represent Watertown, filming a recreation of the apprehension of convicted Boston Marathon bomber Dzhokhar Tsarnaev on April 19, 2013.
Here, lighting equipment was set up behind a house on Harrison Street in Framingham on Thursday night in preparation for filming the arrest scene.
Actors in tactical gear could be seen on top of a garage behind a house on Harrison Street.
Both actors and crew members gathered near this boat, riddled with bullet holes, behind a house on Harrison Street.
It was after dark, but residents took turns posing for photos with actors in tactical gear in between filming.
An ambulance and dozens of uniformed extras were present on Harrison Street, as well.
Men carried what appeared to be a stunt mattress away from the film set.
The cast and crew left the set after wrapping up filming on Harrison Street early in the morning on Friday.
Look closely for Patriots Day stars Mark Wahlberg (center, entering SUV) and Kevin Bacon (far right).
Framingham resident Courtney Lockhart grabbed a selfie with Bacon shortly after filming wrapped—around 3 a.m.
Lockhart snapped a solo photograph of Bacon, as well.
Actors in law enforcement tactical gear stood on the street after filming wrapped.
Thursday night/Friday morning marked the third and final night of filming on Harrison Street.
One man captured the sounds of the actors filming the Tsarnaev capture scene. To listen, fast-forward to around the 8:20 mark in the Periscope video embedded below.
LIVE on #Periscope: #patriotsday live filming on set #bostonstrong #'marathon #wahlburg #framingham https://t.co/7G7oR2hGRW

— Mr Plow (@MrPlow33) April 22, 2016
Patriots Day will open in Boston theaters on December 21.