Entertainment
How a Cambridge show became the newest big musical to hit Broadway
'Waitress,' composed by Sara Bareilles, is about love, female empowerment, and freshly baked pies.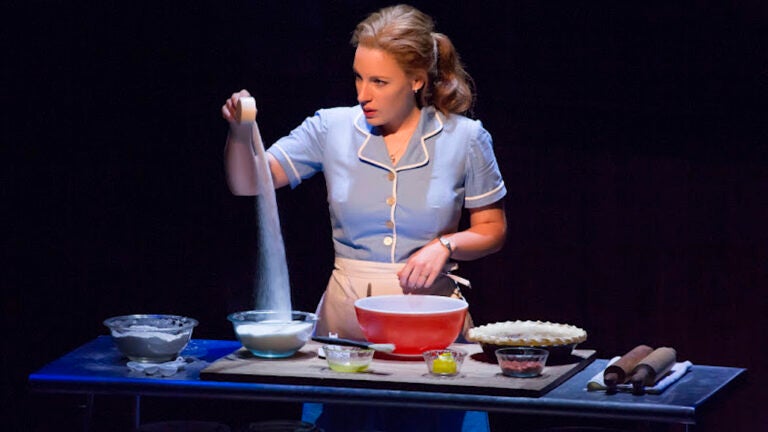 You may recognize the plot of Waitress—a story of female empowerment that follows the life of a waitress at a small-town diner who bakes pies as an escape from her abusive husband—from the 2007 film starring Keri Russell and Nathan Fillion.
If you're not a Broadway connoisseur, you might not know that it's also a brand-new musical with music and lyrics by recording artist Sara Bareilles that's about to take New York City by storm.
In fact, that musical began at Harvard University's American Repertory Theater thanks to its award-winning artistic director, Diane Paulus. The regional theater may be based in Cambridge, but its work is no stranger to the Great White Way.
The A.R.T. currently has 10 productions—including the likes of Once, Pippin, Finding Neverland, and Sleep No More—in or about to hit theaters around the world. It has sent eight productions to Broadway.
"I believe passionately in the A.R.T.'s mission to expand the boundaries of theater," Paulus said. "This commitment to taking bold artistic risks is what inspired us to recruit Sara Bareilles from the pop music world to write her first-ever score for the musical theater. … Time and time again, I saw our Boston audiences connect deeply with this poignant story of friendship, motherhood, and the magic of a well-made pie."
Bareilles told the The Boston Globe that she was nervous when first asked to join the project.
"I was worried whether or not I could live up to the challenge," she told the publication.
Broadway producer Barry Weissler, one half of a husband-wife producing team (he and wife, Fran, have worked on Tony award-winning or -nominated shows like Violet, Pippin, Annie Get Your Gun, Chicago, and Cabaret), went to Paulus with the idea of bringing the 2007 movie Waitress to the stage that year. Weissler and Paulus also worked together to bring the A.R.T.'s 2013 revival of Pippin and 2014 premiere of Finding Neverland to Broadway.
The A.R.T., which has won a Tony Award for Best Regional Theater, has been baking Waitress under Paulus's leadership since the creative team officially began working on the project about five years ago, a metaphor the theater's producer, Diane Borger, said is relevant to more than the show's connection to pies.
"We start with ingredients—the script, the cast—and we do our best to make the best show we can," Borger said. "If can reach wider audiences later, that is thrilling to us, but we concentrate on making the best work we can for here and our audience in Greater Boston."
Borger said that once the theater gained the rights to Waitress, it began its research and development phase, something she said makes the difference between a good show and a great show. Over the show's five years of pre-production, the theater brought Bareilles on board, searched for the right writer for about a year and a half, finalized a script, and then began reading, rehearsing, and designing the sets—a process Weissler said he was also very involved in.
Aside from Weissler's great working relationship with Paulus and the theater's proven successful process, Weissler said the Cambridge space's proximity to good sandwiches also didn't hurt in his decision to work with the A.R.T.
"It's very comfortable," Weissler said. "You can get up in morning, go to the theater, and work. It's a beautifully creative environment that you just hunger for in theater because there's so much pressure involved. So it's nice to have a place where you can be private, have a space to do work, and buy all your sandwiches at Darwin's."
The world premiere of the production, which starred Tony Award-winner Jessie Mueller, began its previews last year in August and ran through September at the theater's Loeb Drama Center in Cambridge, getting a great reception.
We start with ingredients—the script, the cast—and we do our best to make the best show we can.
Once the show closed at the A.R.T., the staff began an intensive reviewing process: critiquing it line by line, note by note, to make sure the musical's next step would be equally as successful. Though the theater wasn't officially acting as an incubator to mature the show and then ship it off to Broadway, Weissler said that an NYC debut was always his hope.
"We had an extremely great showing at the A.R.T., and we learned a lot," he said. "We learned what had to change, we rewrote part of the script, there was some new casting, a new set, but all of those things came out of the work from the A.R.T."
The production has since tweaked about 75 percent of its material, including the script, songs, and sets, since the show's world premiere at the A.R.T., Weissler later told the Wall Street Journal. One of the changes Boston audiences will notice is that the tunes "Down at the Diner" and "Door #3" were cut, but a new number, "Baking Can Do," was added.
"The biggest lesson I learned is not to be precious about what I have created. If something works, great. If not, we rewrite it,'' Bareilles told the Globe. "There is a part of myself that wants to keep tinkering forever. But at some point, you have to tell yourself that the pie is baked, and you walk away."
By premiering at the Cambridge theater, the musical not only gained a workshopping space, but also a dedicated audience, according to Weissler. Massachusetts is outperforming in ticket sales for its Broadway debut, ahead of all other outside states, including Philadelphia, which usually leads due to its proximity to the city, he said.
"It's encouraging to see the box office doing extremely well in a major season in which Hamilton is selling tickets by truckload," he said. "So for us to be coming alongside and be selling the tickets we are is a great sign. So working with the A.R.T. right now looks to have been hugely beneficial to us in that sense, too."
Waitress began its previews on the Broadway stage March 25, and it's already seeing standout numbers at the box office. Throughout previews, Waitress has consistently filled its theater to near capacity, bringing the show to a total box office of $937,590 as of April 17, according to a report from Playbill.com.
It's encouraging to see the box office doing extremely well in a major season in which Hamilton is selling tickets by truckload.
The show officially opens Sunday at the Brooks Atkinson Theater. You can listen to the show's musical numbers on Sara Bareilles's album, What's Inside: Songs from Waitress. The original cast album will release digitally June 10 and on CD July 1.