Entertainment
'Captain America: Civil War' gets everything right that 'Batman v Superman' gets wrong
Both films pit the government against superheroes and superheroes against each other. Civil War just does it way better.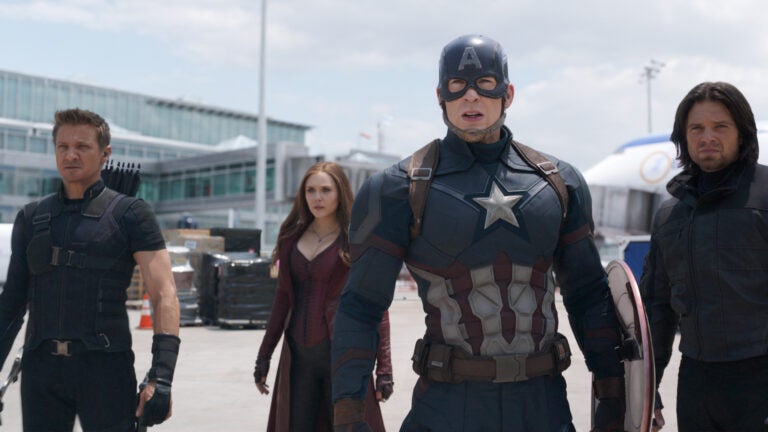 The promotional campaign for Captain America: Civil War asked viewers to choose a side: Team Cap or Team Iron Man. In the grand scheme of things, Warner Bros. and Disney are in a similar fight, asking viewers to swear their allegiance (and wallets) to Team Marvel or Team DC, Team Avengers or Team Justice League.
Both film franchises are building toward even bigger battles for the universe with even bigger stables of superheroes. Both made 2016 movies that pitted the government against superheroes and superheroes against each other in Batman v Superman and Civil War.
Given the similarities in plot and the current homogeneity of a film industry subsisting on a steady diet of sequels, prequels, remakes, and reboots, it's surprising how much better Civil War is than BvS. Some may lay the blame on BvS director Zack Snyder, or the unconvincing performances of its lead actors. The truth is, there are a variety of factors that separate the two films, each one a key ingredient that makes Civil War shine and BvS fizzle. *Caution: Spoilers ahead*
Civil War's central conflict is actually believable
Just as Batman v Superman begins with a building-shattering fight between heroes and bad guys with heavy civilian casualties, Civil War kicks off with a battle to recover a biochemical weapon that leaves 12 dead and almost 100 injured. Whereas Superman is ordered to appear at a Congressional hearing in Washington, D.C., the Avengers are summoned to Vienna to sign a United Nations treaty ratified by 117 countries that places them under the world government's control.
In Civil War, the pro-ratification side is lead by Iron Man, who is haunted by the lives lost due to his actions. "If we can't accept limitations, we're no better than the bad guys," he says. The anti-control side is lead by Captain America, adamant that justice must remain free of government agendas. "I know we're not perfect," he says. "But the safest hands are still our own." The schism is deepened when the government targets Captain's friend Bucky Barnes (the Winter Soldier), and grows due to plot points that we won't reveal.
In BvS, Batman thinks Superman shouldn't do what he does because he's dangerous, while Superman doesn't think Batman should do what he does because… he wears a mask and brands people? Audience members watching Civil War will sympathize with the tough decisions that the Avengers face, while those watching BvS will roll their eyes as each hero makes frustratingly obtuse and implausible choices.
Civil War is fun even though its tone is dark
Make no mistake: Civil War is the bleakest Marvel movie we've seen yet. The number of deaths and brutal fight scenes, coupled with the raw, emotional turmoil faced by previously unflappable superheroes, should give parents pause before taking their youngest to the film. But even in the face of tragedy, a well-timed sarcastic rejoinder from Robert Downey Jr. lifts the mood. For example, in the midst of a battle, as Iron Man is battered by Scarlet Witch (Elizabeth Olsen), he receives an update from his suit's artificial intelligence. "Multiple contusions detected," it announces. "Yeah, I detected that too," he replies.
Captain America directors Joe and Anthony Russo have comedy experience, having directed episodes of Arrested Development and served as executive producers for Community, two TV shows known for their densely layered jokes and intensely devoted fanbases.
Meanwhile, Batman v Superman's dialogue strikes exactly the wrong balance between serious and funny. One-liners like, "Do you bleed? You will," could have been terrifying if spoken by Christian Bale's Dark Knight or hilarious if delivered with the right inflection by Iron Man to Thor. Instead, they're neither.
Civil War's climactic battle lives up to the hype
In a bid to draw fans to theaters, Warner Bros. chose to show sizable snippets of the final battle between Batman and Superman in the BvS trailer. So it's disappointing for viewers of the full film that the battle is way too short given the ample build-up, and ends with the pair reconciling because their moms are both named Martha. (Seriously.)
Civil War, on the other hand, is almost too overstuffed with action. Fight scenes jump from Lagos to Vienna to Berlin to Moscow with little plot exposition, giving audiences whiplash. But the film absolutely nails its two big-ticket battles, the first of which features enough superheroes to field a pickup basketball game with subs. Set at an abandoned airport, the battle is both bruising and joyful, peppered with the aforementioned laugh-out-loud quips and one-liners. At one point, Spider-Man — a definite highlight of the film in his brief time on-screen — pulls off a battle maneuver reminiscent of The Empire Strikes Back that will make you laugh in wonder. Still, none of the lightheartedness takes away from the awesomeness of seeing two superhero squads flex their muscles.
And when the film's final battle comes, the fun is gone. There is a genuine animus spurred on by a late plot twist that no one will see coming. Unlike Batman and Superman, who had days to calm down and think about exactly why they are fighting, this fight is reactionary, born of blinding, white-hot rage that feels more human than anything in BvS.
BvS tries to fit an entire franchise into one movie
Batman v Superman is only five minutes longer than Captain America: Civil War, but it sure doesn't feel like it. That's because BvS faced the dueling proposition of convincing audiences that a Batman-Superman spat was real while also priming viewers for an inevitable team-up in Justice League, not to mention introducing Justice League members in hurried cameos.
The two-movies-in-one approach doesn't work at all. The worst example of this is the crazy dream sequence used to tease the big, bad guy for the upcoming Justice League films, Darkseid. The sequence has nothing to do with the BvS plot, is never addressed by the characters in the film, and makes no sense to audiences unfamiliar with the comic book source material.
That said, Civil War faces some of those problems as well. Considering that Marvel has produced 13 movies in eight years, there are characters on screen who may be unfamiliar to those who haven't watched every film. Who was that bad guy Captain America cornered in the opening scene? You need to watch Captain America: Winter Soldier. Ultimately, prior knowledge of every single character on-screen will not prevent audiences from enjoying the film. Unlike in BvS, in which entire explainer scenes take you out of the narrative, Civil War keeps the plot running smoothly even as it stuffs more and more characters into the frame.
Taken together, these four factors are a major reason why BvS feels like such a slog, and why, even after 146 minutes, Civil War leaves you giddy with anticipation for the next film in the Marvel series.