Entertainment
Chris Evans movies, ranked from worst to best
The good and bad of the Sudbury native's 16-year film career, as told by Rotten Tomatoes.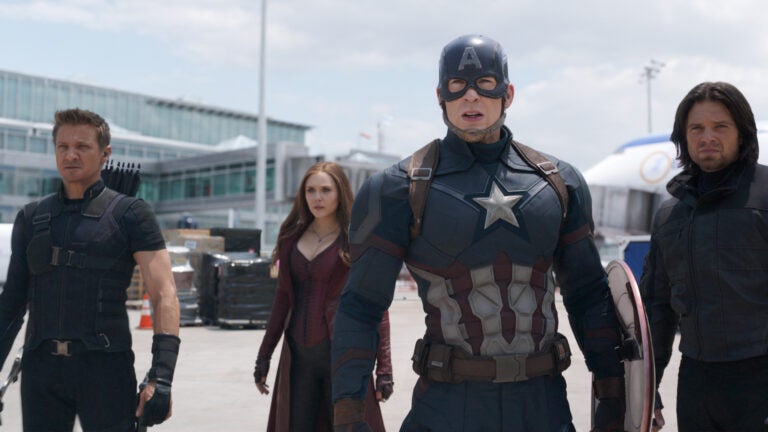 When people consider the topic of Boston leading men, most default to the holy trinity of Damon, Affleck, and Wahlberg. But with the recent career moves by Sudbury's Chris Evans, we may need to expand this select group to four — a Boston leading man Mount Rushmore, if you will.
Beyond playing the role of Steve Rogers, aka Captain America, in the Marvel Cinematic Universe movies, Evans's body of work is an interesting one. While he's been in his fair share of bombs, Evans is often the bright spot in films pilloried by critics. Here is a look at the best (and worst) films of Evans's still-blossoming career, based on the freshness rating of critical aggregation site Rotten Tomatoes.
Not ranked: The Newcomers (2000)
The first movie of Evans' career was a G-rated direct-to-video film about a Boston family who moves to a small Vermont town that doesn't want them. The Newcomers also marked the film debut of critically acclaimed actor Paul Dano (Little Miss Sunshine, There Will Be Blood).
28. London (2006): 14%
The title of this film refers not to the British capital city, but to a woman named London (Jessica Biel) who cheated on Syd (Evans), leaving him angry and depressed. When London hosts a party, Syd and a banker (Jason Statham) show up uninvited, do piles of cocaine in the bathroom, and talk about life. Somehow, that's the whole movie.
27. Playing it Cool (2015): 16%
Evans plays Me (yep, that's really his name), a screenwriter who dreams of writing action flicks but must write a romcom, despite his pessimistic view on love. That view changes as soon as Me meets Her (Michelle Monaghan). Sound like the first draft of a rom-com? You're not alone in thinking so. "Screenwriters Chris Shafer and Paul Vicknair's script feels like a first draft that was written in one night as they got pumped up on Red Bull and speed-watched Netflix," writes Joe Neumaier of the New York Daily News.
26. The Perfect Score (2004): 17%
Six high school students from different social backgrounds (including Evans and Avengers co-star Scarlett Johansson) hatch a plan to steal answers to the SATs. Along the way, they learn more about each other, and — in a completely unshocking development — themselves. Wesley Morris used a pithy SAT joke to pan the film in his review for The Boston Globe, writing, "This movie is to Breakfast Club as Zima is to beer."
25. Push (2009): 23%
Two years before suiting up as Captain America, Evans played Nick, a telekinetic known as a "Mover," hiding out from the government and using his undeveloped powers to win dice games. Despite an extensive cast of characters with their own distinct superpowers and a comic book prequel produced by DC, studio executives were not moved to push for a sequel.
24. What's Your Number? (2011): 23%
Set in Boston, the film is about Ally (Anna Faris) a woman who, after reading an article that says women who have sex with more than 20 men have trouble finding a husband, contacts all her exes to figure out which one is "the one." Evans plays Colin, the commitment-phobic neighbor aiding Ally in her quest before realizing *gasp* he has feelings for her. Faris and Evans do their best with the sexist plot, but the film's "number" remains an unimpressive 23% on Rotten Tomatoes.
23. Fierce People (2005): 24%
Teenager Finn (Anton Yelchin) spends the summer living in the guest house of billionaire Ogden Osborne (Donald Sutherland) with his drug-addicted mom (Diane Lane), closely studying the lives of the ultra-rich Osborne and his grandchildren (Evans and Kristen Stewart). Morris called the film banal in his Globe review, saying, "nothing is as funny, touching, true, or sad as it should be."
22. Before We Go (2015): 24%
A busker in New York City (Evans) sees a woman who's running to catch the last train to Boston (Alice Eve) drop her phone. After missing the train, the pair spend the night wandering the city trying to solve each other's problems. Christy Lemire of Rogerebert.com wrote, "Very little here is special, despite the individual charms of Evans and co-star Alice Eve."
21. The Loss of a Teardrop Diamond (2009): 26%
Based on an unproduced screenplay by legendary playwright Tennessee Williams, Teardrop stars Bryce Dallas Howard as Fisher, an heiress shunned by high society and Evans as Jimmy, the poor but attractive boy who escorts her to balls and parties. Though many critics disliked the film, Roger Ebert and Stephen Holden of the New York Times enjoyed it, with Holden calling Jimmy "courtly and humble, handsome but without a trace of vanity, and unfailingly honest."
20. Fantastic Four (2005): 27%
Given that nearly a third of Evans' big-screen roles feature him playing a superhero, it's lucky executives ignored his first spandex-clad performance in this critical failure. He plays Johnny Storm, an ex-astronaut who is transformed into the Human Torch when exposed to a cosmic energy cloud in space along with the Invisible Woman (Jessica Alba), Mr. Fantastic (Ioan Gruffudd), and The Thing (Michael Chiklis).
19. Not Another Teen Movie (2001): 28%
Generally regarded as a lesser entrant in the parody movie boom of the early 2000s, NATM is not without its charms. Evans is amusing as jock Jake Wyler, who falls in love with geeky-girl-turned-beauty-queen Janey Briggs (Chyler Leigh) in the most intentionally generic way possible.
18. The Nanny Diaries (2007): 34%
Based on the 2002 novel of the same name, the film follows Annie the nanny (Scarlett Johansson) in New York City, as she struggles to adapt to her cruel employers Mr. and Mrs. X (Paul Giamatti and Laura Linney), a romance with 'Harvard Hottie' (Evans), and lying to her mother about having a banking job.
17. TMNT (2007): 34%
It was naturally difficult for Evans to stand out as the voice of hockey-masked vigilante Casey Jones when forced to share the screen with four fast-talking turtles with attitude in this 2007 animated adaptation of the 1980s comic. Like the Fantastic Four films, the TMNT franchise was quickly abandoned and rebooted in 2014 with a new cast, leaving Evans and his co-stars, including Sarah Michelle Gellar as April O'Neil, out in the cold.
16. Street Kings (2008): 36%
Keanu Reeves plays a dirty cop attempting to unravel a maze of corruption within the LAPD who is joined by Evans as a detective assigned to the case. Several critics called director David Ayer's film a lesser version of Training Day (which Ayer wrote), with CNN's Tom Charity saying "Keanu Reeves' bad-boy cop Tom Ludlow may not play by the rules, but the film sure does."
15. Fantastic Four: Rise of the Silver Surfer (2007): 37%
This 2007 sequel finds Evans and the other Fantastic superheroes fighting the Silver Surfer, an alien with a habit of destroying every planet he touches. Though the second Fantastic Four film was slightly better received critically, it was not successful enough at the box office to keep Fox from canceling planned sequels and rebooting the franchise with a new cast in 2015.
14. Battle for Terra (2009): 48%
This little-seen animated film starred a cast of several recognizable actors (Luke Wilson, Danny Glover, Dennis Quaid, Evans) in roles as either sprite-like creatures on the peaceful planet Terra, or humans who are invading the planet because they have nowhere else to go.
13. The Losers (2010): 49%
Contrary to what the film's title may suggest, The Losers is about an elite U.S. Special Forces team seeking revenge against a superior who tried to have them killed during a mission in South America. If one of the team members was a loser, however, it would be Jensen (Evans), a nerdy computer hacking specialist often used for comic relief.
12. Puncture (2011): 51%
Based on a true story, Evans plays Mike Weiss, a lawyer and drug addict who helps a nurse who contracted AIDS from an accidental needle prick at a hospital sue the healthcare industry for attempting to stymie a safer needle alternative due to higher costs. While the film was seen by few, Roger Ebert raved about Evans, calling his performance "electrifying" and comparing it to performances by a young Al Pacino or Nicolas Cage.
11. Cellular (2004): 55%
When a woman is kidnapped, she manages to piece the wires of her smashed phone together and dial a random number. The man who picks up, Ryan (Evans), must try to find her without dropping the call. Ebert again praised the work of Evans, calling his work as Luke "a star-making role."
10. Thor: The Dark World (2013): 66%
Evans made an uncredited cameo in this film when Loki (Tom Hiddleston), the trickster brother of Thor (Chris Hemsworth) disguises himself as various characters for comic relief. "Hey, wanna have a rousing discussion about truth, honor, patriotism?" Loki-as-Captain asks, before Thor cuts him off in the middle of a sardonic "God bless America!"
9. The Iceman (2013): 66%
The film is based on the true story of hitman Richard Kuklinski (Michael Shannon) who worked as a killer for over two decades without his family knowing a thing. Evans is unrecognizable as fellow hitman Robert "Mr. Freezy" Pronge, who works together with Kuklinski after the latter is suspended by his mob boss.
8. Avengers: Age of Ultron (2015): 74%
After deposing of a villain who stole Loki's scepter after the first Avengers film, Tony Stark (Robert Downey Jr.) and Bruce Banner (Mark Ruffalo) discover an artificial intelligence living within the scepter and attempt to upload it to Stark's "Ultron" defense system to keep Earth safe. Once uploaded, the intelligence decides the best way to save Earth is to eliminate humans. Evans provides a typically strong performance, but with so many new characters introduced, he feels almost like an afterthought.
7. Sunshine (2007): 76%
In the future, the Sun has faded, turning Earth into an almost inhospitable ice planet. Humanity's last hope is a ship and its crew traveling across the solar system to drop the world's largest nuclear bomb into the Sun in the hopes of restarting it. Danny Boyle's dystopian sci-fi film may sound ridiculous, but Evans gives the role of Mace, the ship's engineer, an appropriate gravitas.
6. Captain America: The First Avenger (2011): 79%
Considering how large the Marvel Cinematic Universe has gotten, it's hard to believe Evans' first performance as Steve Rogers was only five years ago. In First Avenger, Evans is transformed from a scrawny American into Captain America, then tasked with taking down his Nazi super-soldier counterpart Johann Schmidt (Hugo Weaving) with the help of fellow soldiers, including best friend Bucky Barnes (Sebastian Stan).
5. Scott Pilgrim vs. the World (2010): 82%
In order for slacker guitarist Scott Pilgrim (Michael Cera) to date Ramona Flowers (Mary Elizabeth Winstead), he must defeat her seven evil exes. Evans is one of the exes, bad boy actor/skateboarder Lucas Lee, and Evans plays the character as comically cruel and vain, to great effect. The film is notable for maintaining a visual style similar to that of the graphic novel it's based on—even though it's live-action—with cartoonish BANGs and POWs popping on-screen as Pilgrim fights his way to Ramona's heart.
4. Captain America: The Winter Soldier (2014): 89%
The follow-up to 2011's First Avenger outstripped its predecessor both critically and commercially, with Evans joined by Black Widow (Scarlett Johansson) and Falcon (Anthony Mackie) fighting criminal enterprise Hydra and their mysterious Winter Soldier. Captain America later recognizes the Winter Soldier is his long-lost best friend Bucky Barnes, who fought alongside him in the first film.
3. Captain America: Civil War (2016): 90%
It's superhero-on-superhero in Civil War, with Iron Man supporting UN oversight of the Avengers after an incident in Nigeria causes civilian casualties, and Captain America opposing it, saying bureaucracy and government agendas will diminish their ability to administer justice. The film manages to make its super conflict feel very human, while staging action scenes that will leave audiences cheering.
2. The Avengers (2012): 92%
When Loki gains control of the Tesseract with the intent of enslaving Earth, Nick Fury (Samuel L. Jackson) and S.H.I.E.L.D. recruit Thor, Captain America, Iron Man, and The Hulk to join Black Widow and Hawkeye (Jeremy Renner) as a team strong enough to defeat him. The critical pinnacle of the Marvel Extended Universe so far, the box office success of The Avengers cemented the Marvel franchise as the defining blockbuster film series of the decade—and Evans as a legitimate action movie star.
1. Snowpiercer (2014): 95%
After a man-made attempt at climate engineering plunges the world into an ice age, the entire human race is forced to live on a giant ice-boring train. Evans plays Curtis Everett, a lower-class man who leads an uprising that starts with the poorest people near the caboose and heads toward the opulent wealth near the locomotive. Co-starring Tilda Swinton, Ed Harris, Octavia Spencer, and Jamie Bell, the film was originally planned as a limited release in the U.S., but was so well-received that distributors gave it a wider release while simultaneously making it available on streaming services.