Entertainment
MIT statue gets its own Iron Man mask thanks to likely student hack
It's prank season at the Cambridge university.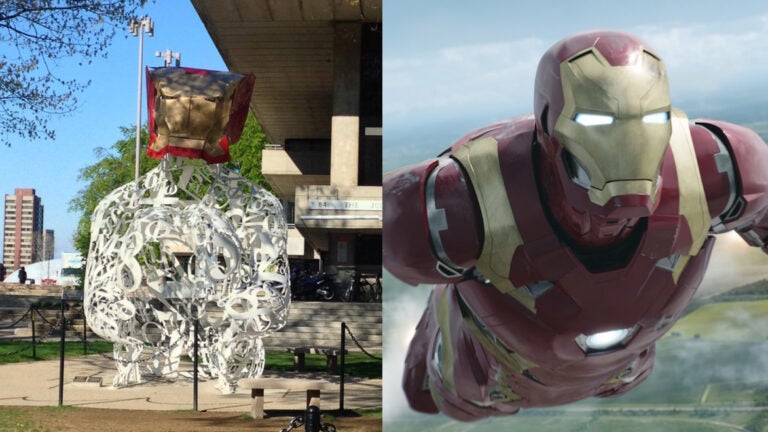 One of MIT's most famous fictional graduates is making waves around campus this week.
Several passerby noticed the "Alchemist" statue on Mass. Ave. near MIT's campus sporting an Iron Man mask, coinciding with the recent release of Captain America: Civil War.
#TeamIronMan tripping at @MIT #Boston 🙂 pic.twitter.com/Bg5yyGeb6x

— luis edgardo cotto (@CitizenCotto) May 9, 2016
Early in the new film, billionaire Tony Stark (Robert Downey Jr.), who Marvel's website says graduated with two master's degrees at age 19, lectures a roomful of students before announcing that he is funding the grant requests of everyone in the room.
Despite the fictional mogul's largesse, some MIT students seem to be siding with #TeamCap instead, if this picture of a replica of Captain America's shield sitting atop the Great Dome is to be believed.
The objects are likely part of a "hack," a yearly MIT tradition in which students play harmless practical jokes, often in the form of amusing additions to campus buildings. A website cataloguing MIT's hacks lists four hacks so far in 2016, including a tribute to singer David Bowie following his death in January.