Entertainment
Here's the first photo from the newest Boston gangster movie
Though it stars a recent Oscar winner and is produced by Martin Scorsese, it likely won't have much in common with The Departed.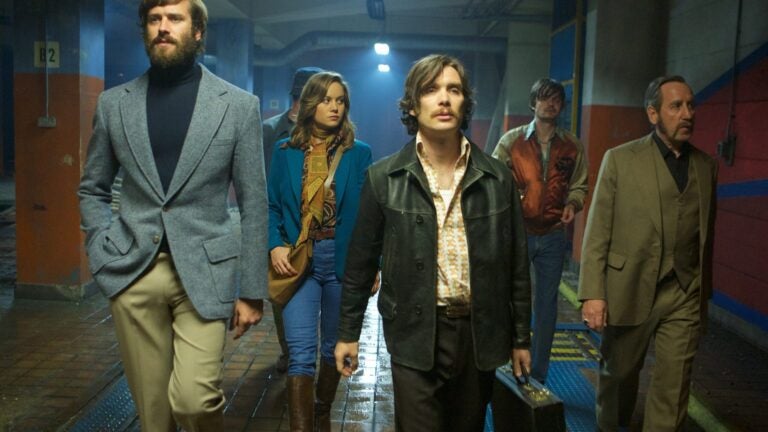 Yet another crime movie set in Boston that stars an Oscar winner and is produced by Martin Scorsese is coming to theaters. But this one is almost guaranteed to be a bit different than the ones audiences are used to seeing.
Set in Boston in 1978, Free Fire chronicles a meeting in a deserted warehouse between two Irish gangs doing an arms deal. When things go awry, the warehouse turns into a shootout and a game of survival. The film stars 2015 Best Actress Oscar winner Brie Larson (Room), Armie Hammer (the Winklevoss twins in The Social Network), and Cillian Murphy (Scarecrow in Batman Begins, Inception).
Beyond the principal cast and its Boston setting, what make Free Fire intriguing is director Ben Wheatley and executive producer Martin Scorsese. Though Scorsese isn't directing the film, adding his seal of approval as a producer speaks volumes from a man whose mastery of the gangster film genre (The Departed, Casino, Goodfellas) is unquestioned.
Wheatley, meanwhile, is a buzzworthy young director who has yet to have a breakout hit. His latest movie, High-Rise, has been hugely divisive. The film takes place almost exclusively in a massive luxury high-rise building that turns into an ultraviolent, class-driven Lord of the Flies-esque setting when the power goes out. There were walkouts reported during the film's world debut at the Toronto Film Festival, and a few audience members walked out of the theater during its screening at the Boston Independent Film Festival earlier this month, but many critics have praised it. (It's currently playing at Kendall Square Cinema, for those interested.)
Wheatley named Reservoir Dogs as one of Free Fire's influences, while a film executive described Free Fire's narrative as "very contained." Considering those comments and High-Rise's insular nature, it's a good bet that the film will be light on backstory and side plots and heavy on the visceral, thrilling, perhaps even grisly sequences.
Though many speculated that Free Fire would make its debut at the Cannes Film Festival, it now appears that the film will likely hit the festival circuit in September instead, with a possible theatrical release tentatively scheduled later in 2016.
https://www.youtube.com/watch?v=e4pujABeKuA