Entertainment
'Finding Dory' is a boatload of fun. It's also a very serious look at living with a disability.
Dory's profound struggles to come to terms with her memory loss are at the forefront of the latest Pixar film.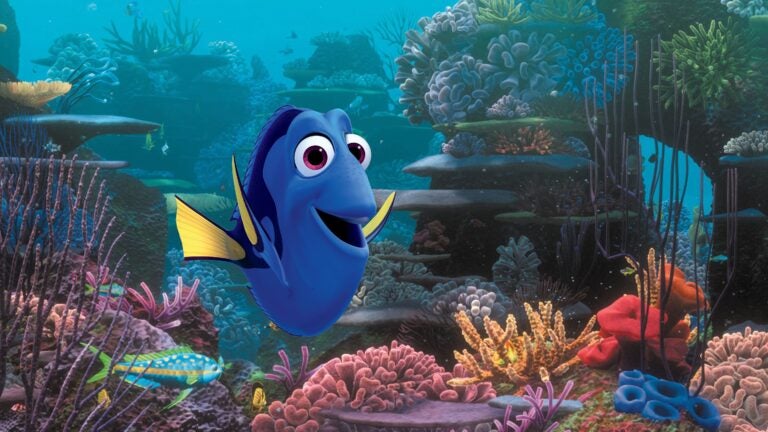 In the first few minutes of Finding Dory, Marlin (Albert Brooks) and Nemo (Hayden Rolence) wake up to the sound of Dory (Ellen DeGeneres) being stung by the poisonous tentacles of their sea anemone home. Seconds later, Dory does it again. And again. Amusing scenes that play on Dory's struggle with short-term memory loss will be familiar to fans of 2003's Finding Nemo. And though there are plenty of jokes about Dory's chronic forgetfulness in Finding Dory, there are also several searingly emotional and surprisingly frank depictions of living with a neurological condition.
In a paper for the British Medical Journal entitled Memories Aren't Made of This: Amnesia at the Movies, clinical neuropsychologist Sallie Baxendale praised Finding Nemo for its scientific accuracy. "It is perhaps ironic that one of the most neuropsychologically accurate portrayals of an amnesic syndrome at the movies comes not from a human character but an animated blue tropical fish," Baxendale writes. "Although her condition is often played for laughs during the film, poignant aspects of her memory loss are also portrayed, when she is alone, lost, and profoundly confused."
In Finding Dory, "alone," "lost," and "profoundly confused" feel like Dory's rotating states of being. After a single word triggers memories of her parents, she swims toward the open ocean with no hesitation. Dory remembers almost nothing about her parents, but she instinctively knows she misses them. After a rapid trek across the Pacific Ocean to California, Marlin and Nemo are separated from Dory for the majority of the film, and are relegated to minor character status. In their place, Dory relies on a cast of aquatic creatures who live at the Marine Life Institute (a fictionalized version of the Monterey Bay Aquarium), including a nearsighted whale shark (Kaitlin Olson), a neurotic beluga whale (Ty Burrell), and a curmudgeonly octopus named Hank (Ed O'Neill), whose flexibility and ninja-like camouflage skills make him the film's breakout star.
But in between adventures, there are frequent scenes of paralyzing anxiety, self-doubt, and despondency, as Dory frets about how her anterograde amnesia negatively affects her and those around her. ("Don't be such a Dory, Dory" she tells herself more than once.)
Finding Nemo certainly touches on living with a disability with Nemo's small fin, and Dory's spotty memories, but those were not the film's chief concerns.
Finding Nemo is about Marlin learning to let go and to trust others. Finding Dory is about Dory learning to live with the limits of her condition—and learning to trust herself.
Disability advocates have long criticized what is referred to as the "pity/heroism dichotomy," in which an onscreen portrayal of a disabled character (physical or mental) either paints them as an object of pity or as an unstoppable hero for accomplishing something in spite of a handicap. Dory certainly inspires—and inspires pity—in equal measure, but her character always remains fully-realized and three-dimensional (even if you aren't watching the film in 3-D). Throughout the film, when Dory finds herself confronted with another mental roadblock, she frantically vocalizes a variation of a negative thought pattern. Come on, you can do this. If you just concentrate, everything will work out. Who are you kidding, this always happens. You can't do this. Why even try? Real life rarely manifests itself as a protagonist's battle against villains, bullies, and other forces of evil, but rather an individual's struggles with day-to-day existence.
In Amnesia at the Movies, Baxendale praises Finding Nemo for accurately reflecting how others can react to amnesia patients, writing, "The frustration of the other fish around her with constant repetition also accurately reflects the feelings of people who live with amnesic patients." Finding Dory explores a broader spectrum of emotional reactions to Dory, including that of her parents (Diane Keaton and Eugene Levy). In flashbacks, they try to use rhymes and games to help Dory live a normalized life, but can barely mask their apprehension as she happily floats away, her mind blissfully clear of everything they just said. In another flashback, young Dory awakens to hear her mother crying with worry about her daughter ever being able to survive on her own. In his review for The Guardian, Jordan Hoffman called their interactions "one of the more frank depictions of raising a special-needs child in a mainstream film."
Because Finding Dory is a Pixar movie, there is a silver lining. Despite her struggles, Dory finds enough flashes of inspiration to not only survive, but to thrive in her quest to find her parents. Because she relies on instinct, she shines in tight situations. It's her lack of impulse control and formative memories that allow her to bravely push forward when others might hit pause and try to weigh their options. When Marlin and Nemo find themselves trapped in a gift shop fish tank, the mantra "What would Dory do?" gets them out in thrilling fashion; the scene is reminiscent of Dory and Marlin's jellyfish escape in Finding Nemo. Eventually, Dory begins to use the phrase herself, rising from the depths of a paralyzing panic attack and following her instincts out of a jam.
The overarching moral of the story is that what makes you different is what makes you great. 2015's Inside Out taught children that it's OK not to be happy all the time. Finding Dory shows kids that it's OK to fail, and that occasionally feeling powerless and helpless is completely normal. As long as you just keep swimming, the world is your oyster.