Entertainment
How two Emerson grads made the weirdest movie of 2016
It stars Harry Potter as a farting corpse.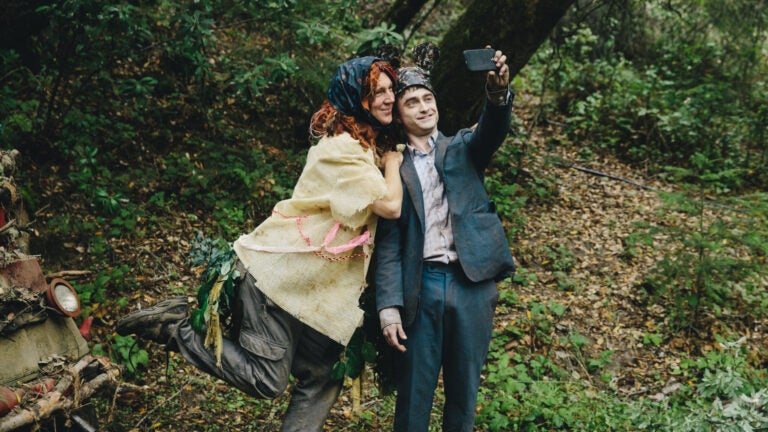 For a pair of twentysomethings, directors Daniel Scheinert and Daniel Kwan (collectively known as "Daniels") have accomplished quite a bit. They've directed music videos for popular bands like Tenacious D, The Shins, and Foster the People. Their music video for DJ Snake and Lil' Jon's club anthem "Turn Down For What" earned a 2015 Grammy nomination for Best Music Video. This year, the duo earned the Directing Award at the Sundance Film Festival, where judges praised their first feature-length film, Swiss Army Man, as "a remarkable film that brims with creativity, humor and deft insight," despite some who had reservations about a movie starring Harry Potter actor Daniel Radcliffe as a farting corpse.
Given their success, it's hard to believe that in 2009, the Emerson College graduates were working at a summer camp at Harvard. Scheinert, who had just graduated, and Kwan, who had a year left, were teaching assistants at New York Film Academy summer camp, where high school-age kids learned how to make films. It was there that the duo's partnership crystallized.
"That job was kind of where we started working together," Scheinert said. "That's kind of why Daniels exists now. We were summer camp counselors and we were both so hyper and so enthusiastic about making really weird movies with the kids that we kind of realized we were kindred spirits, so we decided to keep making our own summer movies after hours."
Scheinert and Kwan first met during college at Emerson in 3-D animation class under professor John Craig Freeman. The Daniels' first impression of each other came when Freeman asked the class to introduce themselves and describe what kind of movies they wanted to make.
"My reaction to the question was to sincerely give him the best answer I could," Scheinert said. "So I gave this long, arrogant speech that made Dan think I'm an asshole."
"And I'm the kind of kid who sits in the back of class and tends not to talk very much," Kwan said. "So I said, 'I don't know,' which made Daniel Scheinert think I was a lazy asshole who was wasting my money at film school."
Once Scheinert saw the incredible work Kwan was doing in the class, however, he knew he wanted to work with him, a partnership that has yielded some weird, undeniably masterful work, culminating in Swiss Army Man.
The film is about a marooned young man named Hank (Paul Dano) who has nearly given up on life until a farting corpse named Manny (Daniel Radcliffe) washes ashore and proves to be everything Hank needed. Leaving Manny out in the rain turns him into a water jug, his teeth can chop wood, and his erection is a compass that magically leads Hank home. In a delirious scene, Hank turns Manny into a gas-powered motorboat, riding his flatulent body out to sea.
It sounds weird, because it is weird. And it's even stranger to think that two actors with the pedigree of Dano (There Will Be Blood, Little Miss Sunshine) or the star power of Radcliffe (he's Harry freakin' Potter) agreed to be in this film. But the Daniels say both Dano and Radcliffe were incredible to work with.
"Dan and Paul were always excited and willing to dive into whatever the roles required," Kwan said. "It ended up being a great collaboration where all four of us — Daniel, Daniel, Daniel, and Dano — we all really trusted each other. Despite some days where we asked them to do some absurd things — stuff I admit was kind of insane — they had a lot of trust in the process."
"They were very confident on set, and asked really hard, smart, questions about their characters," Scheinert added. "We were so lucky to have them help us help them with their characters and the roles."
It probably helped that Daniels proved with their music videos that they could make fine art out of the absurd. Like Swiss Army Man, the Grammy-nominated "Turn Down For What" video features genitals with lives of their own: clothed breasts and penises twitch madly to the beat. When Hank strings Manny up like a puppet later in Swiss Army Man, it echoes the video for Foster The People's "Houdini," in which a crack team of producers use a series of Weekend At Bernie's-like stunts to convince a concert audience that the deceased band is alive and well.
It also helps that the movie isn't just fart jokes and corpse gags. At its heart, Swiss Army Man is a portrait of a man whose inability to deal with society's judgement has driven him away from it, and whose concern for adhering to its norms has utterly paralyzed him. Despite the fact that he owes his life to Manny's farts, Hank can't bring himself to fart in front of him, because that's not what people do.
"It's about reassessing our own pre-judgements on the things in society that we deem as taboo," Kwan said. "Life is full of immature things, but people like to keep them separated. A lot of the bad press we've gotten just because they see the film as 'farting Harry Potter' kind of proves our point. We're excited for people who are curious and adventurous enough to see this film and be surprised that it is so much more than its premise holds."
"We went into this film with one question," Scheinert added. "Could we make a movie that had a fart that would make you cry?"
For Emerson students and other aspiring filmmakers looking to replicate their success, the Daniels unsurprisingly suggest following your own path.
"I'm so glad we didn't start focused on career success," Scheinert said. 'To me, success is having like-minded filmmakers and artists to collaborate with."
"You shouldn't be inspired to pander to whatever the general consensus is right now," Kwan added. "You should aspire to change the general consensus."
"My favorite piece of advice is just make stuff," Scheinert concluded. "Just make stuff the best you can make. Make something most people don't know that they want yet. Then give it to them, and they'll realize all along they actually wanted a movie about a farting corpse."
Swiss Army Man is now playing in theaters nationwide.