Entertainment
John Krasinski on Duck Tours, karaoke, and dressing up for his daughters
The actor-director of 'The Hollars' gets nostalgic about growing up in Newton and sweet about raising his own children.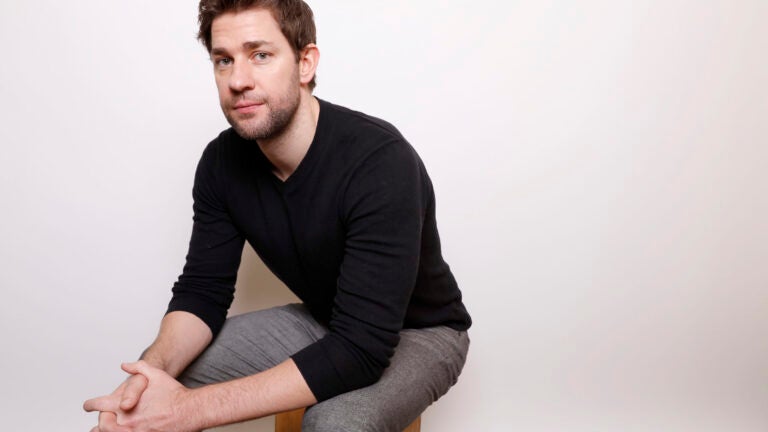 Newton-bred actor John Krasinski may travel across the globe to shoot Hollywood films, but he still loves a good old Boston Duck Tour.
While chatting about the heartfelt family dramedy The Hollars — which Krasinski both directed and starred in — Krasinski shared his favorite spots in the Boston area, the craziest thing he'd do for his daughters, and who he dreams of acting with one day (hint: her last name rhymes with "punt").
This interview has been edited and condensed for length and clarity.
[The Hollars] was fantastic and very emotionally resonant with feelings about your family.
John Krasinski: That's it — stop right there. That's the reason we wanted to make the film. Let's be honest, we've all seen a lot of family movies. And I think it's important to do films about family, especially in today's world. There's enough drama in the world that it's important to go back to core, simple, strong beliefs like family. But you have to have the right story. And Jim Strouse wrote the most unbelievable script, and it was so particular. What you just said was my goal for the movie, which is, at some point the family up onscreen stops being the family onscreen and you start putting your own feelings about your family in there.
Did it stir up any memories from growing up in Newton?
JK: What's funny is I come from an incredibly loving family. We're still really tight, so it's a completely different family, and yet when I came to the end of the script I said, "Oh my god, that's my family." There is something connecting about just the relationships of being in a family, but what it really did was throw out the ideas of going home to Newton. Going home to anybody is like a time capsule; there's a lot of nostalgia happening. Driving down the road that I grew up on or going to the lake I swam in or the ice cream store I went to is really intense. You're sort of dealing with this older version, some ghost version of yourself. Everybody goes through that.
Do you have any favorite spots from growing up?
JK: Oh my god, so many different spots. We used to go to all sorts of different places. I remember swimming in Crystal Lake every summer. All of the places I chose in the movie I really wanted it to feel like it could be anybody's hometown, and you would feel like it's somehow a little bit of your hometown. We used to go down to the Charles River; I used to bike on the Charles River all the time. I took Duck Tours, which I've still done now with my nieces and nephews. Weirdly, going down to Faneuil Hall was always huge, because when you're in high school that's so busy and there are bars and restaurants and people. We used to go down there almost every New Year's, and I remember in high school feeling really cool to go down there by myself, feeling like an adult.
The Hollars do a lot of crazy things for their kids. What is the craziest thing you've done or would do for your kids?
JK: I don't know if there's any limit as to how crazy I'd get for my kids [daughters Hazel and Violet]. What's funny is when you have kids, all the clichés are completely and totally true. I've already dressed up for my daughters. I need to find a place that will make dresses big enough for me, because I can see a lot of dressing up in my future and a lot of tea parties in my future, which I'm so excited about. So far, that's the craziest thing I've done, but I don't think there's a limit for what I would do for them.
What kind of lessons do you want to teach your kids? There are so many lessons in this film about growing up, even if you're already an adult.
JK: Margo [Martindale] said something, and I totally agree: The thing she took away from being a part of this movie was to live in the moment. I think a lot of families suffer from that, and I certainly did. In high school you just want to get out of high school, and in college you just can't wait to get in the real world. When you're meeting someone, you can't wait to be married, and when you're married, you can't wait to have kids. It's always about what's going to happen next or what you regretted in the past, and you do forget to live in the moment. Even with my two-and-a-half-year-old daughter, I really try to make sure she realizes that today's the day. Today's really special. When you're waking up, there's something really special that's going to happen today, and we should focus on it. Whether it's going to the zoo or drawing or making chalk figures in the backyard, I want her to know it's OK that today's really cool, too, and you don't always have to want more and to be older and stuff.
Directing this film versus Brief Interviews With Hideous Men and The Office, did it feel more challenging, more exciting? What was different?
JK: This one was really easy to be actor-director, and also the most necessary for me. I felt it the most necessary to be an actor in it because it's so intimate and you're dealing with such emotional stuff that, like you said, is universal, so I wanted to get it right so people felt like there were parts of them in there. The only way to do that was to break the convention of it being a movie. By that, I mean I tried not to call "cut" a lot. Being an actor in the scene, if I was sitting behind a monitor and gave people notes, you keep breaking the very special world these actors have created. So being an actor in the movie, I got to just keep doing takes. We never called "cut" and we tried to make it feel almost more like a play. When we got to the end of the take, I'd talk to them very quietly about things they wanted to try. I remember Richard Jenkins right at the end of the take saying, "Oh, no, that's not what I wanted to do. Can I try this?" And I was like, "Let's go right away." It felt like you had stayed in this very safe, secure place. Really stepping out of the scene and looking at the monitor for the first time was when I knew I had it.
Your mom in the movie [played by Martindale] loves pretzels and ice cream. Do you have any weird combinations of food that you eat?
JK: I remember a long time ago, like when I was in college, someone introduced me to drinking pickle juice and I was like, "Oh my god, that's disgusting." And now it's a thing. I don't do it all the time, but I do love pickles because of that unbelievable burst of salty and vinegary and all that nonsense. I don't do it all the time, but I do see where the cravings come from.
One of my favorite scenes is when you and your family sing the Indigo Girls. What's your pump-up jam and go-to karaoke jam?
JK: Wow, pump-up song? Great question! You know what my pump-up song has been for the longest time? "Wake Up" by Arcade Fire. I love that song. I certainly wouldn't sing it, because I'm not in any way as good as them. My go-to karaoke song has always been "Hero" by Enrique Iglesias.
When are we going to see you and Emily [Blunt, Krasinski's wife] on Lip Sync Battle?
JK: Breaking! Exclusive! Let's do it! That would be fun. Emily I'd like to work with in any way, shape, or form, but why not get us started with Lip Sync?
You were just cast as Jack Ryan on Amazon's new series. How excited are you to be taking on this iconic role?
JK: Oh my god, I'm totally thrilled. I've been a Jack Ryan fan forever. The books are fantastic, and obviously the movies I grew up on. He's kind of our James Bond. He's America's James Bond! I'm so honored to be a part of it, but also a little terrified. Those actors who have done it are pretty big deals. I'm looking forward to it because it's a different take on it because it's a different medium. The showrunner — Carlton Cuse, one of the creators of Lost — he came to me with it and said, "It's not a TV show. It's a long-form movie. Instead of it being 10 episodes, we're going to film the whole thing like a movie and then break it up. Because the books are so long, the character is so specific, and his superpower is basically his intelligence, it's so hard to tell a Jack Ryan story in two hours. This is the best way to do it." And I thought that was really exciting.
What made this the right role to return to TV with after The Office?
JK: Exactly what you said — it's the role. Being on The Office was the greatest thing I've ever and will ever do because it opened up every single door for me. Every opportunity I've had is because of that, and it will always be the greatest experience. It's also afforded me the ability to take chances. I'm not one who likes to do the same thing over and over, so I wanted to try something new. So my goal was always to go where the best or most interesting story is. 13 Hours was a huge change for me; when we did 13 Hours, I had never done anything like it. And this Jack Ryan thing just came along, and I've been a big fan of TV — obviously being from The Office — for a long time, and I just don't think it matters anymore. I don't care if you're watching it in the theater, on your iPhone, or whatever. Content is content nowadays. I think the story is the thing. I hope Jack Ryan is one of those things that people don't even see as a TV show; they just see it as a cool thing to watch on Amazon.
What's next on your bucket list?
JK: I would love to direct again, and I think the cool thing is that I really reacted to [The Hollars]. So if I react to another script like that, that would be great. But my whole rule for directing is that I have to be the right guy for the job. If I think there's someone else out there who can do a better version than I can, then I'm not the right guy for the job. It's something that I have to feel inherently like it's in my DNA, this story. I'm waiting for the next one to come along. As far as being an actor goes, I've been lucky enough to work on some really great projects recently, and going into Jack Ryan in January is going to be big. One of the things I'd love to do one day is work with my wife, so we've got to find something to do that.
Do you have a project in mind? A comedy, a drama, a TV show?
JK: I don't. It's really hard. The key for me is to find a story that is so undeniable that us being married isn't the headline, the story itself is the headline. Whether we want to work together or not, we have to respect that the biggest goal is to make every movie we're in work. You hope that you can find something that is either fun to do together or really important and impactful to do together.
Do you feel like you could work with Jenna Fischer [who played Pam Beesly on The Office] again, or would it be too hard for people to separate Jim and Pam?
JK: I would work with Jenna every single day if I could; she's unbelievable. It would be hard for people to allow us to be anything else. I think it would be hard for people to see us as anything else. It would be difficult, but I don't know. I'm not opposed to trying it!
The Hollars hits theaters on Friday.