Entertainment
14 movies Bostonians should know about this fall
From a pair of Mark Wahlberg films to an Oscar frontrunner set on the North Shore.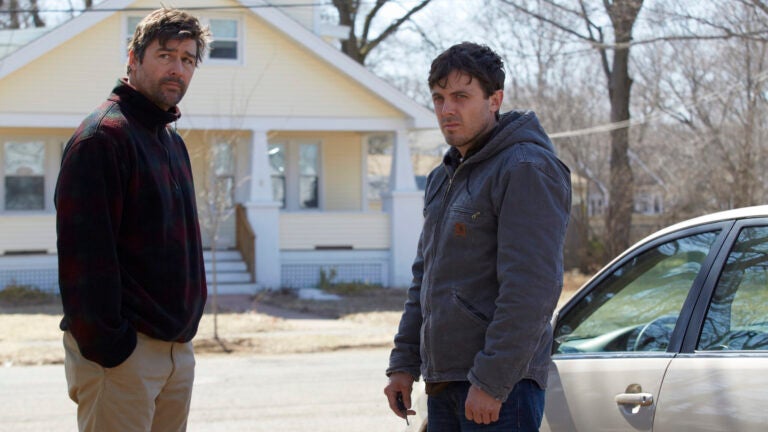 Kids across the state are back in school, and with nary a superhero film in sight (until November's Doctor Strange, anyway), it's safe to say that the summer movie season is officially over.
And while the overall box office numbers from summer 2016 are a tiny bit higher than those of 2015, the quality of the biggest blockbusters took a dive. The five highest-grossing summer movies of 2015 averaged a 79 percent freshness rating from critic aggregation website Rotten Tomatoes, while 2016's crop averaged a 68 percent, dragged down by rotten ratings for Suicide Squad (26 percent) and Jason Bourne (57 percent).
But with the changing of the leaves comes a changing of the reels. Theaters phase out remakes and prequels in favor of prestige films with Oscars potential. And just like the summer season, which saw films both shot in Boston (Ghostbusters) and starring Boston-area natives (Captain America, Jason Bourne), the fall film slate features a number of titles with connections to the area.
September
The Hollars
Newton native John Krasinski plays John Hollar, a New York City artist who returns to his hometown after his mother (Margo Martindale) gets cancer. Also on hand are John's pregnant girlfriend (Anna Kendrick), grief-stricken father (Richard Jenkins), idiot brother (Sharlto Copley), and romantic rival (Charlie Day). The Hollars is currently in theaters.
My Blind Brother
Jenny Slate (who was raised in Milton) shone brightly as a slacker comedian thrust into motherhood in 2014's Obvious Child. In this film, she plays a similar character named Rose who, after sleeping with (and quickly ditching) fellow sad-sack Bill (Nick Kroll), volunteers to help a blind man train for an ocean swim. The blind man turns out to be Bill's older brother Robbie (Adam Scott), who, despite being a bit of a jerk, is beloved by his family and friends and constantly overshadows Bill. You can watch My Blind Brother in theaters, on demand, and on iTunes starting September 23.
Deepwater Horizon
The first of two films hitting theaters this fall starring Mark Wahlberg and directed by Peter Berg, Deepwater Horizon tells the story of the real-life BP oil spill of 2010, when the Deepwater Horizon oil rig exploded, dumping approximately 210 million gallons of oil into the Gulf of Mexico. Wahlberg plays Mike Taylor, a real-life engineer who was on the rig the day of the explosion. Also starring Kate Hudson, John Malkovich, Gina Rodriguez, Dylan O'Brien, and Kurt Russell, Deepwater Horizon lands in theaters September 30.
October
The Accountant
Move over Will Hunting; it's Ben Affleck's turn to play a math genius. Affleck is Christian Wolff, a brilliant CPA with OCD who secretly manages the books for some of the world's top criminals. The film's trailer purposely shows very little, but if rumored plot details turn out to be true, The Accountant is a bit less Good Will Hunting and a little more Bourne Identity. The film costars Anna Kendrick and J.K. Simmons, and is due in theaters October 14.
Mascots
Christopher Guest, the creative force behind This is Spinal Tap, Best In Show, and one of the best Saturday Night Live sketches of all time, is back with Mascots, an absurd "behind-the-scenes" look at the competitive world of "mascoting." Guest frequently relies on the same actors for his films, including Eugene Levy, Catherine O'Hara, Parker Posey, and Boston native Jennifer Coolidge (American Pie, Legally Blonde), who is joining the party once more. Mascots will be available on Netflix October 15.
American Pastoral
Author Philip Roth is one of the most acclaimed novelists of the last century, with his works earning numerous top prizes, including a 1997 Pulitzer for American Pastoral. The film adaptations of his novels, however, haven't always fared as well. This new cinematic take on what some critics call Roth's greatest work marks the directorial debut of actor Ewan McGregor, who also stars as Seymour 'Swede' Levov, a man whose life is irrevocably changed when his teenage daughter sets off a bomb to protest the Vietnam War. Early reviews haven't been favorable. American Pastoral, which also features Medfield native Uzo Aduba, opens nationwide October 28.
Inferno
Tom Hanks is back in the third installment of the Da Vinci Code franchise, based on New Hampshire native Dan Brown's novel series. This time, Harvard professor Robert Langdon (Hanks) wakes up in Italy with no memory of how he got there and authorities hot on his heels. Along the way, he must match wits with evil billionaire genius Bertrand Zobrist (Boston native Ben Foster), whose efforts to curb the world population could prove disastrous. Inferno lands in theaters October 28.
November
Manchester by the Sea
It's probably way too early to project which films will win big at the 2016 Academy Awards, but as of now, awards prediction site Gold Derby lists Manchester by the Sea as the favorite in almost every major category, including Best Picture, Best Actor (Casey Affleck), Best Supporting Actor (Lucas Hedges), Best Supporting Actress (Michelle Williams), and Best Director (Kenneth Lonegran). The film, which opens November 18, stars Affleck as a Quincy janitor who begrudgingly takes custody of his orphaned nephew (Hedges) after the boy's father passes away.
Fantastic Beasts and Where to Find Them
The newest film in the Harry Potter universe doesn't concern Harry, Ron, Hermione, or any of the Boy Who Lived's Hogwarts pals. Instead, the film moves across the pond to 1920s New York, as writer Newt Scamander (Eddie Redmayne) sends the American wizarding world into chaos when some of his magical creatures escape from a briefcase. The Massachusetts tie-in comes in the form of the villainous New Salem Philanthropic Society, a group dedicated to killing all non-magic people. Beasts scurries into theaters November 18.
Bleed for This
Miles Teller (Whiplash) plays real-life Rhode Island boxer Vinny Paz, who rose to the top of the fighting world in the '80s and early '90s before a serious car accident left him with a broken neck. Doctors believed Paz might never walk again, much less step into the ring, but Paz fought back. Costarring Aaron Eckhart and executive produced by Martin Scorsese, the film hits theaters November 23. 
December
Office Christmas Party
Amidst all the seriousness of Oscars season, it's nice to take a minute and laugh. That's the goal of Office Christmas Party, a large ensemble comedy with a fairly simple premise: In order to save the company from closure, a CTO and his coworkers have to throw a legendary Christmas party. While the plot sounds thin, the cast, which includes Jennifer Aniston, Jason Bateman, TJ Miller, Olivia Munn, and Weymouth native Rob Corddry, is talented enough that the film, which opens December 9, might be one Party worth attending.
Jackie
Fox Searchlight only announced on Tuesday that had it had purchased the rights to Jackie, but the studio is rushing the film to theaters in time to get it into the 2016 Oscars race. And for good reason: Critics are raving about Natalie Portman's performance as grieving widow Jacqueline Kennedy following her husband's assassination in 1963, with some saying it even eclipses her Oscar-winning turn in Black Swan. The film captures Kennedy's tireless efforts to cement her husband's "Camelot" legacy even while she was overwhelmed by sadness. Jackie is scheduled to open December 9.
Rogue One: A Star Wars Story
Despite the rumors that a Star Wars movie was filming in Massachusetts this past spring, Rogue One is the only film on this list that doesn't have a local connection — other than composer John Williams's 14 years as conductor of the Boston Pops. But so what? It's another Star Wars movie! Rogue One takes place in between Episode III and Episode IV, as a group of rebels attempt to steal plans for the first Death Star, and lands in theaters December 21.
Patriots Day
It's only been a little more than three years since the tragic Boston Marathon bombings, and it remains to be seen whether local audiences are ready to relive the event so soon. Just like Deepwater Horizon, Patriots Day is directed by Peter Berg and follows a recent real-life disaster through the eyes of a man, played by Mark Wahlberg, who's thrust into the line of duty. This time, however, it's a disaster that occurred in our backyard. The film, which also stars John Goodman, J.K. Simmons, Michelle Monaghan, and Kevin Bacon, is getting a limited opening on December 21, including in Boston, before opening nationwide January 13, 2017.
Update (September 14, 11:50 a.m.): This article has been updated with a preview for the film Jackie, which Fox Searchlight announced would be released in 2016 after this article was scheduled for publication.