Entertainment
'The Simpsons' is doing a Boston episode, and there are so many local references
There's a football team with a hoodie-wearing head coach and a player named "Bonkowski."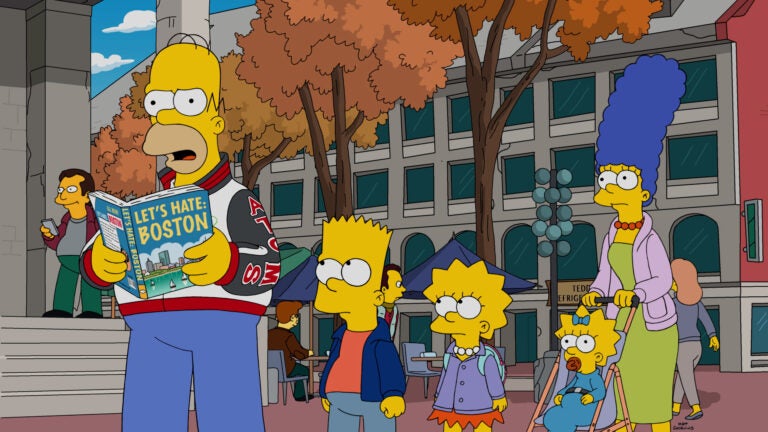 We've argued in the past that the fictional Springfield in The Simpsons could represent Springfield, Massachusetts. But if next Sunday's episode of the long-running animated show is any indication, Homer and the gang aren't big fans of Boston.
According to Fox, the third episode of the show's 28th season, which airs Sunday, October 9 at 8 p.m., will see America's favorite yellow family take a "hate-cation" to Boston. Here's the synopsis of the episode, titled "The Town."
After Homer catches Bart rooting for Springfield's football rival, the Boston Americans, he plans a family "hate-cation" trip to Boston in an attempt to show Bart that Boston is a terrible city.
The Americans are a not-so-subtle stand-in for the New England Patriots, with promotional images showing a scowling, hoodie-wearing head coach, a reference to a player named "Bonkowski," and a #12 that looks an awful lot like Tom Brady.
Showrunner Al Jean told Entertainment Weekly that Bostonians shouldn't worry about the episode being too harsh: Once Homer discovers candlepin bowling, all is forgiven.
"Homer is thrilled because he learns you can get three balls when you bowl, and they want to move there," Jean told EW. "I think people from Boston will be very thrilled how thorough it is in its depiction of Boston. The bowling alley is owned by Whitey Bulger."
According to IMDb, the episode also features several guest stars with local ties, including Bill Burr (Canton), Rachel Dratch (Lexington), Doris Kearns Goodwin (Harvard), Dana Gould (Hopedale), and Mike Mitchell (Quincy).
Here are the other stills from the episode, which shows a classroom taught by "Mrs. Goodwin" featuring a history poster with the mnemonic device "YASTRZEMSKI" and a poster featuring the Kennedy family.