Entertainment
The Simpsons may love Boston, but they still don't like the Patriots
Sunday's all-Boston episode was a love letter to the city, but not to its football team.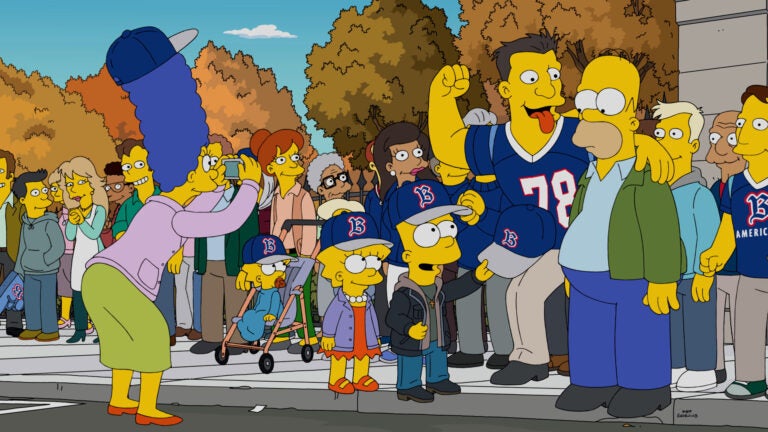 Homer Simpson's hatred of the "Boston Americans"—a stand-in for the New England Patriots—and their "cheating" ways is evident from the first few minutes of Sunday's all-Boston episode of The Simpsons.
In an early scene in "The Town," the cartoon patriarch is at Moe's Bar, watching as the Springfield Atoms lose to the Americans when the latter team's pretty-boy quarterback "handsomely takes the snap, sexily steps back to pass, and with god-given good looks, fires it downfield" to the mascot, a somehow legal play schemed up by the grim-faced coach Bonderchuck.
The loss is made worse by the gloating of the Americans fans, in town for a Dennis Lehane convention.
"We don't cheat!" one shouts at Homer and the gang in Moe's. "We won 12 division titles in 10 years fair and square."
And so, fresh off the loss, the Simpson family heads to Boston for a "hate-cation."
However, once they get to the city, their anti-Boston sentiments largely disappear, thanks in part to Homer being introduced to candlepin bowling by Whitey Bulger — one of the many Boston cameos in Sunday's episode.
After a whirlwind decision to move to Boston, all is well for the Simpsons—that is, until they attend a parade for the Americans, and dopey Americans hero Dom Bonkowski tries to pose for a picture with Homer. Homer can't help but unleash his hatred of the football team once more.