Entertainment
'Manchester by the Sea' director on how Casey Affleck and Matt Damon helped him bring his North Shore masterpiece to life
Kenneth Lonergan discusses the making of the new critically acclaimed film and the challenges and criticisms he's faced along the way.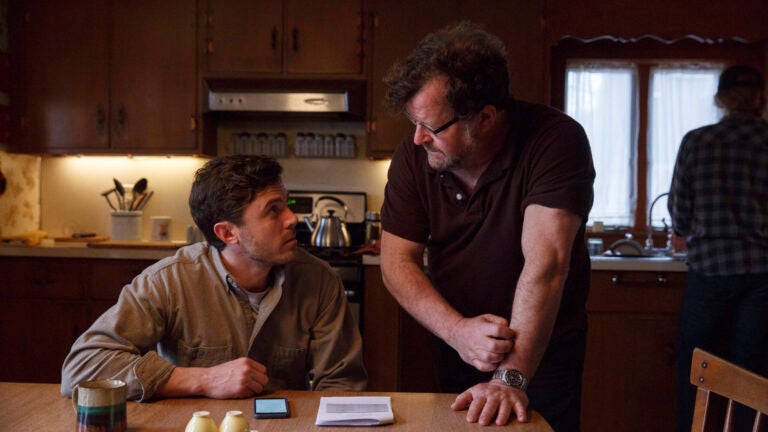 Manchester by the Sea is a film that resists easy narratives. The trailer teases what seems like a familiar story of a sad-sack janitor living in Quincy (Casey Affleck) whose life suddenly gains meaning when he's forced to move to the North Shore to take custody of his orphaned nephew (Lucas Hedges).
Even hearing the words "Casey Affleck Quincy Janitor" naturally brings Matt Damon and the Oscar-winning Good Will Hunting to mind. But Manchester by the Sea is not Good Will Hunting, Casey Affleck is not Matt Damon (even though Damon was originally slated to star in the film), and Kenneth Lonergan is not Hunting director Gus van Sant.
And just as Manchester by the Sea refuses to conform to viewers' expectations, Lonergan, who both wrote and directed the film, isn't interested in whatever preconceived notions you may have about him or his film career.
In a recent New Yorker profile on Lonergan, Damon recalled how he and actor John Krasinski (The Office) brought the idea for Manchester by the Sea to Lonergan as a favor. Lonergan hadn't written or directed a film since being sued by the financiers of his second movie, 2011's Margaret, for failing to turn in a final cut under 150 minutes, as mandated by his contract. The lawsuits delayed the film's release for more than six years.
"A lot of his friends were, quite frankly, worried about him," Damon, who was part of the cast of Margaret, told The New Yorker. "He needed money, but he couldn't write—it was this horrible limbo."
Lonergan disputed this characterization, but added that helping a friend out in need with a project is "very much a Matt thing to do."
"I did two plays actually, one in 2009 and 2011, and that's a lot of work too," Lonergan said. "I was certainly a bit weary of the whole movie scene, but I was planning to get back into it at some point, and [Manchester by the Sea] just seemed like a good way to do it."
Although Damon had promised to star in Manchester, scheduling conflicts kept both him and Newton native Krasinski from stepping in front of the camera. Instead, the duo served as producer and executive producer, respectively, while Casey Affleck took on the role of troubled janitor Lee Chandler.
Affleck, who has been listed by awards experts as one of the front-runners for this year's Best Actor Oscar, delivers a powerful, gut-wrenching performance as Chandler. Even before Lee finds out that his brother, Joe (Kyle Chandler), is dead, it's clear that some sort of intense personal trauma has irrevocably changed him. Instead of opening up to those who try to help him, Lee turns the pain inward, only expressing his distress through surly interactions with customers or through the occasional drunken brawl.
Lonergan, who is also getting awards buzz for his script and directing work, said he included more moments of emotional catharsis for Lee in the original script, but ultimately removed them because they didn't feel true to his character.
"Whenever I had him break down, I felt that the burden he was carrying wasn't strong enough," Lonergan said. "Because he couldn't afford to break down. He had to keep carrying it, or he would be crushed by it."
Lonergan praised Affleck's work ethic and dedication to the role.  Lonergan spent three years writing the script for Manchester by the Sea, visualizing every facet of the character of Lee Chandler. When it came time to film, Affleck and Lonergan had deep, hours-long conversations nearly every day about the character so Affleck could understand every nuance.
"We had these really long, really intense, and really fun discussions about his character," Lonergan said. "When we started shooting, every time he did a take that felt good, he followed up by saying, 'OK, let's try it another way,' which was great for me as a director."
With both Affleck and Lonergan in line for awards and audience adulation, it's easy to look at Manchester by the Sea as a redemption story for two men whose careers didn't follow a traditional arc. After earning an Oscar nomination for The Assassination of Jesse James by the Coward Robert Ford and rave reviews for Gone Baby Gone in 2007, Affleck decided to make I'm Still Here, a faux-documentary about Joaquin Phoenix quitting acting to pursue a rap career while undergoing a very public breakdown. The film fared poorly at the box office and with critics, and rankled some (like former late-night host David Letterman) who weren't in on the joke.
Lonergan, after winning the Sundance Grand Jury prize for his first film, the Oscar-nominated You Can Count On Me, faced seemingly unending litigation over Margaret. After six years of court fights, a 150-minute version of the film was finally released in a small number of theaters in 2011. The aforementioned New Yorker profile on Lonergan is headlined, "The Cinematic Traumas of Kenneth Lonergan." But Lonergan fights the notion that either he or Affleck should be seen as underdogs, outcasts, or charity cases.
"I'm really glad to see Casey get all this praise and love, because he really deserves it," Lonergan said. "But I never saw him as someone who had been not treated well by the business. He's been working since he was a kid.
"The thing is, anyone can make a movie that doesn't go well or has problems, and many people do," Lonergan continued. "I do think it takes some stamina and some wherewithal not to have that kind of criticism break your spirit."
In the end, buoyed by support from many Boston film critics, the director's cut of Margaret was released, and is regarded by many cinephiles as a masterpiece.
"The fact that the film has a life and an identity, and people like it and have seen it, is great," Lonergan said. "I'm very proud of that movie. I love it. I love it best of all, in a way."
When compared to the trauma faced by characters in Manchester by the Sea — and the world at large, for that matter — Lonergan views himself as incredibly lucky.
"I didn't really feel like I'd been beaten to the ground and needed to be revived," Lonergan said. "There are so many people who have suffered so much worse in this world.
"I mean, really, it's just a movie."