Entertainment
Casey Affleck wins Golden Globe for 'Manchester by the Sea'
The actor thanked costar Michelle Williams and director Kenneth Lonergan in his acceptance speech.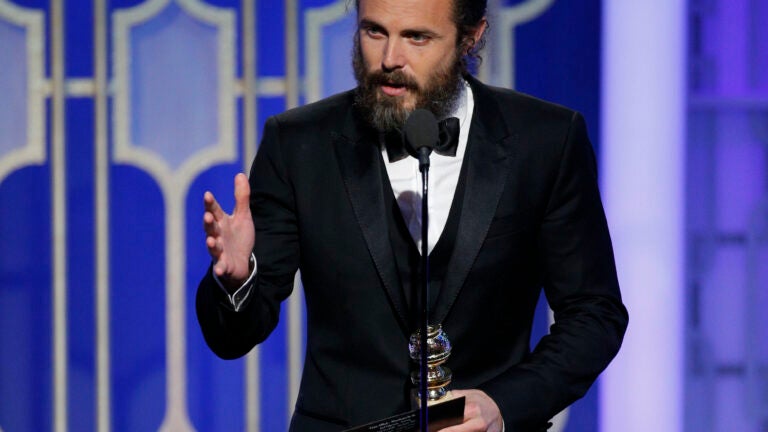 Casey Affleck took home the award for Best Performance by an Actor in a Motion Picture — Drama for Manchester by the Sea at the Golden Globes Sunday. Affleck's portrayal of Quincy handyman Lee Chandler has won numerous awards so far this season. 
In his acceptance speech, Affleck was effusive in his praise for both Lonergan and Williams.
"I don't have enough time to say what I want to say about Kenny, so suffice it to say, 'I love you,'" Affleck said. "'You're beautiful. You're a treasure to all of us, to people who like movies and work in movies. And this is all because of you.'"
Affleck also made sure to thank fellow Cambridge native Matt Damon, who served as a producer on the film and at one point was slated to play Affleck's role.
"To Matt Damon, for giving me the opportunity, your support, your friendship," Affleck said. "I suspect you won't be passing on any more movies in the future when I might be anywhere nearby, but I'll take this one."
Despite five nominations, Manchester's only win came thanks to Affleck, whose Manchester writer-director Kenneth Lonergan lost in both the screenplay and directing categories to La La Land's Damien Chazelle, while actress Michelle Williams failed to capture the award for Best Actress in a Supporting Role, which went to Viola Davis for Fences. The film also missed out on arguably the biggest prize of the night, losing the award for Best Motion Picture — Drama to Moonlight.
Watch Affleck's full speech below:
https://twitter.com/THR/status/818305546390339584