Entertainment
Actress Constance Wu excoriates Casey Affleck's Oscar nomination
The 'Fresh Off the Boat' star wasn't the only one who raised questions about the Cambridge's native's past.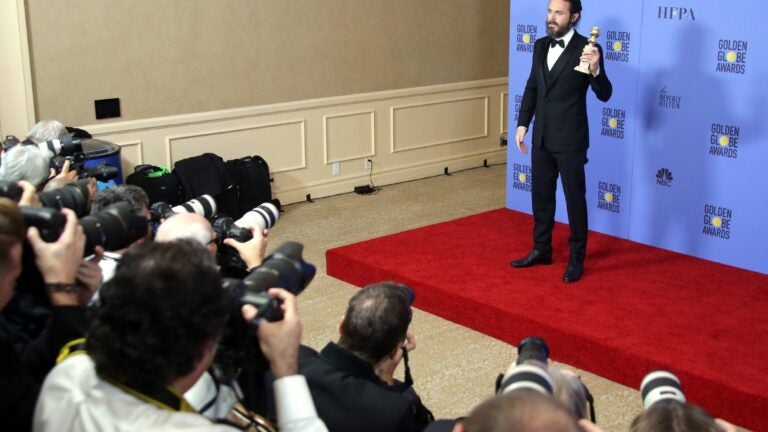 Casey Affleck has received numerous awards and widespread praise for his performance in Manchester by the Sea, but not everyone was pleased when the Cambridge native received an Oscar nomination Tuesday morning.
Actress Constance Wu, star of the ABC sitcom Fresh Off the Boat, criticized the Academy of Motion Picture Arts and Sciences for nominating Affleck in a series of sarcastic tweets. Wu referenced a pair of sexual harassment lawsuits brought against Affleck by a producer and director of photography who worked with him on the 2010 film I'm Still Here. Affleck reached out-of-court settlements with both women.
Men who sexually harass women 4 OSCAR! Bc good acting performance matters more than humanity,human integrity!Bc poor kid rly needs the help!

— Constance Wu (@ConstanceWu) January 24, 2017
Boys! BUY ur way out of trouble by settling out of court!Just do a good acting job,thats all that matters!bc Art isn't about humanity,right?

— Constance Wu (@ConstanceWu) January 24, 2017
The actress also posted notes from a conversation she had with actor Peter Shinkoda about Affleck's nomination.
"Art doesn't exist for the sake of awards, but awards DO exist to honor all that art is trying to accomplish in life," Wu wrote. "So context matters. Because in acting, human life matters."
Here's a thing I wrote during an convo w/ @PeterShinkoda about how Casey Affleck's win will be a nod to Trump's. pic.twitter.com/FjrRsniS9d

— Constance Wu (@ConstanceWu) January 24, 2017
Affleck's representatives could not immediately be reached for comment.
Wu tweeted that she wasn't worried about her comments potentially damaging her career, and that she cared most about the message the Academy was sending to children with Affleck's nomination.
I've been counseled not to talk about this for career's sake. F my career then, I'm a woman & human first. That's what my craft is built on.

— Constance Wu (@ConstanceWu) January 24, 2017
I care most about the young boys & girls who will absorb what @TheAcademy 's choices will implicitly teach them about rewards & rape culture

— Constance Wu (@ConstanceWu) January 26, 2017
Many thanked Wu for taking a stand against the Academy.
@ConstanceWu Having worked with one of the women who was assaulted, thank you for this.

— Tony Becerra (@Becerra_ad) January 24, 2017
@ConstanceWu you just earned my respect for speaking out. Sick of Hollywood claiming to be the beacon of progress but protects abusive men.

— Exandral Targuepi (@AliPitargoo) January 24, 2017
Wu has also criticized the casting of Affleck's pal Matt Damon in the film The Great Wall, which is due in theaters Feb. 17. In July, Wu tweeted that casting Damon as the film's hero enforced racist myths and whitewashed the film.
Affleck isn't the only Oscar nominee currently facing criticism for past incidents. Mel Gibson, who received a Best Director nomination for Hacksaw Ridge, faced public outcry in 2006 when TMZ posted audio of his misogynistic, anti-Semitic rant during a DUI arrest, and again in 2010, when he allegedly left a threatening voicemail full of racist and misogynistic comments for former girlfriend Oksana Grigorieva.
Gibson's recent nomination inspired some, including The Boston Globe film critic Ty Burr, to sound off.
What does Annette Bening have to do to get Oscar love? Apparently get pulled over by the cops, rail against the Jews, then wait 11 years.

— Ty Burr (@tyburr) January 24, 2017
Congratulations on your Oscar nom, Mel Gibson, you racist, misogynistic, antisemite pig fuck.

— (((Joshua Malina))) (@JoshMalina) January 24, 2017
https://twitter.com/angelicabastien/status/823925812562890754